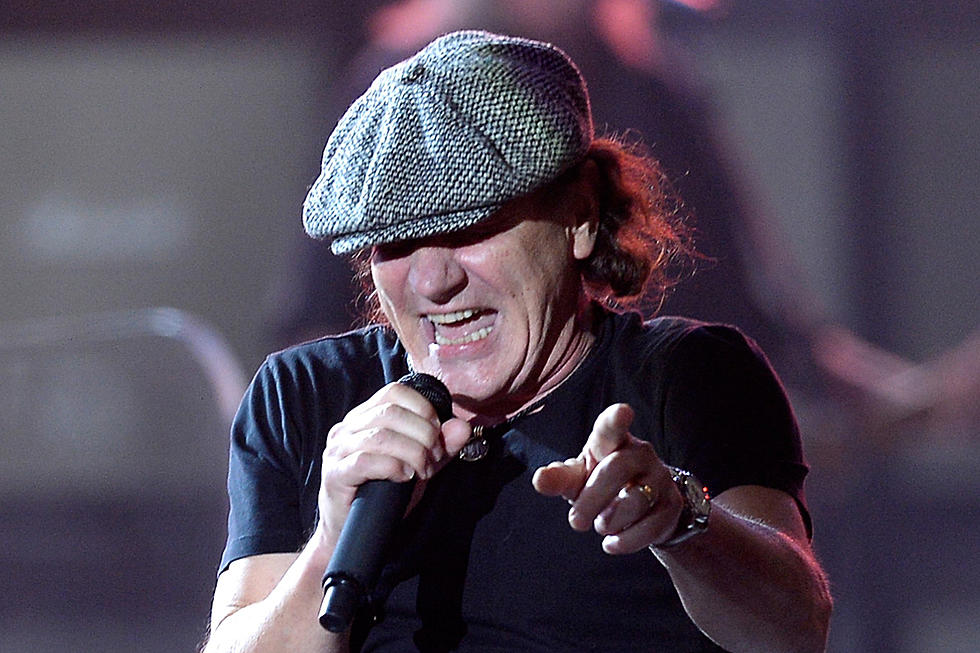 AC/DC Legend Brian Johnson Rolls Race Car at Silverstone Classic
Kevork Djansezian, Getty Images
As if Brian Johnson being forced to step down as AC/DC's frontman due to risk of permanent hearing loss wasn't rough enough, fans of the classic rock titans received another scare over the weekend. The singer's love of racing is well-known and as he took part in the Silverstone Classic in England on Saturday (July 29), he rolled his Austin A35 race car.
During the qualifying race, Johnson's vintage car flipped completely, losing the windshield and landing upright on its wheels after one full rotation had completed. Onsite medical staff immediately came to Johnson's aid and there have been no reports of serious injury to the rock legend. The roll can be seen in the four-frame photo split below with more images found here.
As mentioned, the AC/DC legend was forced to exit the band's Rock or Bust tour last year due to hearing issues. While many assumed it was due to the punishing volume of AC/DC's live show that brought on the risk of hearing loss, the singer detailed the problems back in 2014 during an interview with Howard Stern.
"I didn't get [the hearing loss] from music. I got it from sitting in a race car too long without earplugs," said Johnson. "I heard me eardrum burst, because I forgot to put me plugs in under my helmet. That's how it happened. Music had nothing to do with it."
Where Does Brian Johnson Rank Among the Top 25 Replacement Singers of All Time?
AC/DC Outsmart Religious Protestors - Epic Rock Tales