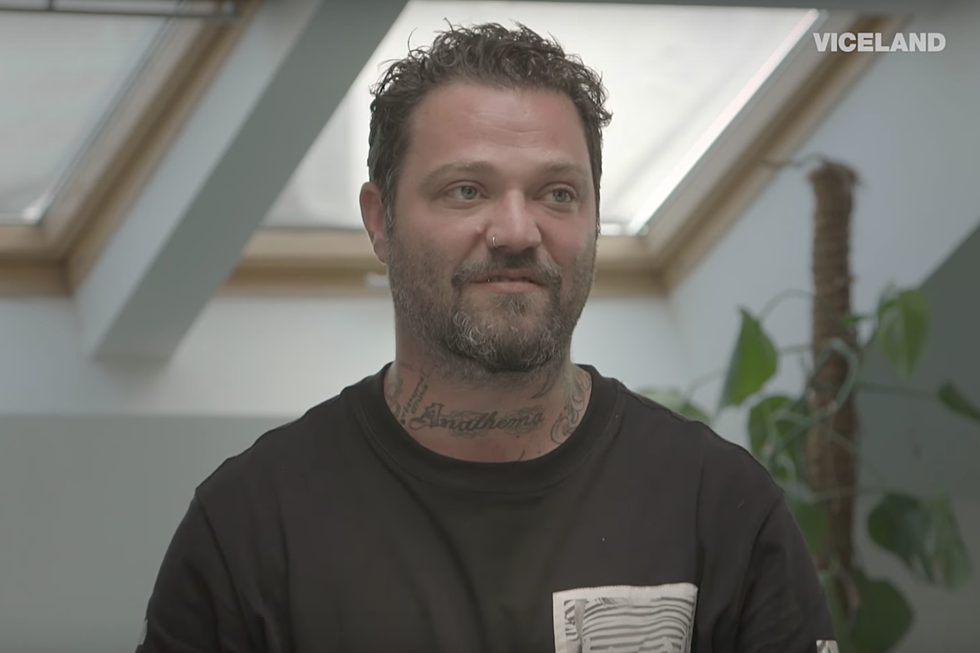 Bam Margera's Mom: 'Jackass' Star's Admiration of HIM's Ville Valo May Have Led Him to Bulimia
YouTube: VICE
Professional skateboarder and Jackass star Bam Margera looks like he's beginning to put his life back together. In a new episode of Epicly Later'd from Viceland, Bam and his family open up about his abuse of alcohol and drugs, his past struggle with bulimia, his newly pregnant wife and much more.
Since the death of fellow Jackass star Ryan Dunn in 2011, Bam Margera found himself caught in a very public downward spiral. As his friends recount, Bam drifted away into alcoholism, truly becoming the worst parts of the character he made famous through shows like Viva La Bam and Bam's Unholy Union. However, alcoholism isn't the most disturbing subject covered in the show, with mother April Margera revealing Bam's bulimia during the height of his fame.
"He always wanted to have this very slim, slim look and a lot of it kind of happened when he became good friends with [HIM vocalist] Ville Valo," April says. "[Ville] is the loveliest man ever, but he never ate, he just drank. I think Bam started sipping on a beer or sipping on a something because he liked the way he looked."
April continues, "We would go out to dinner and then he would immediately excuse himself and go to the bathroom. I said, 'Are you throwing up?' He says, 'Yeah, yeah, sometimes I throw up and that way I'm not gonna get fat.' It really hurts me when people make comments like, 'You look like you gained some weight there. Hey, wow, Bam… you're looking like your dad.' I don't respond, but I feel like saying, 'He was drinking alcohol and he was bulimic and that's why he was thin.'"
In the Epicly Later'd episode, Bam also publicly shared that his new wife, Nikki Boyd Margera, is pregnant with the couple's first child. Those who follow Bam on Instagram heard the news first back in June and according to Nikki's Instagram, her due date is expected to come in December.
Though Bam's current state seems to be better than it's been in years, with Margera once again focusing on skateboarding to keep himself busy and away from substance abuse, father Phil Margera admits Bam hasn't quite conquered alcoholism yet, as Bam still falls off the wagon from time to time.
We'd like to congratulate Bam and Nikki on their upcoming newborn and we wish Bam the very best in his quest to remain sober and on a skateboard. Check out the full episode of Epicly Later'd above.
HIM's Ville Valo - Loud Legacy Documentary