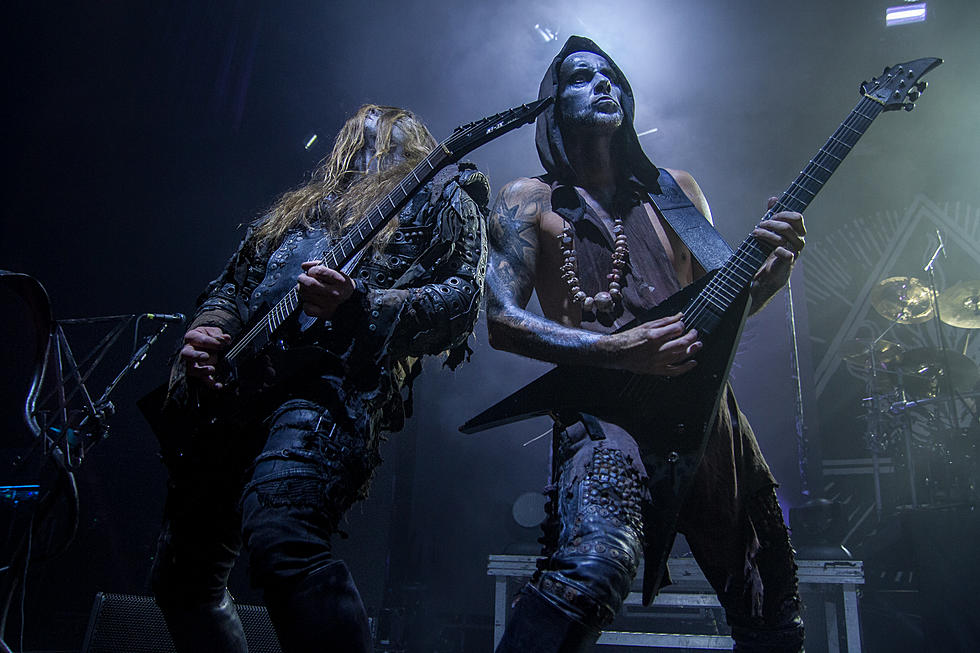 Behemoth Announce 2018 North American Tour in Support of New Album
Johnny Perilla, Loudwire
Behemoth recently wrapped up support on the first North American leg of Slayer's farewell tour and the next time they return to North America, it will be in a headlining slot. The "Ecclesia Diabolica America 2018 e.v." tour unites Behemoth, Swedish melodic death metal pioneers At the Gates and Cascadian black metal unit Wolves in the Throne Room for a month-long excursion that launches in late October.
"I hereby announce Behemoth's triumphant return to the North American shores this Fall," begins Behemoth frontman Nergal. "We will be in the noble company of At The Gates and Wolves In The Throne Room, who will be supporting us on our 11th opus. Even though it's only been a few moments since we played for you, our American legions, we cannot wait for this tour to start," he exclaims.
Behemoth have finished recording their follow-up to 2015's The Satanist and will release the record in the fall. "It's gonna be the first headlining run supporting new music," Nergal reveals, "and we are bringing all the artillery, which means the biggest production thus far! 'Ecclesia Diabolica America 2018 e.v.' arrives soon and we WANT you to celebrate this sonic pandemonium with us!"
Tomas Lindberg adds, "At The Gates have not done a support tour since 1996. When we got invited to this tour, we immediately saw the logic to the package. This is three bands with their own unique sound, three bands totally dedicated to finding the core of their art — three important bands. It all made sense to us, and we are flattered to be part of this. I truly believe that this is THE ONE tour not to miss this year. Get ready to drink from the night itself together with us."
Check out the list of stops below.
As of now, not much is known about Behemoth's new album. Nergal told Full Metal Jackie that the record is "One of a kind and it's something that we've never done before," but was reluctant to reveal much more. The Polish blackened death metal horde has also been playing a new song, "Wolves ov Siberia," in concert since May.
"Ecclesia Diabolica America 2018 e.v." 2018 Tour Dates
Oct. 20 - Phoenix, Ariz. @ Van Buren
Oct. 22 - Dallas, Texas @ House of Blues
Oct. 23 - San Antonio, Texas @ The Aztec Theatre
Oct. 24 - Houston, Texas @ House of Blues
Oct. 26 - Atlanta, Ga. @ Masquerade
Oct. 27 - Tampa, Fla. @ Jannus Landing
Oct. 29 - Charlotte, N.C. @ The Underground
Oct. 30 - Philadelphia, Penn. @ The Fillmore
Nov. 01 - Boston, Mass. @ House of Blues
Nov. 02 - Silver Spring, Md. @ The Fillmore
Nov. 03 - New York, N.Y. @ Playstation Theater
Nov. 04 - Montreal, Quebec @ M-Telus
Nov. 06 - Toronto, Ontario @ The Danforth Music Hall
Nov. 07 - Detroit, Mich. @ St. Andrews Hall
Nov. 09 - Chicago, Ill. @ House of Blues
Nov. 10 - Minneapolis, Minn. @ Cabooze
Nov. 11 - Kansas City, Mo. @ The Truman
Nov. 13 - Denver, Colo. @ The Ogden Theatre
Nov. 14 - Salt Lake City, Utah @ The Depot
Nov. 16 - Calgary, Alberta @ MacEwan Ballroom
Nov. 17 - Edmonton, Alberta @ Union Hall
Nov. 19 - Vancouver, British Columbia @ The Commodore Ballroom
Nov. 20 - Seattle, Wash. @ Showbox Market
Nov. 21 - Portland, Ore. @ Crystal Ballroom
Nov. 23 - San Francisco, Calif. @ The Regency Ballroom
Nov. 24 - Los Angeles, Calif. @ The Wiltern Theatre
Behemoth's Nergal on Satan + Kentucky Bible Incident