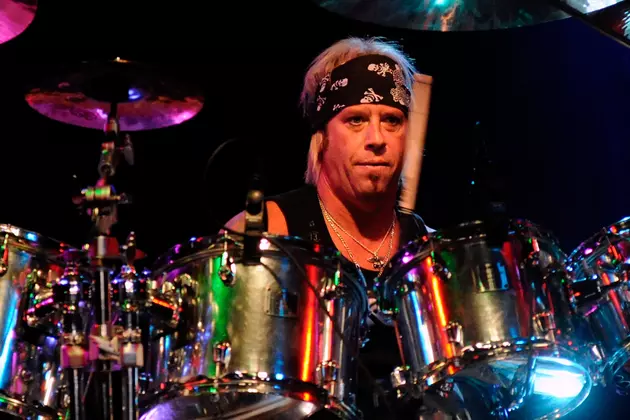 Bobby Blotzer's Ratt Undergoes Multiple Lineup Changes
Ethan Miller, Getty Images
At present, Todd Kerns, best known for playing bass as one of the "Conspirators" in Slash's solo band, has been handling bass duties, but his role is only temporary as he's helping the group get through their next week of dates. In a new posting, Blotzer reveals that beginning in September, Ratt will find Mitch Perry of MSG on lead guitar, Stacey Blades of L.A. Guns fame on rhythm guitar and Y&T vet Brad Lang on bass. The trio of new musicians join Blotzer on drums and vocalist Joshua Alan.
Blotzer delivered the news in a new posting that can be read below:
Hey Rattlers:
Just a quick note. Regarding our Ratt tour. We have some leaving, and new great musicians coming on board .
Stacey Blades my long time friend just played with us on two huge festivals over last weekend and did a fabulous job..
Also sitting in thru next week's shows on Bass is Todd Kerns . He is such a great talent , Slash is lucky.
Starting Sept 3rd & 4th Onward will be the great Mitch Perry on lead guitar, Stacey Blades Rhythm And leads, and Brad Lang on bass, along with the awesome Joshua Alan still fronting of course, and yours truly Chopping wood behind the kit.
All these guys are long time road veterans from very well known lists of bands. We're definitely looking forward to playing with them.
The shows over the weekend just as always is a testament that people love Ratt music as performed by us with our intensity , and with great replication emphasis on the interity that Ratt music be treated with.
35,000 people in Sturgis going nuts Thursday then Last night 10,000 going crazy at our performance full set, at Rockin the River festival was epic.
It never gets old !
Much thanks,
Best,
Bobby B
Blotzer has been touring under the Ratt name after the other members of the classic lineup decided against further touring and his decision to do so has met with some legal resistance from fellow classic bandmate Warren DeMartini, but Blotzer has won all legal challenges put up by DeMartini so far. The current Ratt lineup has shows booked throughout the rest of the year. Stay up to date on their touring here.
Learn More About Metal's History With 100 Metal Facts