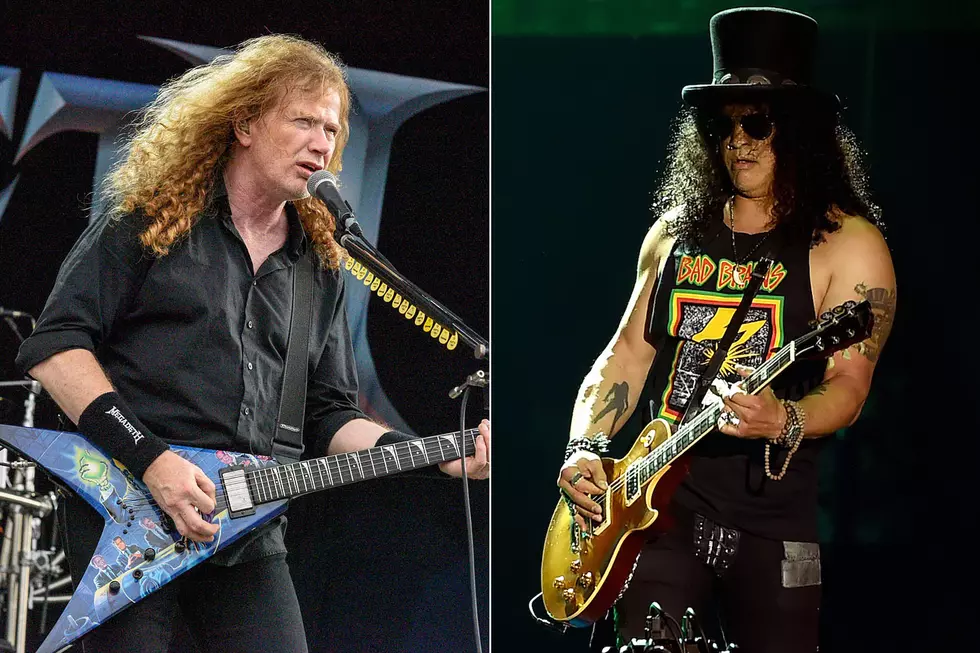 Dave Mustaine: Slash's Playing Would 'Certainly' Fit With Megadeth
Evil Robb Photography, Loudwire / Kevin Winter, Getty Images
The combination of Megadeth's Dave Mustaine and Guns N' Roses legend Slash would seem to be a potent guitar force, at least on paper. In our recent interview with Slash, we asked him about his jam session with Mustaine in the '80s, which he wrote about in his autobiography. We wondered if there is any potential for a future collaboration. "I don't see myself guesting on a Megadeth song. I don't think it would work in the context of what Megadeth does," he admitted, adding, "but maybe Dave on one of my things — I don't know." Mustaine, however, couldn't disagree more.
"Slash is a terrific talent and I disagree wholeheartedly with what he said: that he couldn't play on a Megadeth record. He's a brilliant guitar player," Mustaine told us today (Aug. 28). He explained, "I basically play in the pentatonic scale and that's like the go-to blues player scale" and mentioned that he's tried to surround himself with "really, really good players" over the years.
Going back to his early days as lead guitarist in Metallica, Mustaine continued, "It was easy to do a little bit more movement on the guitar on the neck [in Metallica]." Returning to his split role within Megadeth, he commented, "When you start singing you have two roles and unfortunately I wasn't really able to play and sing as much as I wanted to. [Because of this,] the songs are set up for a bluesy kind of player, which Slash definitely is."
In his autobiography, Slash said that the pair came up with "major heavy metal riffs," Mustaine revealed that some of that material actually wound up on record. "When we played together I seem to remember that there were a couple riffs that showed up around the Rust in Peace period that he and I were noodling around on. That's when all this went down: during the Rust in Peace era," he added, suggesting that the complexity of the guitar parts on that album "Might be why [Slash] says that he can't do it, but he certainly can."
"He makes it look effortless and it makes me mad! It just looks like water running over a smooth stone, it's just perfect. He's done this every day of his life and he was made for the exact moment to stand on that stage and play that solo and have all those thousands and thousands of eyes focused on him," Mustaine said.
When asked if there's potential for the two to write a song together, Mustaine declared, "I would definitely be interested in doing anything with Slash."
He stressed there's no desire to leave Megadeth behind in pursuit of something new. "It wouldn't be a band change predicated on a single with another artist," he cautioned, expressing, "But boy I would love to do that."
Even if it were to happen, Mustaine does not want there to be any confusion about his dedication to Megadeth. "I don't want to be hypocritical because I've really tried to just stick with Megadeth and not go around and play with a bunch of other people just because I don't want people to think I'm unhappy with Megadeth," he said, reassuring Megadeth fans of his primary focus.
Megadeth are currently eyeing their follow-up to 2016's Grammy-wining Dystopia record. Mustaine has already suggested the possibility of new elements — blast beats — creeping into Megadeth's sound with the addition of drummer Dirk Verbeuren and confirmed that at least one new song will be released in 2019 with hopes of the full album being out next year as well. Will Slash guest on the recording? We'll have to wait to find out.
Slash Says Maybe to Dave Mustaine Collaboration
Where Do Dave Mustaine and Slash Rank Among the Top 66 Hard Rock + Metal Guitarists of All Time?