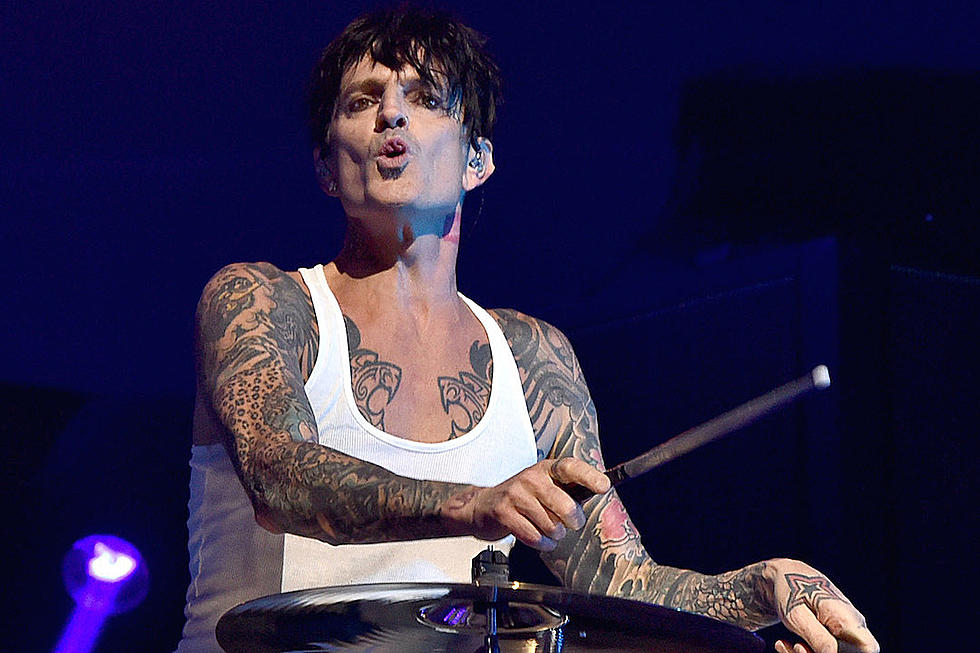 L.A. District Attorney Rejects Case Against Tommy Lee's Son, Plus News on L7, GWAR + More
Kevin Winter, Getty Images
In addition to the big stories we covered today, Wire-to-Wire provides you with some of the other key rock and metal news items from April 9, 2018:
- It does not look like the case against Tommy Lee's son Brandon will move forward. Lee and his son were involved in a very public dustup in which Brandon knocked his father unconscious, though their stories on what happened were definitely different. According to TMZ, Lee decided not to cooperate with the investigation into his son, and as such the Los Angeles County District Attorney has rejected the case.
- The L7 reunion has evolved to the next step -- new music. The band has announced plans for a new album and they've launched a PledgeMusic pre-order site complete with various incentives for fans. The group has already recorded and offered "Dispatch From Mar-a-Lago" and "I Came Back to Bitch," and state, "We've had such a blast hanging out, writing, and recording with each other again that we decided to keep the ball rolling. More song ideas have been flowing out of us every time we get together and play, so we've decided to make a full length album which we will record this year."
- Can't get enough GWAR? Well now you've got GWARTV available to watch via Roku. Find out how to get a subscription here by watching Sleazy P. Martini's pitch.
- Gary Clark Jr. has added more shows from the summer and fall, while also rearranging his tour schedule a bit. His four Fillmore shows in San Francisco this June have been moved to October. Stay up to date with all his touring info here.
- Jason Newsted is dabbling in another art form these days, with the former Metallica bassist getting set to unveil a new mural he's designed for a local restaurant in Tequesta, Fla. The mural will be unveiled this Wednesday at Evo Italian, according to In Jupiter. "I love this local gem of a restaurant and couldn't think of a better place or time than Evo's 11th anniversary to debut this special art piece," Newsted said.
- Get ready for something loud and sludgy as Glassjaw have unleashed a new video for their latest song, "Shira." The performance-based clip can be seen here. The song comes from the band's Material Control disc.
- Stryper have unveiled another new track en route to the release of their latest album, God Damn Evil. This new cut, titled "Lost," can be heard here. The album arrives April 20.
- Lume set a dark and ominous mood with their latest video for "Loss Leader." Watch the unsettling video here and look for the song on their new album, Wrung Out, due April 20.
- DTease have unleashed a video for "Slapshot" off their forthcoming disc, Shake. Watch the clip here and be on the lookout for the album dropping April 20.