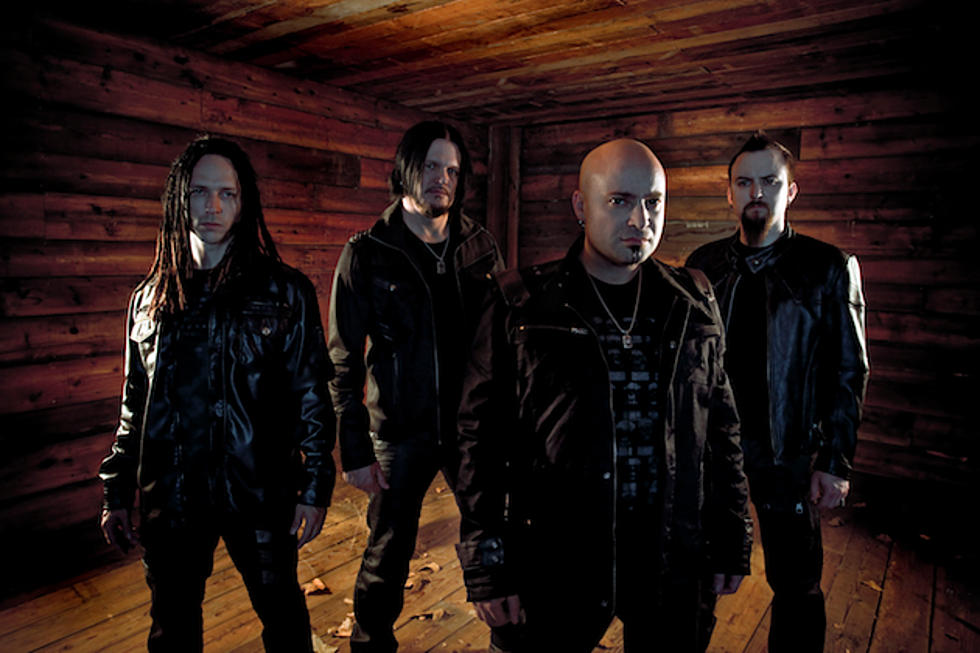 Photo by Travis Shinn, Warner Bros. Records
Disturbed are back! After a five-year hiatus from recording, the band will be returning to the release schedule in 2015 with a new album, but before the Immortalized disc drops, we want to reflect on the stellar work that Disturbed put in over the first decade of their career.
These Windy City rockers released five studio albums over a 10 year period and the only disc not to hit No. 1 was their impressive debut disc The Sickness, which is their biggest-selling album to date. Add in the fact that they've had over 15 Top 10 Mainstream Rock Radio hits and you'll see that trying to cut down to a "15 Best" list is not an easy task.
Fans should be aware that for the sake of originality, cover songs have been excluded from inclusion, meaning that Disturbed's edgier take on Genesis' "Land of Confusion" or their excellent fan favorite rendition of Tears for Fears' "Shout" will not be making this list. So without further adieu, let's get down with our pick-ness!
15

"Guarded"

From: 'Ten Thousand Fists' (2005)

Initially released as a promotional track, "Guarded" really took hold at rock radio and was an indicator of the future success that the Ten Thousand Fists discs would have. Featuring Dan Donegan's raw guitar work and showing David Draiman's ability to go from intense to hypnotic vocals on a dime, "Guarded" is definitely a standout. And for a song about having to be a little guarded in the public eye, Draiman certainly didn't hold back lyrically or vocally. The song is also notable as it's the first single to feature bassist John Moyer.

14

"Inside the Fire"

From: 'Indestructible' (2008)

Featuring some nifty opening bass work from Moyer, a more electronic vibe and pure rhythmic intensity from Draiman, "Inside the Fire" proved to be the perfect lead-off for Disturbed's Indestructible album. Based on real life tragedy, Draiman penned the song about an ex-girlfriend who committed suicide when they were both teenagers. In using music as catharsis, the singer penned some of his powerful and personal lyrics to date.

13

"Asylum"

From: 'Asylum' (2010)

Though not one of Disturbed's bigger radio songs, the title track to the band's "Asylum" album is a standout nonetheless. The driving rocker takes on a darker tone with Draiman dealing with the anguish of an unresolved relationship in a dire state. "Don't make me live in Asylum / I live a lie," belts the singer, remorseful and seemingly beyond the point of return. The rhythm section of Moyer and drummer Mike Wengren really help push the song forward for the better.

12

"Voices"

From: 'The Sickness' (2000)

"Down With the Sickness" and "Stupify" introduced most to Disturbed when they debuted with The Sickness in 2000, but when those eager headbangers picked up the album, it was "Voices" that made the first impression for the long haul listen. Lyrically, it's a call-to-arms tone-setter, inviting anyone who has battled inner torment or conflict to take heed, unite and rise up. Within the album's first three minutes, Disturbed ensnared a generation of fans by letting them know they're not alone and this exciting new band was not just like them, but one of them as well.

11

"Remember"

From: 'Believe' (2002)

Oddly enough, a song called "Remember" is somewhat overlooked in the Disturbed catalog, but it remains a pretty stellar track. Draiman once stated in an interview with Livewire, "To me that what shows our highest level of musicianship, complexity and sense of melody while still fusing it with the power, hopefully that we'll come to be known by." The song is highlighted by Donegan's chugging guitar and Draiman's hypnotic vocals.

10

"Another Way to Die"

From: 'Asylum' (2010)

It isn't all that often that Disturbed indulge in absolute doom 'n' gloom, which is why "Another Way to Die" finds itself on this list of the band's best songs. Sure, we love the succinct, punchy and uplifting anthems Disturbed are so great at, but a little variation goes a long way. It isn't terribly long before the four-piece charge forward with muted, knuckle-scraping chugs, so there's familiarity here, but the double kick adrenaline surge over the chorus and a return to the funereal atmosphere later on in "Another Way to Die" as Draiman bemoans the dire threat of global warming.

9

"Indestructible"

From: 'Indestructible' (2008)

Over the years, Disturbed have been one of the most dedicated acts when it comes to saluting America's military. And the title track from the Indestructible album is the band's way of giving the soldiers who get pumped up to their music an anthem of their own. "It's meant to be something that would make them feel invincible, take away their fear, make them strong," said Draiman to Rolling Stone. "And that's what this whole body of work on this record does. It's music to help you feel strong." Mission accomplished. It's hard not to be moved to action by this Disturbed classic.

8

"Ten Thousand Fists"

From: 'Ten Thousand Fists' (2005)

If "Indestructible" was meant for the band's fans in the military, then the title track for the Ten Thousand Fists album gave the band's other fans a song to rally around. The fifth single from their album of the same name, "Ten Thousand Fists" is a bonafide crowd pleaser, designed with the concert stage in mind. With driving guitars and drums, Draiman's powerful screams and rhythmic vocals -- it's just an exhilarating rocker!

7

"Are You Ready"

From: 'Evolution' (2018)

In an age of negativity driven by social media, herd mentality and the blind leading the blind, David Draiman is taking a stand, imploring his devoted legions of listeners to engage in free-thinking regardless of whether or not doubt sets in. Musically, there's a lot going on from the mechanized, churning riffs and elastic synth bass for a subtle but essential push and pull to the rhythm. Disturbed aren't ones for wholesale reinvention, but they won't shy away from Evolution.

6

"Prayer"

From: 'Believe' (2002)

Much credit to David Draiman and Disturbed for "Prayer," a powerful song inspired by the 9/11 attacks and the death of Draiman's grandfather. Using the songwriting device of creating a conversation between the singer and God, Draiman was able to work through his questions of faith in song. Speaking with MTV about the song, Draiman stated, ""It's not very godly for a God to inflict pain and suffering on his people to elicit a response. I would hope that God wouldn't be that petty. But if that's what is happening and you're inflicting pain and suffering to get me to return [to the flock], bring it on. There's nothing that you're going to do to me that's going to change my conviction or change my path."

5

"The Vengeful One"

From: 'Immortalized' (2015)

Surprise! Disturbed returned in a big way in 2015 after a lengthy hiatus with their new song "The Vengeful One." The chugging guitars, the hard-hitting beats and David Draiman's stand-up-and-take-notice vocals reminded us why we loved Disturbed so much in the first place and how much we missed them. "The Vengeful One" was the perfect track to reclaim their presence within the rock scene and kick off promotion for the 'Immortalized' album.

4

"Stupify"

From: 'The Sickness' (2000)

Arriving in the spring of 2000, "Stupify" was the song that introduced Disturbed to the music scene. The track actually begins with a more stream-of-conscious delivery by Draiman before he delves into the verses with the rhythmic delivery we've become accustomed to. The track was also the first song that fans heard that had the singer's unique animal-like screams to them. While heavy, there's a groove to the song that just pulls in listeners and has made "Stupify" one of their most unique, most beloved and most enduring tracks.

3

"Stricken"

From: 'Ten Thousand Fists' (2005)

By the time Ten Thousand Fists rolled around in 2005, Disturbed were a well established band and at the point where they could take a few more chances. "Stricken" was one of the first Disturbed songs where Donegan was able to let loose with a guitar solo and the riffs delivered by himself and Moyer provide a heavy wall of sound. Meanwhile, Draiman lets the emotions power through as he sings of a relationship that's left him having trouble moving forward.

2

"The Sound of Silence"

From: 'Immortalized' (2015)

Disturbed had done covers before, but their version of "The Sound of Silence" was a game changer. The beautiful arrangement allowed listeners to take in the strength of Simon & Garfunkel's words while giving a showcase to the rich, deep and powerful of David Draiman. It also gave the band the impetus to paint with a broader musical palette, allowing for more melodic pieces and softer touches as they forged ahead with their follow-up album Evolution in 2018.

1

"Down With the Sickness"

From: 'The Sickness' (2000)

Ooh-wah-ah-ah-ah! That's right, "Down With the Sickness" reigns supreme as Disturbed's top song. And while most will instantly recognize it by Draiman's animal-esque staccato shout, the track is simply a crusher. Kicking off with a tribal beat from Mike Wengren, adding chugging licks from Dan Donegan and then-bassist Steve Kmak and a confident and commanding vocal from Draiman, there's no denying the infectious nature that "Down With the Sickness" provides. Fittingly, it's remained a frequent encore track and show closer over the years.