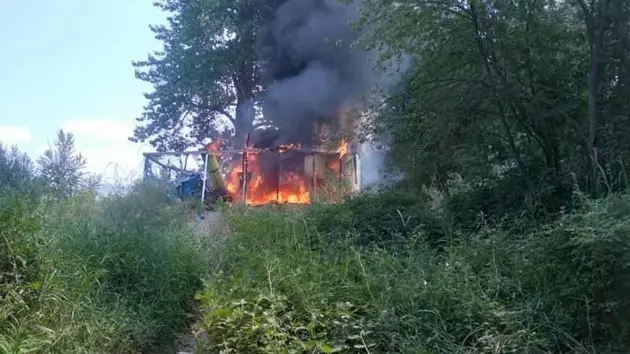 For the Second Time in a Month – Fire at Reserve Street Camp
For the second time in nearly a month, Missoula City Firefighters were called to fight a blaze at the homeless camp located under the Reserve Street Bridge.
Battalion Chief Troy Ault spoke to KGVO news about the incident.
"We got dispatched to a fire under the (Reserve Street) bridge and it looked like it was some sort of structure," said Chief Ault. "Around two stories is what it seemed like. On our arrival it was definitely fully engulfed and starting to burn the area around it. It was probably around a quarter acre and a tree right next to it caught fire as well."
Just like the last fire that occurred at the camp on June 18, Ault said accessing the fire was a challenge for firefighters.
"Access was tough," he said. "We tried one direction and the river was in our way, so we had to come directly off the Reserve Street Bridge, which we try to avoid when we go down there just because it's such a nightmare with traffic. In this case, we really had no choice, so we had to stop right in the middle of the bridge and shut down a lane of traffic to access the fire."
Ault provided specific details on how firefighters accessed the fire, which sent smoke all over the area.
"We got to a spot where the land comes within about four feet from the bridge so you can hop over the rail," he said. "We dropped down about four feet onto a big mound of dirt and then from there we had to drag a ton of hose out there just to get to the fire."
Ault said the lack of access to the camp makes fire, police or ambulance response do difficult.
"That's what makes it so difficult is the fact that there's no road to it, and it's pretty much on an island," he said. "There's a couple places where a small UTV can cross if the conditions are just right and luckily today we were able to do that, but it's kind of a long drawn out process because we have to park right on the middle of the bridge and jump over the edge and drag hose. It seems like a mile but it's not quite that far."
The Missoula County Sheriff's Office is investigating the cause of the fire, and no injuries were reported by the camp residents or responding firefighters.
City and county officials are working to find solutions to such camps with 'Operation Shelter'.
(photo courtesy of NBC Montana)
KEEP LOOKING: See what 50 company logos looked like then and now