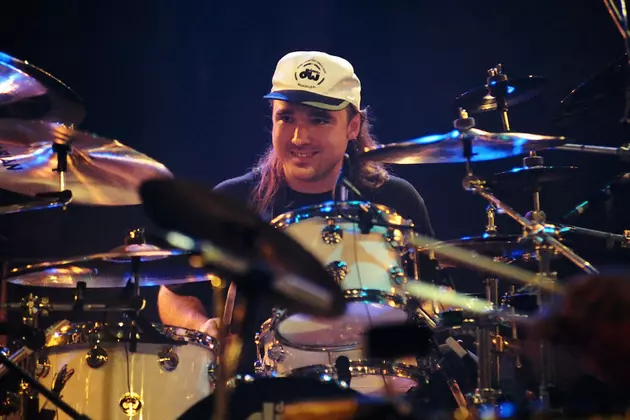 Former Pearl Jam Drummer Dave Abbruzzese Responds to Rock and Roll Hall of Fame Snub
Jeff Kravitz/FilmMagic, Getty Images
Former Pearl Jam drummer Dave Abbruzzese isn't happy about being left out of the band's Rock and Roll Hall of Fame nomination. Rather than going after the Rock Hall, Abbruzzese has challenged Pearl Jam to speak up against the "injustice."
Dave Abbruzzese played on two of Pearl Jam's most essential records: Vs. and Vitalogy. The percussionist also performed during the band's Ten tour after the departure of Matt Chamberlain. His three-year tenure with Pearl Jam ended in 1994, but Abbruzzese believes he should be alongside Rock Hall nominees Eddie Vedder, Mike McCready, Stone Gossard, Jeff Ament, Matt Cameron and Dave Krusen. Chamberlain and fellow former drummer Jack Irons was also left off Pearl Jam's Rock Hall ballot.
"It's just a fine opportunity to see what Pearl Jam has to say in response," Abbruzzese wrote on Facebook. "Let's see if they do the right thing. It'll be interesting to see the spin that is put on it. That band and its management have never been ones to shy away when an injustice is done. Let's see if they still have the courage to fight the good fight!"
The drummer added, "I've seen them change a 15 year old settlement agreement just by ignoring its contents and withholding money that didn't belong to them in order to force me to accept the changes. They know how to play the game…their way! … The members of Pearl Jam have got to know what's the right thing to do. They can't justify ignoring my contributions. Like me or not." [via Alternative Nation]
Click here to see the full list of 2017 Rock and Roll Hall of Fame nominees. The next Rock Hall induction ceremony will take place in April 2017 at the Barclays Center in Brooklyn, N.Y.
35 Hard Rock + Metal Acts Who Deserve To Be in the Rock and Roll Hall of Fame