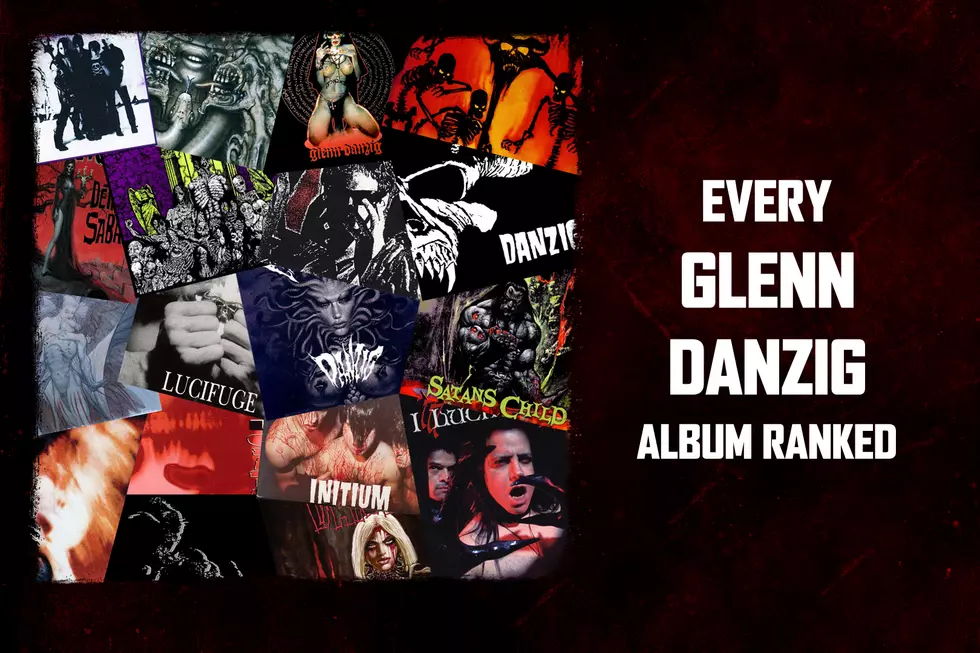 Glenn Danzig Albums Ranked
Hollywood / Evilive / E-Magine / Nuclear Blast / Plan 9 / Spitfire / The End / Ruby / Slash / American Recordings / Def American / Caroline
In a career that now spans half a century, all of it marked by his eternal scowl, bulging muscles, man-in-black-wardrobe, and, most important of all, his golden voice (which justifiably earned him the nickname of 'Evil Elvis'), Glenn Danzig has become one of the most recognizable names, faces and voices in hard rock and metal.
At the same time, Danzig has proven himself a complicated, oftentimes difficult character to comprehend; but, then, not too many artists were influenced in equal measures by the Ramones, Black Sabbath, Elvis Presley, and an impossibly vast catalog of obscure trash and horror movies.
The latter greatly informed Danzig's first group, seminal horror punks the Misfits, which struggled for years in the musical underground, known only to dedicated fans, before enjoying a belated renaissance when they were championed by celebrity fans Cliff Burton and James Hetfield of Metallica.
Unfortunately, by then, the Misfits had disbanded and Danzig had embarked on another groundbreaking gothic adventure with Samhain, once again blending occult themes with punk rock and an increasing dose of heavy metal, and eventually coming to the attention of Def Jam/Def American founder and future superstar producer, Rick Rubin.
This partnership led to the creation of a new band called simply Danzig, completed by guitarist John Christ, bassist Eerie Von (also of Samhain) and drummer Chuck Biscuits, going on to enjoy considerable success for much of the 1990s with their bluesy brand of heavy rock, and still active to this day, albeit with new sonic experiments, different backing musicians, and more modest sales figures.
Through it all, the creatively restless Glenn has refused to sit on his laurels, constantly changing not only his band's sound but also delving into other musical forms like classical and soundtrack music, yet always retaining his inimitable voice and style – a true original.
That's why, love him or hate him, you can say what you want, but Glenn Danzig has done it his way … and, in the gallery above, we, too, rank Glenn's multi-band discography our way, as a tribute to the man's stubbornly individualistic vision.
Glenn Danzig Talks 'Skeletons' Album + Legacy