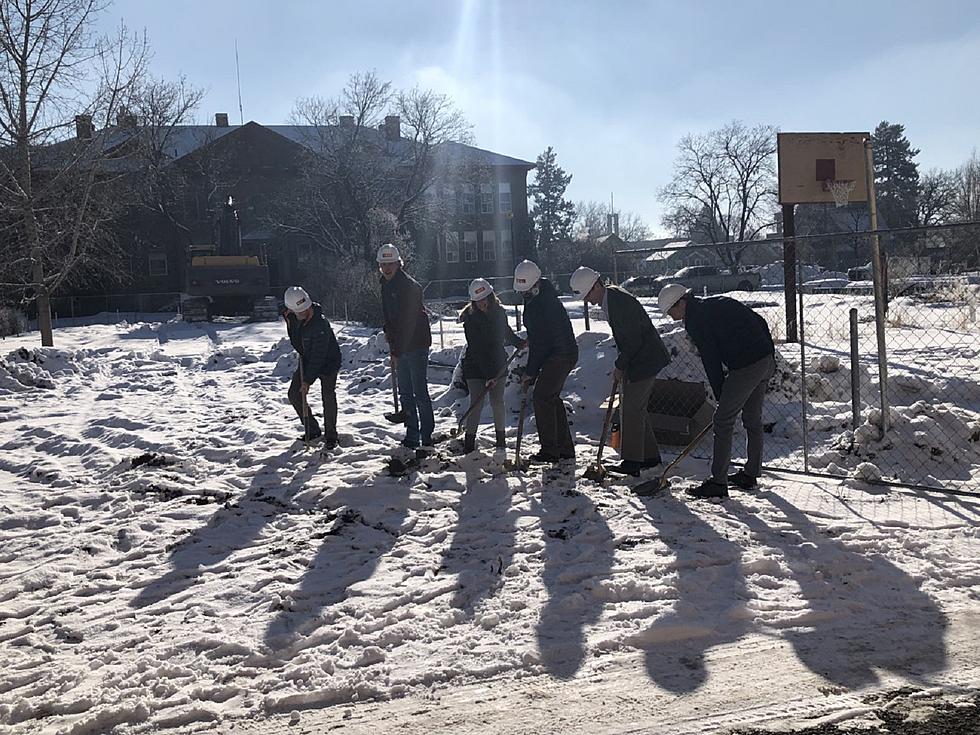 Groundbreaking for the Hogan Senior Living in Center of Missoula
photo by Peter Christian
A group of investors, senior advocates and construction executives gathered on Wednesday afternoon behind the 1st Presbyterian Church for the official groundbreaking of The Hogan Senior Living Apartments.
KGVO News spoke with Project Manager Mike Robinson about the Hogan Apartments.
"We are breaking ground on a 36 unit senior apartment building in Missoula," said Robinson. "This location is just amazing. We're right behind the Senior Center, the residents that live here will be able to walk to The Good Food Store, and you can walk to the university. We've dedicated about a third of the building to common space so residents will have their own modest sized apartments with their own little kitchenette and bathroom."
Robinson emphasized the fact that the Hogan will not be subsidized low-income senior housing.
"This will be reasonably priced housing," he said. "Yes, it's non subsidized, so we're not part of a government affordability criteria, but we're trying to hit a reasonable price point, meaning that units will be pretty modest sized with modest finishes. We're trying to target middle income senior housing. We have about 20 investors that are behind this project, and it should be finished in about 14 months."
Jim O'Day of O'Day Enterprises helped to arrange financing through private investors for the project.
"Well, Mike got a hold of me about a year and a half ago and he was mentioning a project that he wanted to do over in this area and if I could help him be introduced to people who might want to invest in the project," said O'Day. "I had some folks that had shown a lot of interest. You know, it really is in a great location. I think it should be something that should be real beneficial to a lot of different people."
O'Day said the Hogan location presented an unusual opportunity for investors.
"You know, it's just the convenience of being close to the university and close to downtown, close to the Senior Center and Hellgate High School," he said. "You've got grocery stores, you've got churches, you got so many things right in this area that you don't really even need a car, it's pretty convenient to everywhere that you want to go. I help a number of different developers across Montana, Idaho, Washington and Oregon, and I mean to find something like this is almost unreal."
Monthly rents begin near $950 for a studio, which includes cable TV, high speed internet, heat, and all other utilities. Leasing applications will be available starting June 2022.
WOW: This Missoula Mansion For Sale Was Once a Sorority House
This is the most expensive home on the market in Missoula, Montana as of January 2022.
LOOKING BACK: Photos of Missoula and How It's Changed
Check out these photos of how Missoula has changed over the past decade.
I Bought an Old House in Missoula: It's My First Time Renovating
As with any renovation project, we ran into a few mishaps when we began renovating the 1952 ranch-style home we bought in Missoula, but some of the changes we made were easy and immediately rewarding.