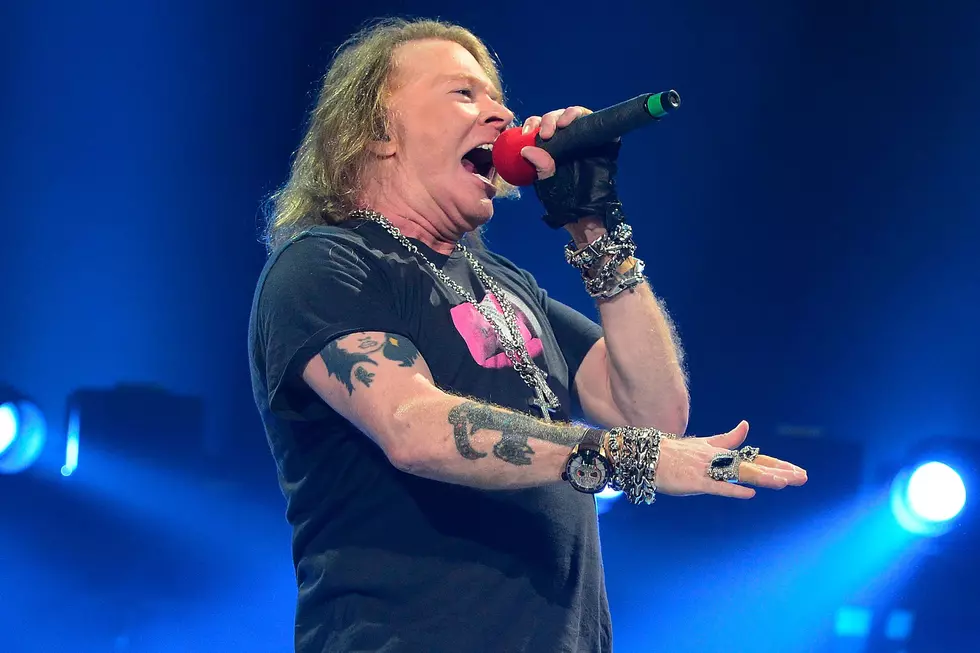 Guns N' Roses Return to the Charts, Plus News on Adler's Appetite, Metallica + More
Jeffrey A. Camarati, Getty Images
In addition to the big stories we covered today, Wire-to-Wire provides you with some of the other key rock and metal news items from May 13, 2018:
- Guns N' Roses' new song "Shadow of Your Love" debuted at No. 31 on the Mainstream Rock Songs chart this past week. The song, which is tied to the massive reissue of their Appetite for Destruction album, earned 1.1 million impressions in just three days, according to Nielsen Music. The track is the band's first song to chart in nearly a decade.
- Metallica may have just wrapped their European tour for 2018, but they'll be back. In a post-tour recap, they revealed that they've carved out time between May and September in 2019 for their next tour leg in Europe, this time playing mostly stadiums. The group set attendance records with 29 shows on their recent run.
- Nine Inch Nails have released a snippet of new music, showcasing a bit of "Ahead of Ourselves" via Instagram. The Bad Witch disc is due June 22.
- Eddie Vedder, Mudhoney and more will contribute music to the upcoming documentary, Return to Mount Kennedy, which focuses on the mission of the sons of mountain climber Jim Whittaker and former Senator Robert F. Kennedy to replicate their father's 1965 climb up Mount Kennedy. Eddie Vedder and Mudhoney's Matt Lukin also appear in the film. See a trailer here.
- With Bleeding Through back on the scene, they're wasting no time in getting new music to the fans. Take a look at the darkly-lit, performance-based clip for "Fade Into the Ash" right here. Singer Brandan Schieppati says, "To me 'Fade Into The Ash' is the true portrayal of the Bleeding Through sound. It tells the story of a 15 year career, alongside a comeback. When we shot the video, we kept things more streamlined. It was striking and simple, just like our new record. It features a strong visual performance with back lit silhouettes that add to the overall drama of the song. Overall, it's a timeless look and ambiance, which perfectly captures the emotion and essence of the band! Enjoy!" The track appears on the Love Will Kill All album, due May 25.