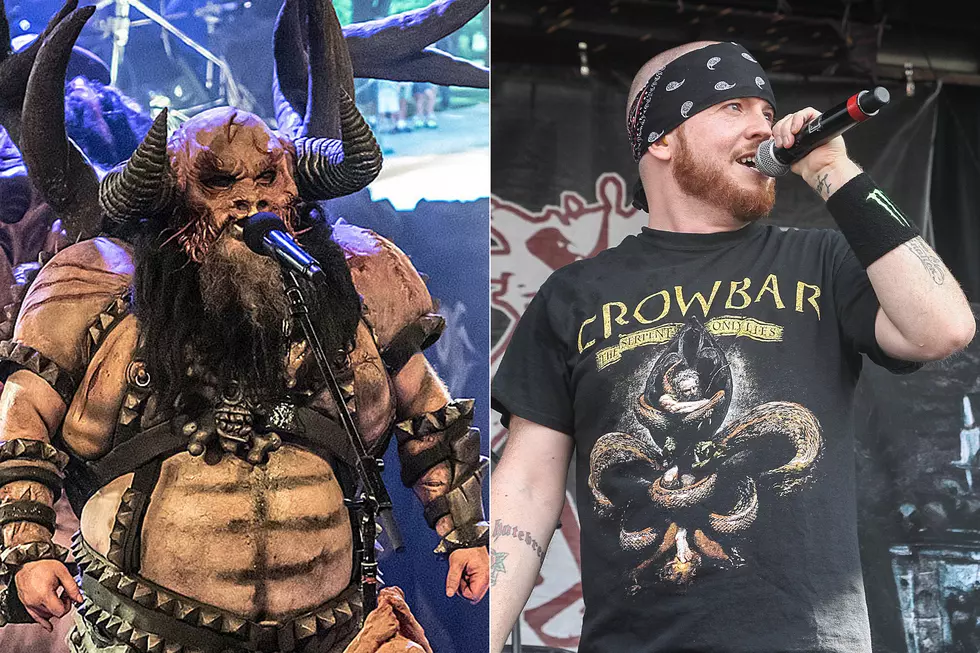 GWAR + Hatebreed Bring 'Gore, Core, Metal + More' on Cross-Country Tour
Kevin RC Wilson / Johnny Perilla, Loudwire
Listen up Bohabs! The mighty GWAR will be hitting the road this fall on a co-headlining tour with Hatebreed as part of their "Gore, Core, Metal and More" trek, and the impressive pairing doesn't stop there, as Miss May I, Ringworm and American Sharks will join in the fun as well.
"This is the tour you can't afford to miss. We are bringing you the heaviest in hardcore and the most brutal of gore! We are thrilled to be slaying the nation alongside our brothers in Hatebreed!," belches guitarist Pustulus Maximus.
"Humans, come, witness the eviscerating, ear splitting majesty and power of GWAR and Hatebreed! Yes, demonstrate your ceaseless dedication to heavy fucking metal in the Pit of Death. There is a very good chance you won't survive!," adds vocalist The Berserker Blothar.
"Autumn is a lovely time of year to team up with GWAR and crush every city in our path. There will be mosh pits, blood, carnage & chaos," says Hatebreed frontman Jamey Jasta.
The tour launches Oct. 7 in Buffalo and continues through Oct. 28 in Peoria, Ill. See all of the dates for the run listed below and pick up your tickets this Friday (July 20).
Both Hatebreed and GWAR have additional shows prior to the tour, while GWAR has a post-trek headline run that takes them through Halloween and into November. You can see those dates below as well.
July 17 - Springfield, Mo. @ The Complex
July 19 - Thornville, Ohio @ Legend Valley - Gathering of the Juggalos*
July 20 - Asheville, N.C. @ The Orange Peel
Aug. 5 -Los Angeles, Calif. @ The Growler's Beach Goth*
Aug. 24 - Uncasville, Ct. @ Mohegan Sun Wolf Den
Sept. 13 - Norfolk, Va. @ The Norva
Sept. 14 - Millvale, Pa. @ Mr. Small's Theatre
Sept. 15 - Chicago, Ill. @ Riot Fest*
Sept. 16 - Charleston, W.V. @ The Bakery
Sept. 29 - Louisville, Ky. @ Louder Than Life Festival*
Oct. 6 - Camden, N.J. @ Rock Allegiance*
Oct. 13 - Sacramento, Calif. @ Aftershock Festival*
GWAR & Hatebreed Co-Headline With Miss May I, Ringworm + American Sharks
Oct. 7 - Buffalo, N.Y. @ Town Ballroom
Oct. 9 - Lawrence, Kan. @ Granda Theater
Oct. 10 - Denver, Colo. @ Summit Music Hall
Oct. 11 - Salt Lake City, Utah @ The Complex
Oct. 12 - Boise, Idaho @ Knitting Factory
Oct. 13 - Spokane, Wash. @ Knitting Factory (Hatebreed Headlines)
Oct. 15 - Seattle, Wash. @ Showbox Sodo
Oct. 16 - Portland, Ore. @ Roseland Theater
Oct. 18 - Los Angeles, Calif. @ Belasco Theater
Oct. 19 - Tempe, Ariz. @ The Marquee
Oct. 20 - Albuquerque, N.M. @ Sunshine Theater
Oct. 22 - Houston, Texas @ Warehouse Live
Oct. 23 - Dallas, Texas @ Gas Monkey Live
Oct. 24 - Tulsa, Okla. @ Cain's Ballroom
Oct. 25 - Sauget, Ill. @ Pops
Oct. 26 - Madison, Wis. @ The Sylvee
Oct. 27 - St. Paul, Minn. @ Myth Live
Oct. 28 - Peoria, Ill. @ Monarch Music Hall
Oct. 29 - Detroit, Mich. @ Saint Andrews Hall
Oct. 30 - Cleveland, Ohio @ House of Blues
Oct. 31 - New York, N.Y. @ Irving Plaza
Nov. 2 - North Myrtle Beach, S.C. @ House of Blues
Nov. 3 - Atlanta, Ga. @ Masquerade
Nov. 4 - Raleigh, N.C. @ Lincoln Theater
Nov. 6 - Stroudsburg, Pa. @ Sherman Theater
Nov. 7 - Clifton Park, N.Y. @ Upstate Concert Hall
Nov. 8 - Worcester, Mass. @ The Palladium
Nov. 9 - Baltimore, Md. @ Baltimore Soundstage
Nov. 10 - Richmond, Va. @ The National
10 Hilarious GWAR Moments