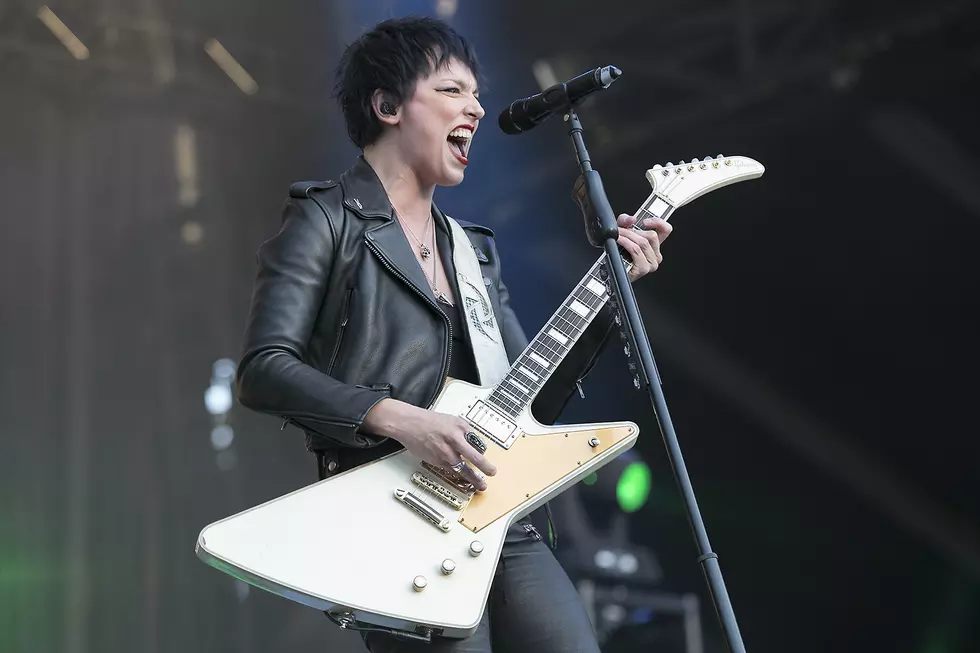 Halestorm Tease Upcoming Album, Plus News on Babymetal, A Perfect Circle + More
Raymond Ahner for Loudwire
In addition to the big stories we covered today, Wire-to-Wire provides you with some of the other key rock and metal news items from May 1, 2018:
- Looks like we're closing in on new Halestorm music. During a chat with iRockRadio at the Welcome to Rockville festival, Lzzy Hale revealed, "We're going to unleash something for you, actually, within the next two months or so -- probably less than that actually." She confirmed that the band is done with their next album, so stay tuned for details coming in the near future.
- Babymetal have started their own label. The Japanese sensations have partnered with 5B Artist Management and Records and Cooking Vinyl to launch their new label Babymetal Records.
- Congrats Internet! A Perfect Circle's Maynard James Keenan had a laugh at a recent parody of the band's Eat the Elephant album cover, which replaced the powder white complexion of Billy Howerdel with Christopher Lloyd's Uncle Fester from The Addams Family films. See the shot here.
- Would you like to stay in a hotel room inspired by Pearl Jam in their home city? You can at the Edgewater Hotel, who have crafted a Pearl Jam suite to go along with their Beatles-themed suite. The hotel, in coordination with the band and their fan club, have created a room filled with Pearl Jam memorabilia and it comes with an in-room guitar, amp and vinyl record player. See more and get more details here.
- Former Bullet for My Valentine drummer Michael "Moose" Thomas has resurfaced with a new band. The still nameless outfit also features Still Remains guitarist Jordan Wheelan and Throw the Fight vocalist James Clark. Get more details here.
- Seth Meyers certainly likes his rock drummers. Hatebreed's Matt Byrne will be the next to take his place behind the kit for a week with the 8G Band on Late Night With Seth Meyers. His stint runs May 14-17 and you can catch him at 12:35AM nightly on NBC.
- A Life to Live, which features a trio of former members of From Ashes to New, have just released a moving cover of Linkin Park's "One More Light" as a tribute to late vocalist Chester Bennington. "We are incredibly excited and proud to release this long overdue tribute to Chester. We wanted to take this opportunity to not only pay our respects to such an immeasurable influence on us personally and the rock world at large, but also do our part to raise awareness for mental health," says vocalist Chris Musser. "I have been open about my struggles with depression in the past in hopes of letting others know it's okay to talk about it because you are not in this alone. Any and all proceeds made from our rendition of 'One More Light' will be going to charity in support of mental health awareness." See the video for the song here. The band is currently working on a new album, expected later this year.
- The Used have unleashed an odd new video for their song "The Nexus." Watch the Lisa Mann-directed clip right here, and look for the song on their latest album, The Canyon.
- This is not your dad's Led Zeppelin! Mutoid Man have continued their series of unique covers, this time turning Led Zeppelin's "Communication Breakdown" into "Mutation Breakdown." The end result is a much more chaotic track that you can listen to here.
- Don't let the title fool ya. Madball's new song "Old Fashioned" is vibing with energy. Check out the new lyric video for the track right here. The band's For the Cause album drops June 15.
- Tesla's Frank Hannon is set to unleash another album of covers. From One Place ... to Another, Vol. 2 is on schedule for a May 18 street date. Special guests Roger Fisher (Heart), Graham Whitford, Duane Betts, Randy Hansen and Jared James Nicholas all turn up on the disc, which features covers ranging from Black Sabbath to Seal. See the track listing and get pre-order info here.
- New York hard rockers Station dropped a video for the feel-good, sing-song "I Won't Break Your Heart" off the new record More Than the Moon. Watch the clip here.