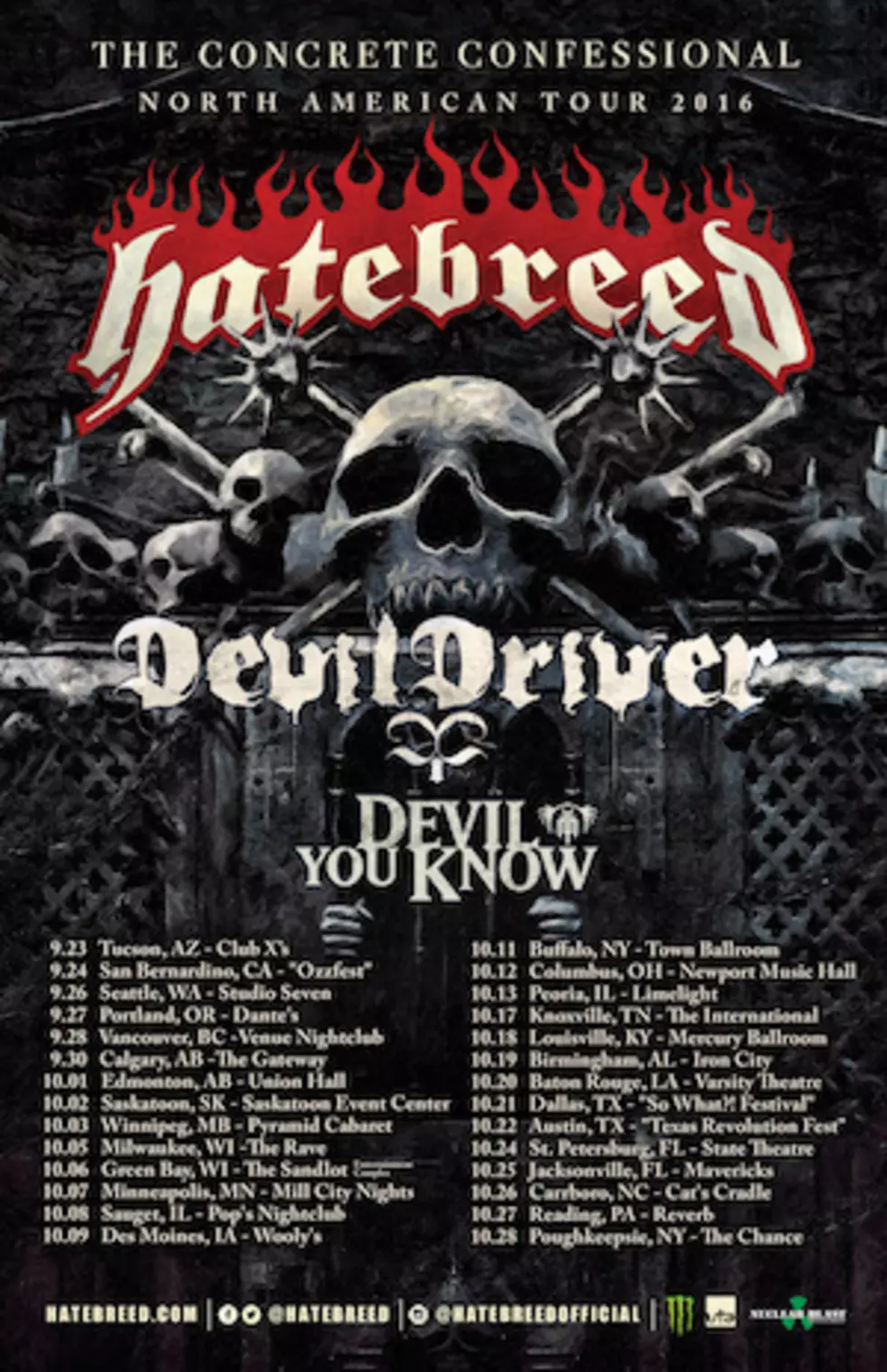 Hatebreed Announce Second Leg of 2016 North American Tour, Unleash 'Something's Off' Music Video
Nuclear Blast
Well, this feels like deja vu, doesn't it? Hardcore heavyweights Hatebreed will be hitting North America once again, bringing DevilDriver and Devil You Know back out with them as well. With a double dose of good news, they've also unleashed the music video (seen below) for "Something's Off" from The Concrete Confessional.
The trek will launch on Sept. 23 in Tucson, Ariz., extending over one month and closing it out in Poughkeepsie, N.Y. on Oct. 28. Commenting on the trek, vocalist Jamey Jasta said, "Here we go again. If we're bringing the mosh to your city, we wanna see you in the pit! Thank you to everyone who made the first leg of the tour a massive success. We're grateful to be headed back out to play a bunch of great places we haven't been to in awhile! See you this fall."
Tickets will go on sale Friday, July 29 at 10AM local time. VIP tickets will be available in advance here, starting July 22.
The music video for "Something's Off" depicts the band playing in the tight confines of a red-lit room. Clips cut away showing a young boy with an unnerving sketch book filled with mysterious drawings with red and black markers as well as the words "GO AWAY" scrawled on one of the pages. The song is a change of pace from previously released singles, dialing back the intensity and focusing on stronger hooks from both Jasta and the guitar rhythms.
Hatebreed, "Something's Off" Music Video
Hatebreed 2016 North American Tour Dates
09/23 — Tucson, Ariz. @ Club X's
09/24 — San Bernardino, Calif. @ "Ozzfest"
09/26 — Seattle, Wash. @ Studio Seven
09/27 — Portland, Ore. @ Dante's
09/28 — Vancouver, British Columbia @ Venue Nightclub
09/30 — Calgary, Alberta @ The Gateway
10/01 — Edmonton, Alberta @ Union Hall
10/02 — Saskatoon, Saskatchewan @ Saskatoon Event Centre
10/03 — Winnipeg, Manitoba ! Pyramid Cabaret
10/05 — Milwaukee, Wis. @ The Rave
10/06 — Green Bay, Wis. @ The Sandlot Entertainment Complex
10/07 — Minneapolis, Minn. @ Mill City Nights
10/08 — Sauget, Ill. @ Pop's Nightclub
10/09 — Des Moines, Iowa @ Wooly's
10/11 — Buffalo, N.Y. @ The Town Ballroom
10/12 — Columbus, Ohio @ Newport Music Hall
10/13 — Peoria, Ill. @ Limelight
10/17 — Knoxville, Tenn. @ The International
10/18 — Louisville, Ky. @ Mercury Ballroom
10/19 — Birmingham, Ala. @ Iron City
10/20 — Baton Rouge, La. @ Varsity Theatre
10/21 — Dallas, Texas @ So What?! Festival
10/22 — Austin, Texas @ Texas Revolution Fest
10/24 — St. Petersburg, Fla. @ State Theatre
10/25 — Jacksonville, Fla. @ Mavericks
10/26 — Carrboro, N.C. @ Cat's Cradle
10/27 — Reading, Pa. @ Reverb
10/28 — Poughkeepsie, N.Y. @ The Chance
Biggest Rock + Metal Stories of 2016 (So Far)
Jamey Jasta Talks The Concrete Confessional + Addiction