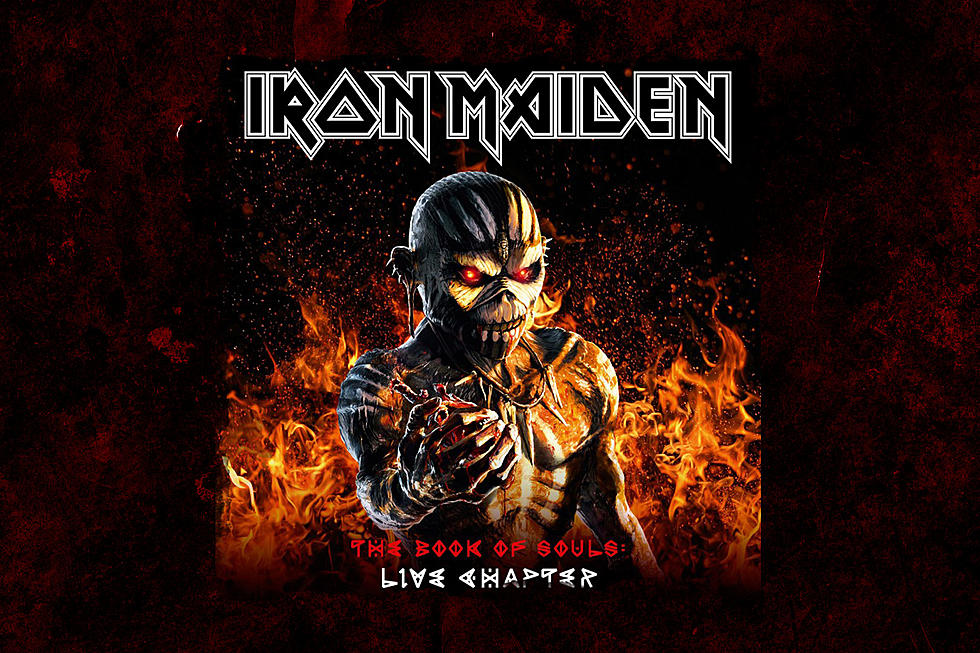 Iron Maiden Bring Onstage Joy to 'The Book of Souls: Live Chapter' – Album Review
Sanctuary Records
When it comes to live metal shows, it doesn't get much better than an Iron Maiden concert. They have released a ton of live albums, DVDs and even VHS tapes over the years. From 1981's Live at the Rainbow to 1985's Live After Death to 1993's Live at Donington, every era of their storied career has been commemorated with a live release.
The latest addition to their live canon is The Book of Souls: Live Chapter. Iron Maiden's tour in support of 2015's The Book of Souls spanned 39 countries and six continents. Instead of picking one show from that tour and featuring its complete setlist, nearly every song on the album is from a different show (two were recorded at Castle Donington, UK).
Since the tour was in support of The Book of Souls, six of The Book of Souls: Live Chapter are from that album including the 13 minute-plus "The Red and the Black" and the nearly 11 minute "The Book of Souls." The rest of the set includes hits from throughout their career.
No matter where they were recorded, from San Salvador, El Salvador ("The Trooper") to Wacken, Germany ("The Number of the Beast") to Sydney, Australia ("If Eternity Should Fall"), the fans are equally enthusiastic. They don't just sing along to the lyrics, they sing along to guitar riffs and instrumental breaks with the same amount of gusto.
Frontman Bruce Dickinson battled cancer prior to this tour, with tumors on the back of his tongue and in his neck. He took some time off to recover, and his voice is back at full strength. His legendary pipes sound as good as ever, having no problem hitting the high notes when needed.
Maiden are such a well oiled machine, with the triple guitar attack of Dave Murray, Adrian Smith and Janick Gers operating at maximum efficiency. The rhythm section of Steve Harris and Nicko McBrain keep everything anchored, with Harris also co-producing the album.
One thing that's extremely refreshing is that after all these years, Maiden are still having fun. Having seen a show on this tour, this reviewer can vouch for the excitement and joy that's still on the band members' faces. To adapt a line from Bon Jovi, on the Book of Souls tour Maiden played in front of two million faces, and they rocked them all. You'll hear it in all its glory on The Book of Souls: Live Chapter.
Iron Maiden Albums Ranked
Bruce Dickinson Talks Childhood Life Lesson + Corporal Punishment