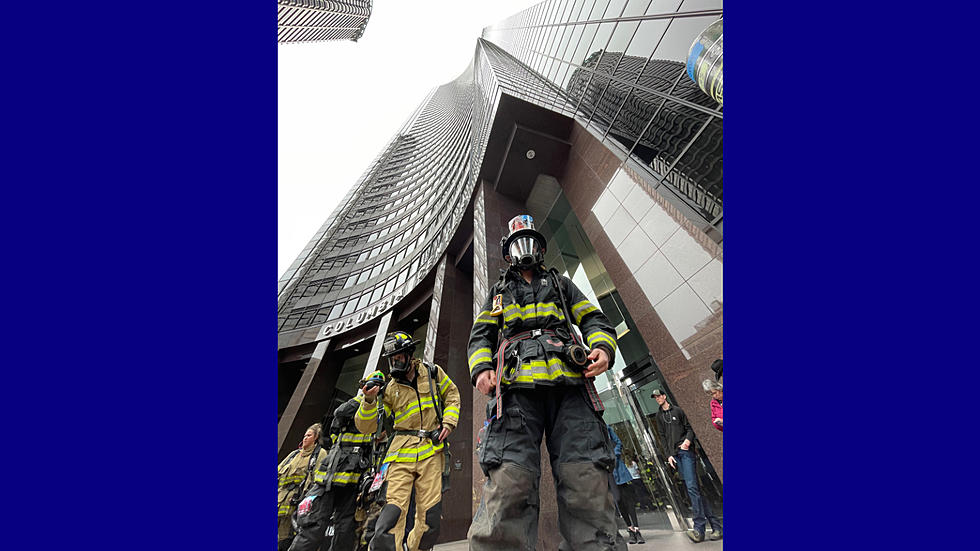 Missoula Firefighters Lose Stairclimb Title, Still Raise $11,000
Photo courtesy; Andrew Pace, MFD
Missoula firefighters are still among the strongest in the region at the annual Seattle Stairclimb competition but will have to wait another year for the next shot at regaining the #1 title.
Eleven MFD climbers made the trip to scale the 69-floors of the Columbia Center in downtown Seattle over the weekend, part of the hundreds of firefighters to take part in the annual climb sponsored by the Leukemia & Lymphoma Society, which raised more than $2,000,000.
Missoula's team has consistently been the top team in the Northwest, or in the top two, driven by the strong legs of veteran firefighters Andy Drobeck and Ben Brunsvold, who was returning to the climb after missing last year while he was on a training assignment.
Going into the race, Drobeck had been worried about the challenge mounted last year by the Burnaby, British Columbia team in 2022.
And it turned out, there was a good reason to worry
The Burnaby team turned out to be the one to beat in '23. With Canadians Craig Smith and Colton Porter leading the charge in 1st and 2nd, the Burnaby team placed 5 climbers in the top 10. Drobeck and Brunsvold finished in 4th and 5th overall, finishing at 11:51 and 11:59 respectively. Still a very strong pace, but off some of the marks they had set in earlier climbs. Drobeck had hit the top in 11:27 last year,
At 41, Drobeck was the oldest climber in the Top 10 and 6 years younger than Smith, who with a finish of 10:38, may have beat Drobeck's own record of 10:39.
Pullman firefighter Steve Potratz-Lee who placed second last year and has consistently been a Top 10 finisher, slipped to third this year.
Burnaby finished with a team score, or time, of 34:22.6, while Missoula hit 38:11.3.
But outside of the finish, what really mattered was the effort and the money that was raised, with the Missoula climbers topping their goal and raising over $11,000 this year for the fight against leukemia and lymphoma.
Here's how all the Missoula firefighters placed
| | | | | | | | | | |
| --- | --- | --- | --- | --- | --- | --- | --- | --- | --- |
| Team Pos | Bib No | Name | City/State | Division | Gend | O'all Place | Cum Place | Time | Cum. Time |
| 1 | 906 | Andrew Drobeck | | Climb | M | 4 | 4 | 11:59.2 | 11:59.2 |
| 2 | 1911 | Benjamin Brunsvold | Missoula MT | Climb | M | 5 | 9 | 12:06.6 | 24:05.8 |
| 3 | 910 | Drew Merten | | Climb | M | 29 | 38 | 14:05.5 | 38:11.3 |
| 4 | 911 | Blake Meyers | | Climb | M | 36 | 74 | 14:16.8 | 52:28.2 |
| 5 | 914 | Quinlan Roe | | Climb | M | 88 | 162 | 15:51.3 | 1:08:19.5 |
| 6 | 909 | Chad Maney | | Climb | M | 210 | 372 | 17:37.8 | 1:25:57.4 |
| 7 | 916 | Matt Wheeler | | Climb | M | 212 | 584 | 17:41.0 | 1:43:38.5 |
| 8 | 907 | Cody Edens | | Climb | M | 248 | 832 | 18:06.8 | 2:01:45.3 |
| 9 | 912 | Andrew Pace | | Climb | M | 267 | 1099 | 18:16.5 | 2:20:01.9 |
| 10 | 913 | Jack Pickhardt | | Climb | M | 339 | 1438 | 18:55.7 | 2:38:57.6 |
| 11 | 915 | Ty Whalen | | Climb | M | 668 | 2106 | 21:31.1 | 3:00:28.7 |
Missoula Law Enforcement Officer of The Year Awards 2023
Exchange Club of Missoula Honors Brave Officers For Their Service