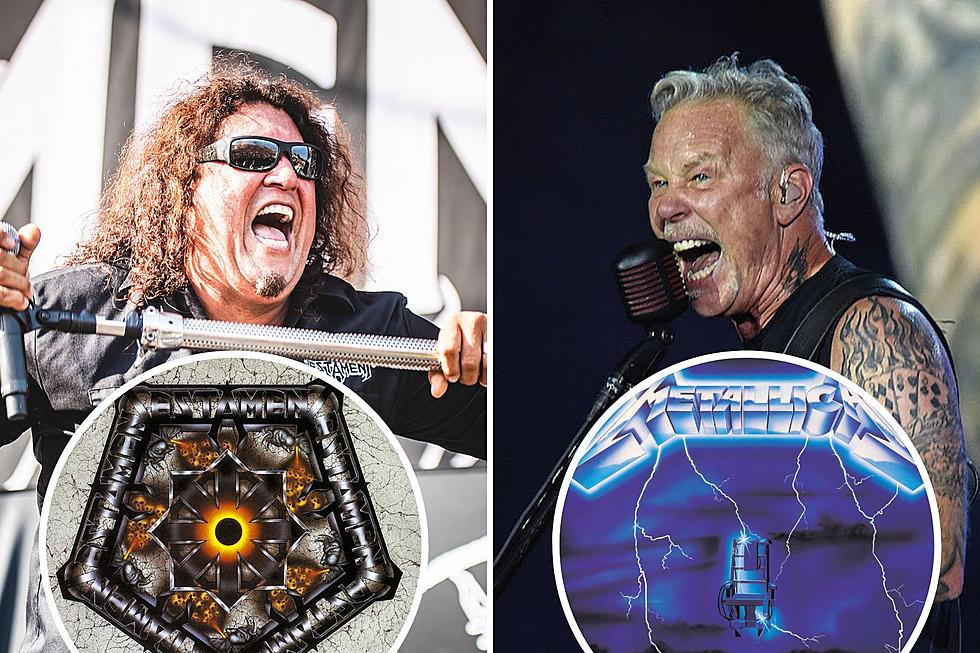 10 Times Thrash Bands Released a Ballad (And It Ruled!)
LightRocket via Getty Images / Atlantic / Didier Messens, Getty Images / MegaForce
When you hear the term thrash metal, the last thing that comes to mind is a scantily dressed woman dancing on the top of a white Jaguar, or the sight of Zippos being thrown haughtily in the air. Even though power ballads were owned and honed by the glam metal bands of the 1980s, our friends in battle vests and white hi-tops knew how to write a ballad or two… or at least a track without double bass.
Ranging from obscure thrash gems to metal's biggest names, we've chosen some of our favorite tracks showcasing the tamer side of metal and our favorite thrashers' aptness to create vulnerable and heart wrenching melodies.
Sacred Reich, "I Never Said Goodbye"

Coming in at just under eight minutes, "I Never Said Goodbye" is the epic from Sacred Reich's 1993 release, Independent. The song demonstrates a melodic side to Sacred Reich that hadn't been seen before, a side opposite of relentless riffs and political ideologies; a side much more personal.

"I Never Said Goodbye" details what seems to be the loss of a loved one, likely a parent. Touching lyrics such as, "I wanted you to see me succeed / to make you proud and have you close to me" drive this point home.

Overkill, "The Years of Decay"

Upon first listen, it's hard to believe that you're listening to the same guy who sings tracks such as "Hello From The Gutter" and "Elimination." Bobby Blitz's beloved screeching vocals take a seat for this haunting Overkill tune.

The title track from the band's 1989 release showcases what makes slow(er) tunes from our seldom balladers great; starting subdued and slowly growing in intensity. The best part of "The Years Of Decay" is arguably the last minute and a half, featuring a blistering solo from former Overkill guitarist, Bobby Gustafson.

According to Gustafson, the late Dimebag Darrell reportedly mentioned that Gustafson's tone on The Years Of Decay inspired Pantera's Cowboys From Hell (which Terry Date, producer for this Overkill classic, also worked on).

Testament, "Return to Serenity"

With the breakthrough of alternative, the '90s caused an array of upheaval and reinvention for many metal subgenres; thrash included. Thrash metal giants, Testament, quickly found their footing amongst this rocky terrain, even landing a spot on the Clash of the Titans tour in 1990 (also featuring Slayer, Megadeth, and Suicidal Tendencies). Testament remained unstoppable with the release of their 1992 record, The Ritual, produced by Ben Platt.

The album in its entirety takes on a more grunge-like feel, and gives fans what just might be Testament's finest ballad, "Return to Serenity." The song illustrates the Bay Area thrashers' ability to dig deep lyrically, as well as their ability to let the instrumentation breathe (while simultaneously having guitarist, Alex Skolnick, deliver a myriad of tasty solos).

The Ritual went on to be Skolnick's last work with the band until rejoining in 2005.

Megadeth, "A Tout Le Monde"

From the early days of Killing Is My Business…And Business Is Good! all the way to Megadeth's most recent record, The Sick, The Dying…And The Dead!, Dave Mustaine's brainchild has always had a knack for incorporating the attitude and aggression of thrash with undeniably catchy melodies.

Megadeth's tunes arguably see their most melodic form starting in the early '90s, especially with the track we're featuring here; 1994's "A Tout Le Monde." It's a woefully beautiful track that at surface level seems to be themed around the topic of suicide.

Mustaine gave fans more clarity on the track's origins in an interview with NHL during a visit to Canada in 2017, "I had a dream about my mom, just after she died. I had a visitation and the one thing she got to do was come back and visit, but she could only say one thing,'I love you.' That was the interesting thing for me, and that's what the song is about, telling my friends, 'I love you all.'"

Despite the song's popularity, the track has become a rarity in the band's live set. Consider catching a Megadeth show in France or Montreal if this tune is on your show bucket list.

Death Angel, "A Room With a View"

the truest of them all. Guitarist Rob Cavestany takes lead vocals on this acoustic-driven track, with Death Angel frontman, Mark Osegueda, on backing vocals. You can't help but feel overwhelmingly melancholic throughout the duration of this song, which highlights the perspective of someone who is blind.

"So, there he sits and some may wonder about the sly grin on his face / Yet little do they know (they don't have a clue) / The boundaries of his wisdom in the solitude of his kingdom."

The band recorded a full acoustic version of "A Room With A View" during the COVID-19 pandemic. Osegueda stated via Backseat Mafia that the track "felt natural to play during these isolated times, staring out of my studio window, pondering the fate of humanity."

The song appears alongside a fellow acoustic track on Death Angel's Act III, "Veil Of Deception."

Toxik, "There Stood the Fence"

Hailing from Peekskill, NY, Toxik never quite tore through the wall of worldwide popularity. With only three full-length studio records released over the last 38 years, Toxik gave us an underrated thrash metal gem in 1989, the now fan-revered Think This.

"There Stood The Fence" is the fourth track on this release, and eerily reminds us of a song we could have seen on a late '80s Queensrÿche record. Like every other song on this list, "There Stood The Fence" tackles themes far more profound than love lost, in this case, human's mastery of the destruction of Mother Earth.

"This was our earth, our Garden of Eden / Took what we could and left her bleeding."

Suicidal Tendencies, "How Will I Laugh Tomorrow"

Since their formation in 1980, it's always been a challenge to nail Suicidal Tendencies down to one genre; which isn't necessarily a bad thing. "How Will I Laugh Tomorrow" from the album of the same name illustrates the band's consistent and eccentric stylistic range. The track features an array of punk, thrash and even prog influence intertwined with some of thrash metal's most plaintive words.

Exploring the world of depressive thoughts, "How Will I Laugh Tomorrow" takes listeners on an intense musical journey; much like the intensity of the feelings described in the lyrics written by Suicidal Tendencies frontman Mike Muir and guitarist Mike Clark.

Metallica, "Fade to Black"

Metallica's "Fade To Black" is as classic of a metal ballad as they come. Present on the band's magnum opus, 1984's Ride The Lightning, "Fade To Black" was one of Metallica's earliest showings of versatility. Although the song was originally given flack for its tameness, "Fade To Black" is now often referred to as one of Metallica's very best. Plus, let's face it, Metallica's subdued nature in the first half of this tune is nothing compared to what the band would release in decades to come.

We think the late Cliff Burton said it best, "We do what we wanna do. If they consider that selling out, then whatever."

Metal Church, "Watch the Children Pray"

Out of the trenches of Seattle came one of thrash metal's most underappreciated bands, Metal Church. Although their discography is proof enough that they deserve just as much love as their thrashing counterparts, "Watch The Children Pray" from 1986's The Dark solidifies this statement.

Featuring Craig Wells' atmospheric slide guitar and the demonstration of David Wayne's vocal prowess, "Watch The Children Pray" is an indisputable thrash metal classic and a lesson in how to properly accomplish the art of "metal turned ballad."

Flotsam and Jetsam, "Escape From Within"

Easily one of the most stomach-churning tracks on this list, thrash metal pioneers Flotsam and Jetsam created the first part of Metallica's "One" with this tune. After losing bassist Jason Newstead, ironically to Metallica, Flotsam and Jetsam returned with easily one of the best records in the band's discography, 1988's No Place For Disgrace.

Starting with a siren-filled introduction, and closing with the chilling sound of a flatlining EKG, "Escape From Within" transforms a harmonious ballad into a bombastic metal epic. No thrash metal ballad compilation would be complete without this behemoth of a classic.