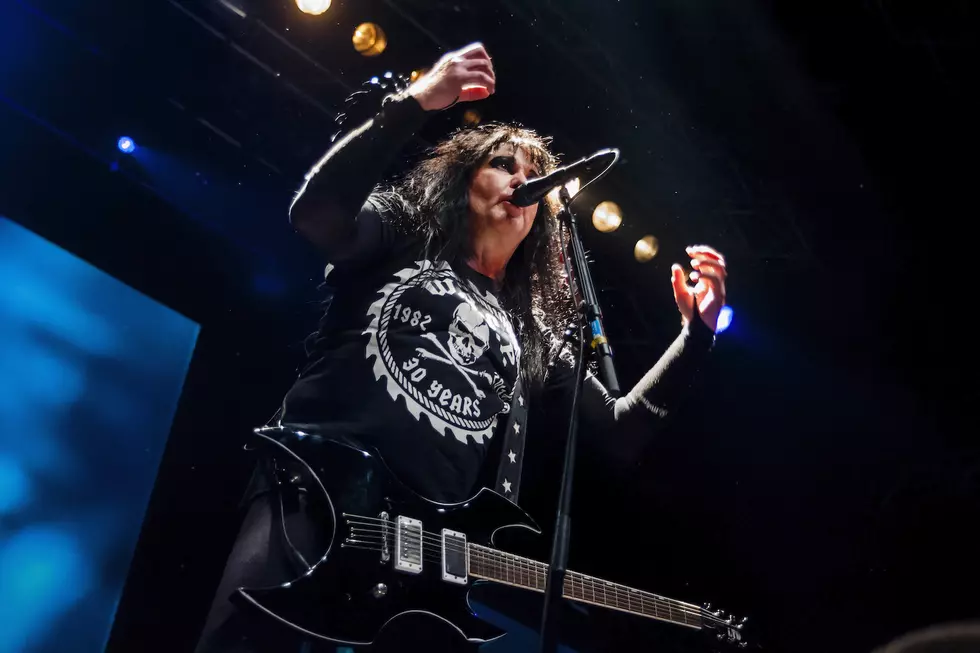 In Pain, Blackie Lawless Vows to Finish W.A.S.P. Tour Performing Seated
Dimitri Hakke, Getty Images
W.A.S.P. icon Blackie Lawless will finish the classic Los Angeles glam metal band's ongoing European tour performing while sitting down, as the 66-year-old bandleader explained this week.
It's the compromise the founding W.A.S.P. singer-guitarist is willing to make after he was advised not to continue with W.A.S.P.'s 40th anniversary shows.
Lawless has been performing with a herniated disc in his lower back, he revealed last month, asserting the problem stems for a leg injury several years ago. Now, the W.A.S.P. rocker said, despite the injury, he'll finish tour "come hell or high water."
See W.A.S.P. tour dates below. After the final shows on their current run, the band's 40th anniversary tour picks back up with stateside dates in August.
Blackie Lawless to Play With W.A.S.P. Seated
"I had a serious setback at the hands of a very unqualified Doctor here in Europe about 2 weeks into the tour," Lawless explains in a May 10 update on his website. "I've been receiving treatment at a hospital in Berlin and that team of Doctors has been nothing short of fantastic. But, at the same time they strongly advised me to stop the tour and go back to L.A. and begin my rehab."
Lawless continues, "But it's hard for them to understand, this is the only 40th Anniversary I'm ever going to get, not to mention the fans that have stood by us this entire time have waited over 3 years, and because of the pandemic suffered 3 different sets of tour postponements. I go back to Berlin on Friday for 2 days for more treatments which means both the shows in Italy will be missed. At the start the Doctors there told me without rest and rehab I would definitely get worse. As hard as I've pushed through these shows, they were right. The show last night in Zurich was cut short by 2 songs, and I do apologize for that but the pain reached a point where I could no longer perform … My legs were giving out on me and it got dangerous."
He adds, "I will not be able to stand to do the remaining 5 shows, so the compromise I reached with the Doctors was if I would stay seated, in a chair to do these last 5 then they will give me clearance to finish the tour and do those remaining 5 shows. I've never done this before, but please understand, my intention is to finish this tour, come hell or high water."
READ MORE: Why W.A.S.P. Are Using Pre-Recorded Backing Tracks at Their Current Concerts
Lawless concludes, "As frustrating as this all has been I can't wait to get into rehab, and then destroy America.... Again, on the 2nd, and final leg of the '40th Anniversary World Tour'!! We are Coming Back."
Go here for W.A.S.P. tickets. Under the dates, see a list of rock and metal bands now touring. Get Loudwire's newsletter and Loudwire's app for more.
W.A.S.P. Spring 2023 European Tour Dates
May 11 – Lausanne, Switzerland @ Les Docks
May 14 – Ljubljana, Slovenia @ Center Urbane
May 15 – Brno, Czechia @ Sono Music Club
May 17 – Bucharest, Romania @ Roman Arena
May 18 – Sofia, Bulgaria @ University Sports Hall
W.A.S.P. 2023 North American Tour Dates
Aug. 4 – San Luis Obispo, Calif. @ Fremont
Aug. 5 – Wheatland, Calif. @ Hard Rock Live
Aug. 7 – Portland, Ore. @ Roseland Theater
Aug. 8 – Vancouver, British Columbia @ Vogue
Aug. 10 – Seattle, Wash. @ Moore Theatre
Aug. 11 – Spokane, Wash. @ The Podium
Aug. 12 – Garden City, Idaho @ Revolution Ctr
Aug. 13 – Salt Lake City, Utah @ The Depot
Aug. 15 – Omaha, Neb. @ Steelhouse
Aug. 16 – Minneapolis, Minn. @ The Fillmore
Aug. 17 - Moline, Ill. @ The Rust Belt
Aug. 18 – Eau Claire, Wis. @ RCU Theater
Aug. 19 – Clive, Iowa @ Horizon Events Ctr
Aug. 20 – Gary, Ind. @ Hard Rock Live
Aug. 22 – Grand Rapids, Mich. @ 20 Monroe
Aug. 23 – Indianapolis, Ind. @ Egyptian Room
Aug. 24 – Wheeling, W.V. @ Capitol Theatre
Aug. 25 – Stroudsburg, Pa. @ Sherman Theater
Aug. 26 – New York, N.Y. @ Hammerstein Ballroom
Aug. 27 – Hampton, N.H. @ Hampton Beach Casino
Aug. 29 – Wallingford, Ct. @ Oakdale Theatre
Aug. 30 – Philadelphia, Pa. @ The Fillmore
Aug. 31 – Warren, Ohio @ Packard Music Hall
Sept. 1 – Toronto, Ontario @ Danforth Music Hall
Sept. 3 – Montreal, Quebec @ Mtelus
Sept. 5 – Cincinnati, Ohio @ Brady Music Ctr
Sept. 7 – Memphis, Tenn. @ The Soundstage
Sept. 8 – Little Rock, Ark. @ The Hall
Sept. 9 – Dallas, Texas @ South Side Ballroom
Sept. 10 – Oklahoma City, Okla. @ Criterion
Sept. 13 – Tucson, Ariz. @ Rialto Theatre
Sept. 14 – San Diego, Calif. @ House of Blues
Sept. 16 – Los Angeles, Calif. @ Palladium
Your Guide to Rock + Metal Bands Touring in 2023
Check out over 200 rock and metal bands' touring schedules for 2023.