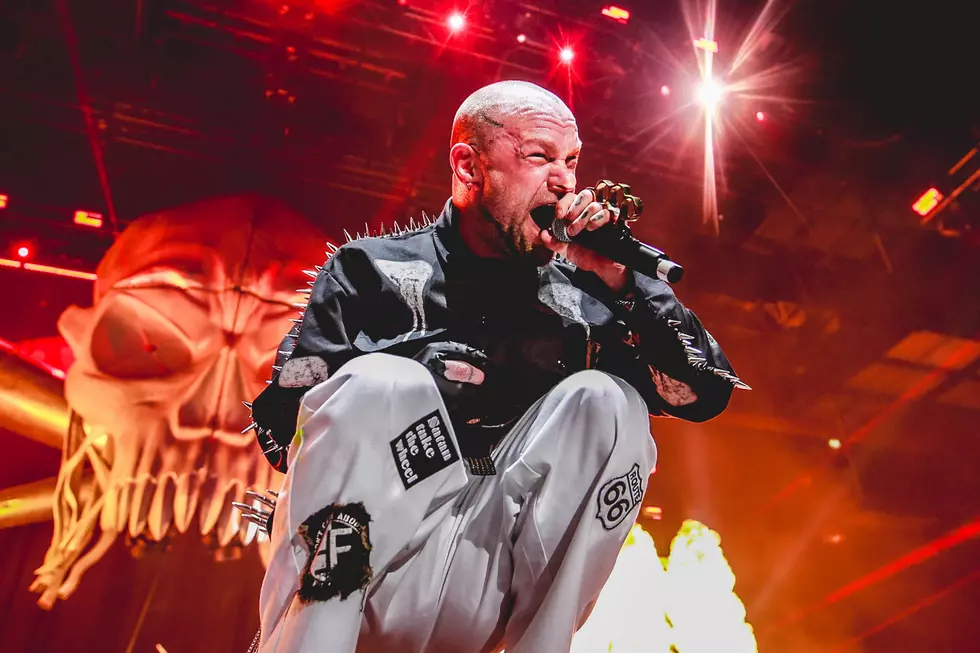 Five Finger Death Punch's Ivan Moody Reveals How He Got Three Hernias, Offers Health Update
Photo by Wombat Fire
Earlier this week, Five Finger Death Punch revealed that they were bowing out of their opening show with Metallica after frontman Ivan Moody had surgery to deal with three hernias. In a new video, Moody has thanked the fans for their support and revealed how he "landed the hernia lottery."
Explaining what happened, the vocalist revealed, "I was in a video shoot. I was jumping around a little bit and I felt something pop. I didn't think much of it. The next day I went to rehearsal, and again, something was a little off, so I took myself to the doctor and he sat me down and he told me that he was surprised I was still walking."
"He informed me that I had three hernias and offered to do them right then and there. It was quick. I thought it would have been easy, however having all three done at the same time was a shock to my system to say the least, using of course my diaphragm and my stomach to sing, and you can hear it in my voice, I can't really talk that heavy right now. To be honest, it feels excruciating sitting upright," the singer continued.
"Anyway, he explained to me that the best thing to do would be to get it done now instead of prolonging it, having it rip and get worse, so that's what I did. Again, my body didn't take it as well as I thought it would, so here I am, not working," Moody explained.
READ MORE: Ivan Moody Celebrates Five Years of Sobriety With Touching Throwback Video
Within the chat, Moody revealed that he is maintaining his sobriety through this and has chosen not to take the pain medication the hospital recommended, but is instead utilizing his Moody Medicinals and Ibuprofen to get through the pain.
He thanked the members of Metallica for their support and added, "Don't count me out. You know better. I've been an underdog my whole life," before suggesting that he expected to return for some other major festival events this year. Check out the full video message from Moody below.
As stated, Five Finger Death Punch will eventually return to the stage with Moody. You can get tickets for their tour dates here.
20 Rock and Metal Musicians With Tattoos of Bands