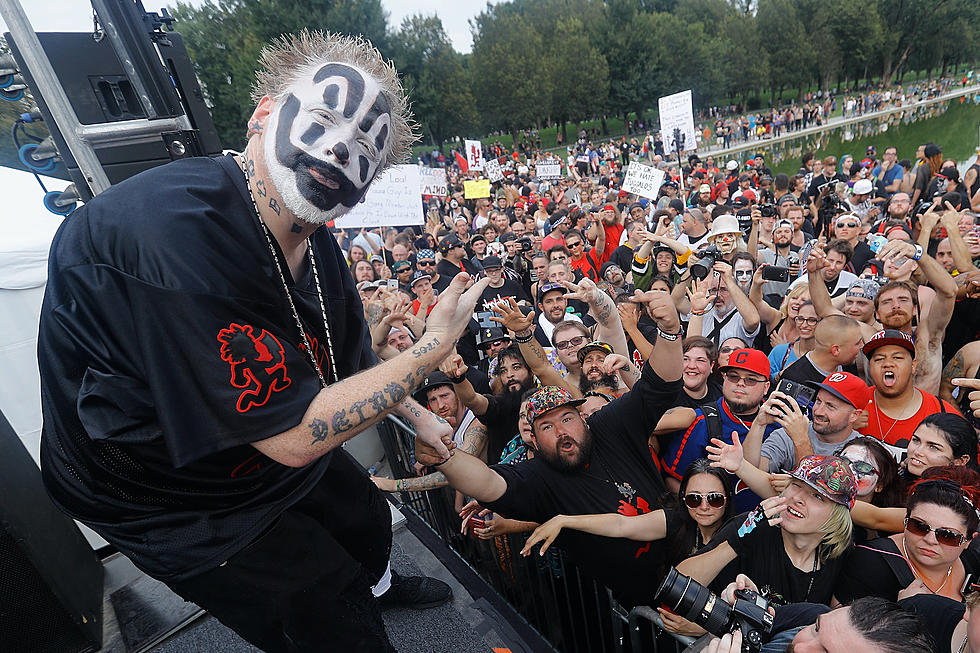 Insane Clown Posse Reveal Initial Lineup for 2023 Gathering of the Juggalos
John Lamparski/WireImage, Getty Images
Insane Clown Posse have revealed the initial lineup for the 2023 edition of the longtime horrorcore group's signature "Gathering of the Juggalos" rock and hip-hop festival, as ThePRP reported.
Insane Clown Posse and Alien Art Farm will play the main stage during the July 5–9 event at Legend Valley in Thornville, Ohio. Dozens more acts will also play, with even more to be announced later.
Bringing major throwback vibes, The Gathering of the Juggalos 2023 will be themed around Insane Clown Posse's 1999–2000 "Wicked Clowns From Outer Space Tour" and will feature two sets from the group. Get your tickets at juggalogathering.com.
"HOLY ONE-EYED MARS MONSTER!" Insane Clown Posse said alongside a promotional video for the 2023 fest. "Like a souped-up space caddy slammin' out of warp drive." See the clip below.
READ MORE: When Fans Get Too Obsessed
"Get ready to engage thrusters to lock in your spot at the 3-day festival of freshness that is The Gathering of the Juggalos!" Insane Clown Posse continued. "Seminars, concerts, contests, and non-stop party action will be yours to experience!"
Juggalo Gathering Initial 2023 Lineup
At what will be the 23rd annual Gathering of the Juggalos, the "Intergalactic Stage" will host Insane Clown Posse and Alien Ant Farm with Arrested Development, City Morgue, Esham & Mastamind as Natas, Hexxx, Krizz Kaliko, Kung Fu Vampire, Ouija Macc and Whitney Peyton.
The "Martian Stage" will feature R.A. The Rugged Man With DJ Lala, Abstrakt, Babble the Demon, Barz!, Belushi Speed Ball, Benny Buttonz, Big Fluff, Darby O'Trill, Facetatmami, Freeze MF, Gunnerb, Heathensun, Jvnebvg, Kace Cayne, Kingsmen, Matt Foy, NGS, Redefind, Rob Zilla, Seenloc, Shilow, The Coursing, The God Bombs, The Human Tragedy, Tierre Diaz, Trey Magic With Splice (Doctors Of Doom), Tso Ghostly, Wil E. Haze & Faygo Gang, Zitro and Zombi3cult
More artists will reportedly be announced later. Under the video, see a list of other 2023 festivals. Get Loudwire's newsletter and Loudwire's app.
Gathering of the Juggalos 2023 Video
2023 Rock + Metal Music Festival Guide
See what big rock and metal festivals are coming up in 2023!