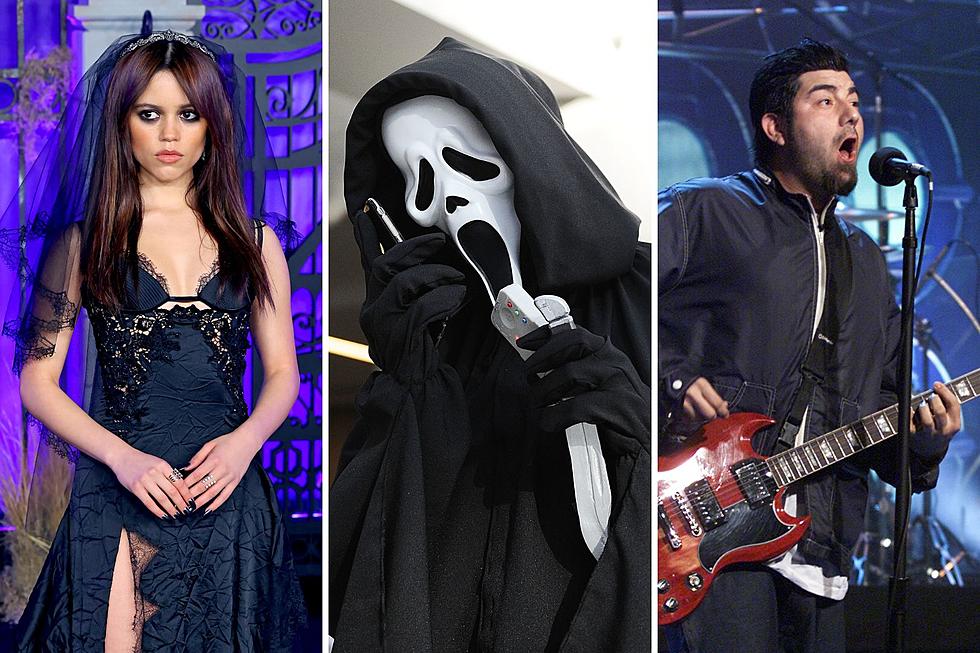 Jenna Ortega Suggests Deftones Song for 'Scream' Chase Theme
Leon Bennett / Daniel Zuchnik / Paul Drinkwater, Getty Images
Jenna Ortega, the Wednesday actress who plays the scream queen Tara Carpenter in the Scream franchise, recently suggested a Deftones song when asked what would make a good Scream chase theme. Scream VI starring Ortega arrived in theaters last week.
A music fan who admittedly makes "a lot of playlists," she also threw out tunes from Nine Inch Nails and The Beatles as music that could soundtrack a Scream movie. And her Scream VI co-stars chimed in with their Scream song ideas on MTV's Music To Blank To.
Watch the video down toward the bottom of this post.
"It's kind of a basic one, but also it goes along with this movie, 'Be Quiet and Drive (Far Away),' the Deftones song," Ortega says. "I feel like they're just trying to get away. I feel like that could be an interesting one."
Deftones, "Be Quiet and Drive (Far Away)"
Asked if Tara would have her own character theme, the actress delved further into rock and metal, picking out a 1999 Nine Inch Nails cut and a 1967 Beatles ballad.
READ MORE: Ghostface Returns in 'Scream VI' Trailer
"'The Only Way Out is Through' by Nine Inch Nails would be interesting," Ortega says.
"'She's Leaving Home' by The Beatles, because they are leaving Woodsboro, would be a good one," she adds.
Nine Inch Nails, "The Way Out Is Through"
Rock + Metal in the Scream Franchise
While the music of Scream VI does include Linkin Park member Mike Shinoda's collaboration with the pop star Demi Lovato, "Still Alive," as well as Shinoda's own "In My Head," it's still not quite the rock or nu-metal-driven affairs of past Scream soundtracks.
The Scream 3 soundtrack album, released at the height of nu-metal in 2000, was produced by Wind-up Records and features Creed, Slipknot, Finger Eleven, System of a Down and a slew of similar-sounding acts.
And 1997's Scream 2 soundtrack focuses on alt-rock, including songs by Sugar Ray, Foo Fighters, Everclear, Dave Matthews Band and more.
Deftones have yet to appear on a Scream soundtrack.
Jenna Ortega Picks Deftones, Nine Inch Nails + Beatles as Probable Scream Music
The Beatles, "She's Leaving Home"
Top 50 Nu-Metal Albums of All-Time