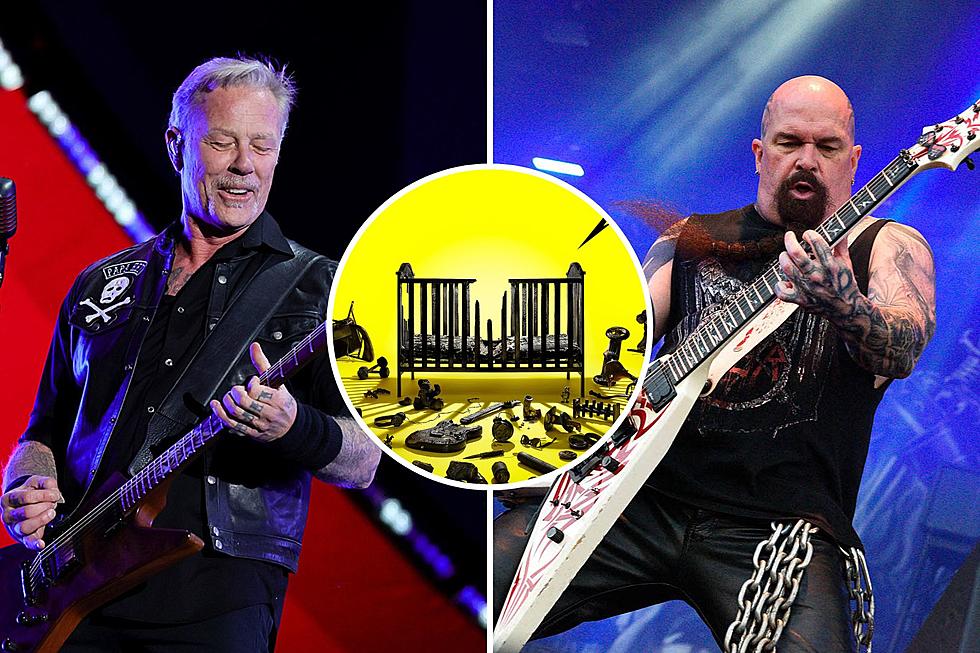 YouTuber Covers Metallica's '72 Seasons' in the Style of Slayer + It's INTENSE
Theo Wargo, Getty Images / Evill Robb Photography, Loudwire / Blackened Recordings
What would the title track to Metallica's new 72 Seasons sound like if it was written by Slayer? Thanks to the creative mind of YouTuber Otu and his channel, Moonic Productions, you won't have you use your imagination at all.
Playing songs in the style of another band is one of the biggest and most entertaining trends in the world of content creation right now, rarely failing to impress. YouTubers are able to discern the nuance in writing and playing styles, basically hacking the musical DNA of one band and applying it to another.
The catalyst to what we have in the video below came just a couple of weeks ago when Metallica bassist Robert Trujillo told Mexican radio station Alfa 91.3 FM that he'd like to hear Slayer covering "72 Seasons."
"No one would expect that, but I would love it," Trujillo relayed, "'Cause I always feel like ... some people say there's a competition [between us]. Maybe it's because I came into the band later, [but] I view it as more as two signature sort of icon powerhouses that had this energy back in the early '80s. Really strong. But, like, what if the classic Slayer lineup covered a song like '72 Seasons?' That would be pretty cool."
READ MORE: The 'Big 4' Bands of 27 Rock + Metal Subgenres
Otu saw this news and used it as the springboard to create his own version of what it would sound like if Slayer tackled the album opener. The seven-and-a-half-minute song gets chopped down to a blistering two minutes and it's remarkable just how different these versions sound from one another.
Even Otu's vocal impersonation of late career Tom Araya is pretty spot on, which really sends this cover over the top.
Take a listen below and head here to follow the Moonic Productions YouTube channel.
Metallica On Tour
Catch Metallica on the M72 tour in support of their new album, 72 Seasons, at these dates. For tickets, head here.
If Slayer Wrote Metallica's "72 Seasons"
Every Thrash Metal 'Big 4' Album Ranked
An incredibly diverse collection of albums, ranked from worst to best!
Follow Loudwire's 'Early Thrash: The Beginning & The '90s' playlist
here
.