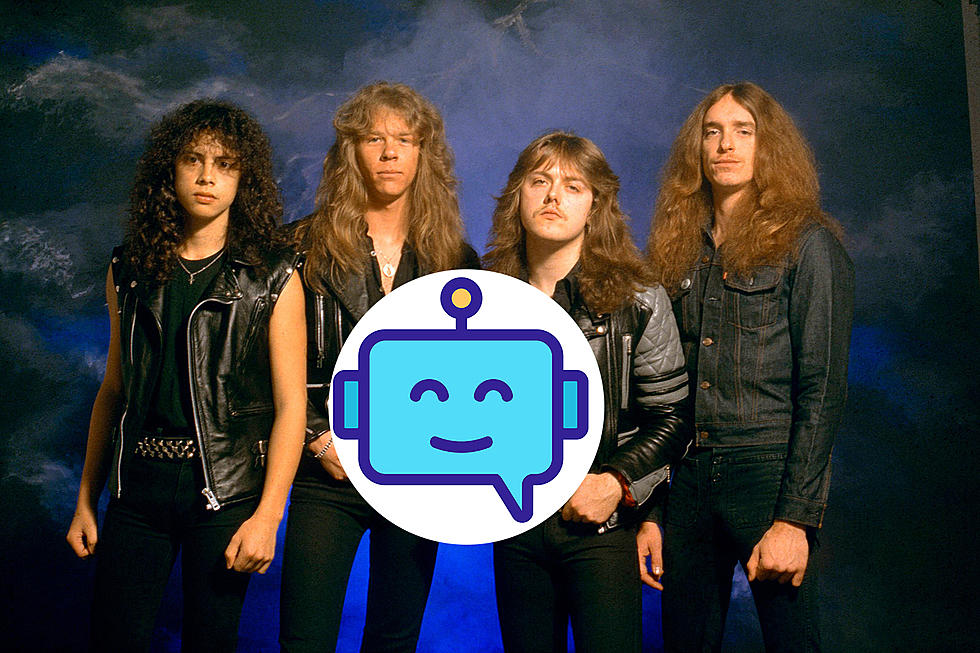 Metallica Fan Shares ChatGPT Version of 'Ride the Lightning' With New Lyrics
Fin Costello/Redferns, Getty Images / vectorwin, Getty Images
If you've ever wondered what your favorite Metallica song would sound like with different lyrics, try using ChatGPT. A fan on Reddit shared a clip of an "alternate" version of "Ride the Lightning," with the lyrics entirely written by ChatGPT, and it actually sounds like James Hetfield is singing the words.
ChatGPT is a type of artificial intelligence (AI), developed by OpenAI, that generates human-like text based on what users say to it. You can essentially ask it do write anything, including a new set of song lyrics, and that's apparently what this person did. They must have used some sort of deepfake technology to recreate Hetfield's voice singing the new words.
In the real studio version of "Ride the Lightning," Hetfield doesn't actually sing the song title at all anywhere in the lyrics, but in the AI-generated set, he does a couple of times. According to the person who posted the 30-second clip, the lyrics are, "My mind is racing with fear and doubt / As I wander this endless route / Ride the lightning, feel the shock / The thunder roars, the lighting flashes / As I stand alone in this darkened abyss / My thoughts drift to a distant past / When life was simple and love would last."
Other users on the Reddit thread seemed to like lyrics — and fear the fact that a piece of technology is capable of re-writing a song.
"So AI James sings like [Dave] Mustaine. Got it," one person noted.
READ MORE: Virginia Tech Fans Sing Metallica's 'Enter Sandman' at Game After NCAA Bans Its Use
Check out the video and full thread here to hear it for yourself.
Metallica are less than a month away from releasing their new album 72 Seasons. They'll kick off their 2023 touring in late April in Europe, and their U.S. run starts in early August. See all of the dates and get tickets here.
All Metallica Songs Ranked