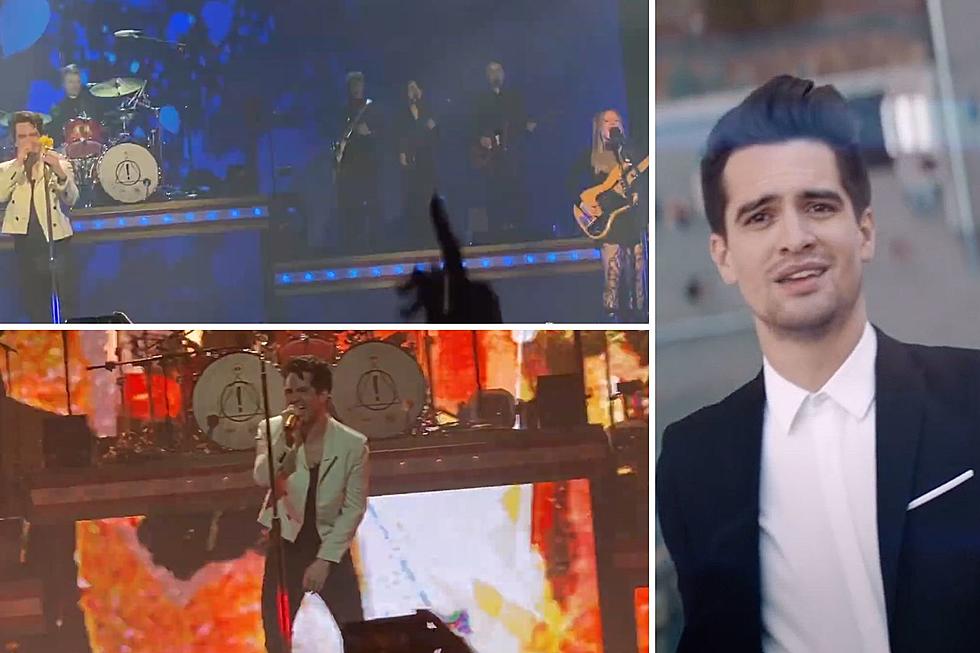 Panic! at the Disco Just Played Their Final Show + Brendon Urie Shares Heartfelt Message to Fans
YouTube: Jay Odonnell / YouTube: Panic! at the Disco
This past Friday (March 10), Panic! at the Disco played their final show (at the AO Arena in Manchester, England). Understandably, it was an emotional event not only for attendees but for founding vocalist Brendon Urie, as he shared a very heartfelt message to fans on social media yesterday morning (March 11).
Back in January, Loudwire reported on Urie's announcement that the band would be ending nearly 20 years after it started. Urie stated that "sometimes a journey must end for a new one to begin. . . . That said, I am going to bring this chapter of my life to an end and put my focus and energy on my family, and with that Panic! At The Disco will be no more."
Part of the reason was that he and his wife, Sarah, were about to welcome their first child.
Thus, the group's tour in support of 2022's Viva Las Vengeance would be their last, with their show at the AO Arena being their final performance ever. Unsurprisingly, they gave concertgoers one hell of an in-depth show, performing over two dozen songs (including the entire new album and classics such as "Nine in the Afternoon" and "I Write Sins Not Tragedies").
The following day, Urie reflected on his time with Panic! at the Disco via social media, writing:
I'm overcome with gratitude. I just want to say thank you from the bottom of my heart. For the last 18 years, it's truly been an experience that I'll always be grateful for. So if you've been with us for 18 years, thank you very much. And if you've just joined us, welcome and….farewell. Either way, I love you very much, and I just can't say thank you enough. Let's live every day like it's our last, babyyyyy!
Expectedly, his posts were instantly met with equally sincere replies.
For instance, one Twitter user wrote: "You came into my life when I was 17. I just lost my dad. Since then I lost my mom and grandmother. But you were the reason I kept going. I'm so sad it's over but I'm so grateful for all the beautiful memories." Likewise, a fan on Instagram cheered: "Thanks for everything p!atd. And thanks for all the time you spend with us Brendon."
You can see Panic! at the Disco's full AO Arena setlist below, as well as footage from the concert and Brendon Urie's social media posts (with subsequent replies).
Also, do you have a favorite Panic! at the Disco song? Let us know!
Panic! at the Disco Setlist — AO Arena in Manchester, England (March 10, 2023) [via setlist.fm]
01. "Say Amen (Saturday Night)
02. "Hey Look Ma, I Made It"
03. "Don't Threaten Me with a Good Time"
04. "This is Gospel"
05. "Miss Jackson"
06. "Emperor's New Clothes
07. "Viva Las Vengeance"
08. "Middle of a Breakup
09. "Don't Let the Light Go Out"
10. "Local God"
11. "Star Spangled Banger"
12. "God Killed Rock and Roll"
13. "Say It Louder"
14. "Sugar Soaker"
15. "Something About Maggie"
16. "Sad Clown"
17. "All by Yourself"
18. "Do It to Death"
19. "Girls / Girls / Boys"
20. "House of Memories"
21. "Nine in the Afternoon"
22. "Death of a Bachelor"
23. "I Write Sins Not Tragedies"
24. "Victorious"
25. "High Hopes"
Panic! at the Disco, "Victorious" + "High Hopes" at the AO Arena (March 10, 2023)
Panic! at the Disco, "I Write Sins Not Tragedies" at the AO Arena (March 10, 2023)
Panic! at the Disco, "This is Gospel" at the AO Arena (March 10, 2023)
Brendon Urie Shares Heartfelt Message to Fans on Social Media
Every Emo Holy Trinity Album Ranked From Worst to Best (My Chemical Romance, Fall Out Boy, Panic! At the Disco)