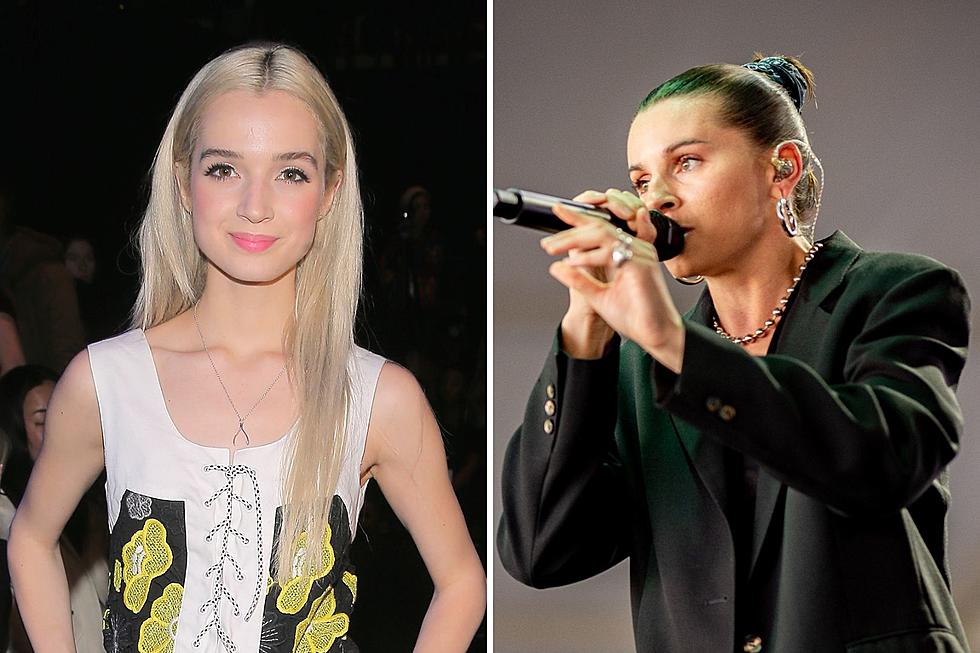 Poppy Announces North American Tour With PVRIS for Summer 2023
Jemal Countess / Matt Winkelmeyer, Getty Images
Poppy, the enigmatic pop-rock singer who also dabbles in the heavy side of music, has just announced a summer 2023 North American tour package alongside the Lynn Gunn-led synth-poppers PVRIS.
READ MORE: 10 of Rock's Best Feminist Anthems
It all kicks off this August, starting in Seattle on Aug. 18. The 18-date trek, dubbed the "Godless/Goddess Tour," then winds its way around the United States before ending its run in Ontario, Canada, on Sept. 15. Get tickets here; general on-sale starts April 7.
See the dates down toward the bottom of this post.
Poppy + The Dress She Wants to Be Buried In
Earlier this week, Poppy released her latest single, the dark but catchy "Church Outfit," yet the next chapter in the singer's ever-evolving musical style.
"This is the dress I want to be buried in / Leave the rings, I might need them / Unholy water, take a sip / This is my church outfit," she sings on the track.
The 28-year-old Poppy, who first came to prominence through a series of bizarre YouTube videos and subsequently recorded industrial metal tracks such as 2019's "Bloodmoney," continually reinvents herself.
PVRIS will release their latest album, EVERGREEN, in July — hear their single "Good Enemy."
Under the dates, see a list of rock and metal bands touring in 2023. Get Loudwire's newsletter and the Loudwire app to read the latest rock and metal news.
Poppy + PVRIS Summer 2022 North American Tour Dates
Aug. 18 – Seattle, Wash. @ Showbox SoDo
Aug. 19 – Portland, Ore. @ Roseland Theater
Aug. 22 – San Francisco, Calf. @ The Regency
Aug. 24 – Los Angeles, Calif. @ The Wiltern
Aug. 25 – Tempe, Ariz. @ The Marquee
Aug. 26 – Las Vegas, Nev. @ Brooklyn Bowl
Aug. 28 – Salt Lake City, Utah @ The Complex
Aug. 29 – Denver, Colo. @ The Ogden
Sept. 1 – San Antonio, Texas @ The Aztec
Sept. 2 – Houston, Texas @ House of Blues
Sept. 3 – Oklahoma City, Okla. @ The Tower
Sept. 6 – Kansas City, Mo. @ The Truman
Sept. 7 – Minneapolis, Minn. @ First Avenue
Sept. 9 – St. Louis, Mo. @ The Pageant
Sept. 10 – Columbus, Ohio @ KEMBA LIVE!
Sept. 13 – Pittsburgh, Pa. @ Roxian Theatre
Sept. 14 – Cleveland, Ohio @ House of Blues
Sept. 15 – Toronto, Ontario @ History
Your Guide to Rock + Metal Bands Touring in 2023
Check out over 200 rock and metal bands' touring schedules for 2023.