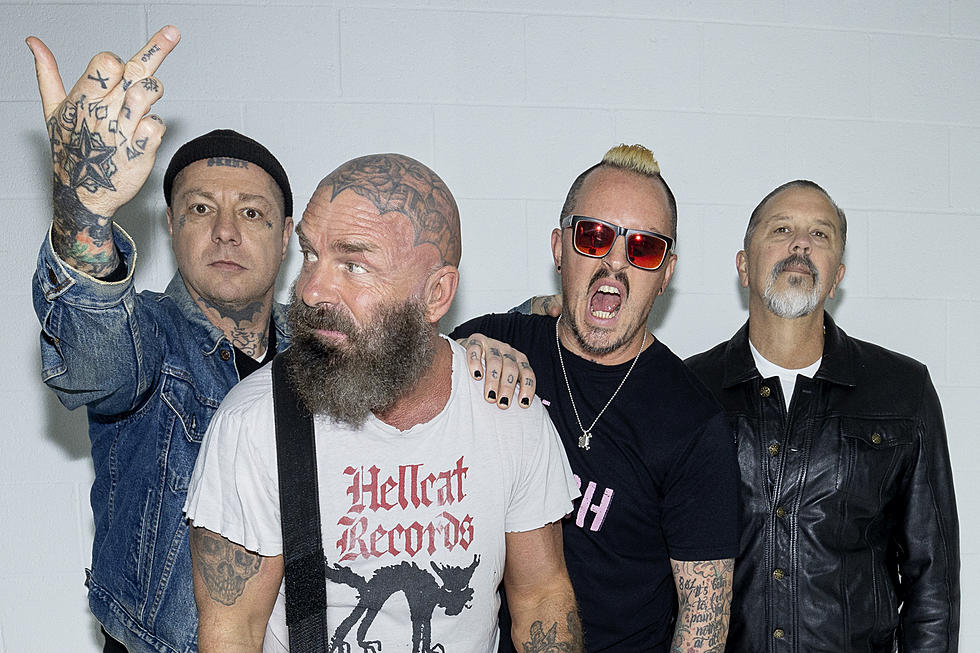 Rancid Announce Their First Album in 6 Years, Share New Song 'Tomorrow Never Comes'
Photo by Atiba Jefferson
And out comes the Rancid — the Tim Armstrong-led punk band on Tuesday (April 18) announced their first album since 2017. At the same time, they shared the title track from the upcoming effort — out June 2 — called "Tomorrow Never Comes."
Ready for the first Rancid LP since Trouble Maker? Since then, Armstrong's worked with his other act the Transplants, teamed with Green Day's Billie Joe as the Armstrongs, and acted in the Jordan Peele-narrated Twilight Zone, among other things.
Near the bottom of this post, see the cover art and track listing for Tomorrow Never Comes, followed by the "Tomorrow Never Comes" lyrics and video.
READ MORE: Why Marc Maron Doesn't Like Tool
Tomorrow Never Comes is produced by Brett Gurewitz, the Epitaph Records founder and longtime Rancid collaborator who also plays guitar in Bad Religion. Tomorrow Never Comes arrives this summer via Epitaph and Armstrong's own Hellcat Records.
The new song, per a press release, highlights Rancid's "collective ear for melodic rock hooks and catchy, sing-a-long choruses … complete with the familiar wailing guitars and punishing punk rock rhythms that have solidified Rancid as the legends they are."
Pre-order Tomorrow Never Comes at this link. Visit Rancid's official site here. Find Rancid's scheduled tour dates for this summer below.
Under the info, see a list of rock and metal bands touring in 2023. Get Loudwire's newsletter and the Loudwire app for rock and metal news.
Rancid, Tomorrow Never Comes Album Artwork + Track List
1. "Tomorrow Never Comes"
2. "Mud, Blood & Gold"
3. "Devil in Disguise"
4. "New American"
5. "The Bloody & Violent History"
6. "Don't Make Me Do It"
7. "It's a Road to Righteousness"
8. "Live Forever"
9. "Drop Dead Inn"
10. "Prisoners Song"
11. "Magnificent Rogue"
12. "One Way Ticket"
13. "Hellbound Train"
14. "Eddie the Butcher"
15. "Hear Us Out"
16. "When the Smoke Clears"
Rancid, "Tomorrow Never Comes" Lyrics
No judge, no jury, no civil rights
Show up on the line, get ready to fight
Run the streets and seize the night
Mow 'em fucking down
Everyone know it's all about hate
Take control, go eliminate
Bite the bullet, go seal the fate
Mow 'em fucking down

Don't you tell me about tomorrow
Cause tomorrow will never come
Gonna cheat, steal and borrow
Cause tomorrow never comes

Tomorrow, tomorrow
Tomorrow never comes

Tonight the wheels fell off the hustle
Show no mercy hired muscle
Now a thirst for fight and scuffle
Mow 'em fucking down
Running smart not running scared
Ended up where no one dared
A war like this no one is spared
Mow 'em fucking down
Rancid, "Tomorrow Never Comes" (Video)
Rancid Summer 2023 Tour Dates
May 28 – Las Vegas, Nev. @ Punk Rock Bowling
June 2 – Rimini, Italy @ Slam Dunk
June 3 – Ljubljnana, Slovenia @ Media Ctr
June 4 – Linz, Austria @ SBAM Festival
June 6 – Warsaw, Poland @Letnia Scene
June 8 – Hyvinkaa, Finland @ Rockfest
June 9 – Solvesborg, Sweden @ Sweden Rock
June 10 – Stockholm, Sweden @ Annexet
June 12 – Berlin, Germany @ Columbiahalle
June 13 – Wiesbaden, Germany @ Schlachthof
June 15 – Vitoria, Spain @ Azkena Rock
June 16 – Clisson, France @ Hellfest
June 17 – Dessel, Belgium @ Graspop
June 20 – London, U.K. @ OVO Wembley
June 21 – Manchester, U.K. @ O2 Victoria
June 23 – Ysselsteyn, Netherlands @ Jera On Air
June 24 – Munster, Germany @ Vainstream
June 25 – Tabor, Czech Republic @ Mighty Sounds
Sept. 21 – Louisville, Ky. @ Louder Than Life
Oct. 8 – Sacramento, Calif. @ Aftershock
Your Guide to Rock + Metal Bands Touring in 2023
Check out over 200 rock and metal bands' touring schedules for 2023.