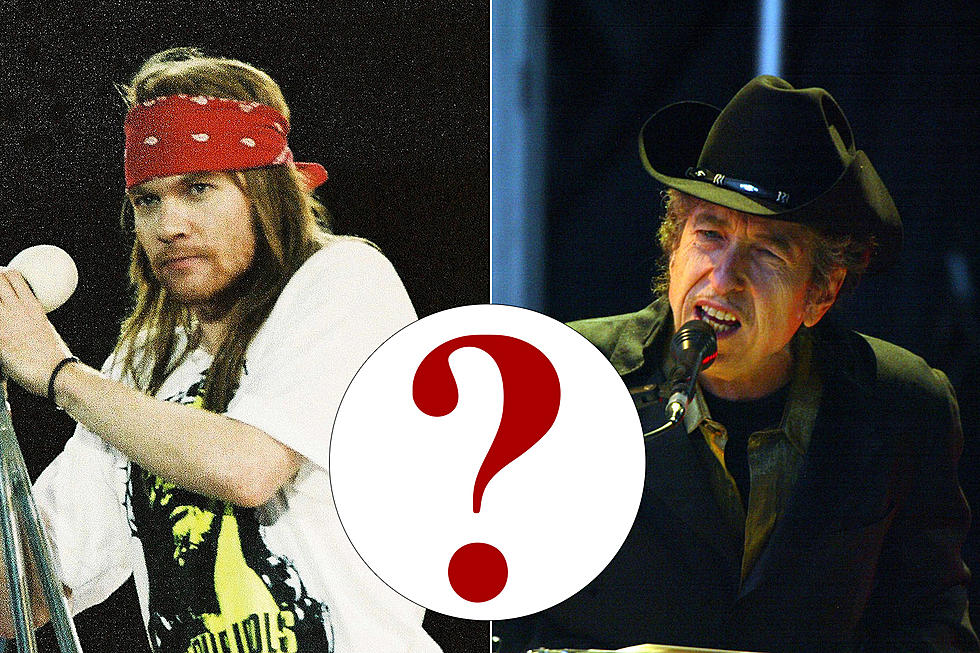 The Real Reason Guns N' Roses Covered Bob Dylan's 'Knockin' on Heaven's Door'
Pete Still, Getty Images/Redferns / Staff, Getty Images
Guns N' Roses have covered songs by a lot of other artists. Bob Dylan's "Knockin' on Heaven's Door," however, has been part of their live show since the late 1980s, and they included a studio version on 1991's Use Your Illusion II. So, what's the real reason they chose to cover the track, which has been reimagined by tons of other musicians over the years?
Though the band has often dedicated the song to people who've died during their concerts, they started playing it after Axl Rose had an apparent brush with death. According to the unauthorized biography Watch You Bleed: The Saga of Guns N' Roses, which was written by Stephen Davis, the frontman had gotten into a fight with a police officer outside of the Cathouse in Los Angeles in June of 1987 and wound up in the hospital for a few days, but didn't remember much of the experience.
"Two days later I woke up, tied to the bed with some wires running into me," the singer recalled.
This instance, as noted by Davis, caused Rose to have "Knockin' on Heaven's Door" stuck in his head afterward. Thus, he and Slash came up with the idea to cover it, despite being reluctant at first because it had already been done by so many other artists.
When Did Guns N' Roses First Perform 'Knockin' on Heaven's Door'?
The band tackled the song live for the very first time on June 19, 1987, at the Marquee Club in London [via Setlist.fm]. Over the next few months, they started dedicating the song to their friend Todd Crew, who played bass for the band Jetboy, but died in July of 1987 from a drug overdose. From that point on, it's been a staple in their setlist, and has been dedicated to a number of people that have died since.
When Did Guns N' Roses Record 'Knockin' on Heaven's Door'?
The first recording of the band playing the song is actually from one of the 1987 Marquee shows in London. It was initially released on the "Welcome to the Jungle" 12-inch single, which came out in July of that year. This same version was released in the 30th anniversary deluxe edition of Appetite for Destruction. 
GN'R recorded their first studio version of the song a few years later for the soundtrack for the 1990 film Days of Thunder, starring Tom Cruise and Nicole Kidman. This version is the same as the one that appears on Use Your Illusion II, except the voiceovers that occur during the second verse were taken out for the album.
READ MORE: Here's Why Guns N' Roses Had Dolphins in the 'Estranged' Music Video
Guns N' Roses - 'Knockin' on Heaven's Door' (Live 1987)
What Does Bob Dylan Think of Guns N' Roses' Version of the Song?
Though there isn't any official record of Dylan revealing his thoughts on Guns' cover of the song, he apparently supported it — at least for financial reasons. During a concert in Taiwan in 2009, Rose told the audience that he met Dylan at a party once with George Harrison.
"Bob asked me, 'When are you gonna record 'Heaven's Door?'' And I said, 'I don't know, but we really love that song.' And he said, 'I don't give a fuck, I just want the money.' True story," Rose said.
Guns N' Roses - 'Knockin' on Heaven's Door' (Days of Thunder Version)
All 23 Musicians Who've Been in Guns N' Roses
Hope you got some time to get through this one.