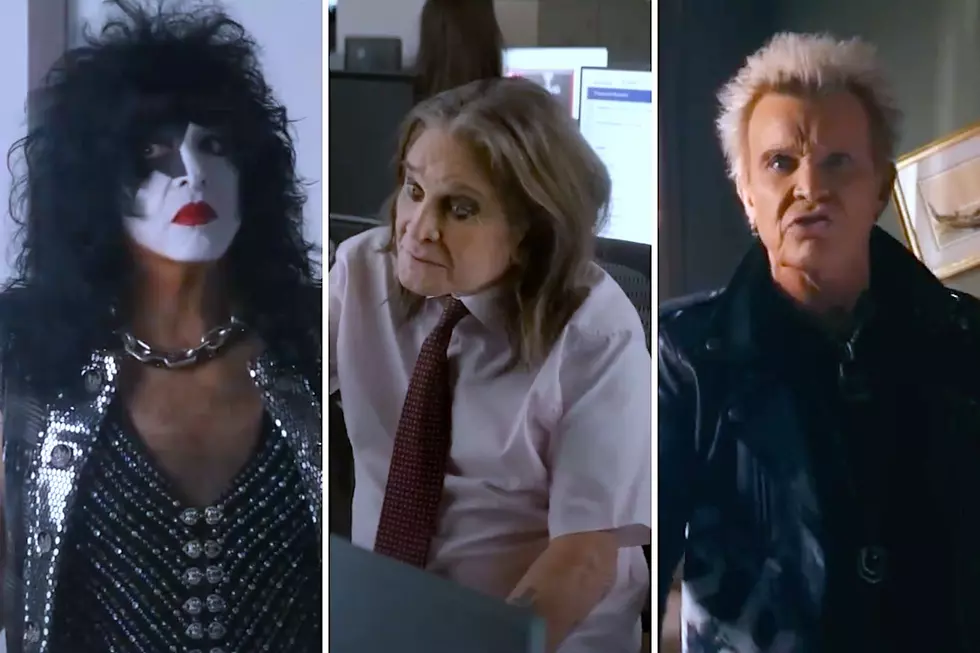 Rock Legends Make Fun of Office Life in New Super Bowl Commercial
YouTube: Workday
The rock stars Paul Stanley (KISS), Ozzy Osbourne, Billy Idol, Joan Jett and Gary Clark Jr. make a joke of the corporate 9-to-5 workday in a new Super Bowl commercial for a human resources and financial management firm called Workday.
The ad is called "Rock Star."
It's not the first we've seen of the spot. Last month, a teaser video emerged for the commercial with a clip of Osbourne playing a shirt-and-tie office worker.
Did you ever think you'd see Ozzy all buttoned-up? Watch the ad down toward the bottom of this post.
"We just launched our first-ever Big Game commercial with the help of some legendary rock stars," Workday explains. "Check out some behind-the-scenes photos to see what it was like to hang out with Ozzy Osbourne, Gary Clark Jr., Joan Jett, Billy Idol, and Paul Stanley."
In the ad, the musicians seem concerned with office workers referring to themselves as rock stars.
"Hey, corporate types, would you stop calling each other rock stars?" Stanley asks.
"Do you know what it takes to be a rock star?" Jett throws in. "I was on the road since I was 16 — I've trashed hotel rooms in 43 countries," Idol recounts.
As for Osbourne, "I've done my share of bad things," the singer quips. "Also, your share of bad things."
At the 65th Grammys on Sunday (Feb. 5), Osbourne took home the awards for Best Rock Album (Patient Number 9) and Best Metal Performance ("Degradation Rules"). The accolades came days after the singer announced his retirement from touring.
"Never would I have imagined that my touring days would have ended this way," the singer said in a Feb. 1 statement, adding, "My team is currently coming up with ideas for where I will be able to perform without having to travel from city to city and country to country."
Meanwhile, KISS plan to wrap their "End of the Road" tour this year. Get KISS tickets here.
Workday "Rock Star" Commercial - Starring Ozzy Osbourne, Gary Clark Jr., Joan Jett, Billy Idol and Paul Stanley
Ozzy Osbourne, Workday "Rock Star" Commercial Teaser
The Unusual Hobbies of Rock Stars
When they're not creating songs, you won't believe how some of these musicians spend their time. See what unusual hobbies your favorite rock stars have below.