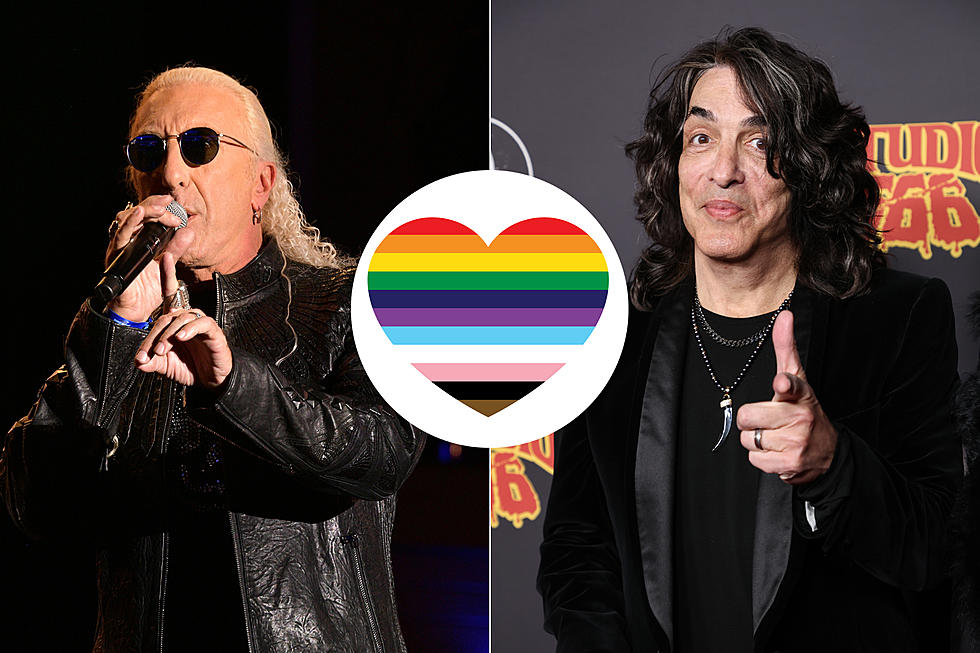 SF Pride Distances Themselves From Dee Snider After Singer Supports Paul Stanley Trans Tweet
Araya Doheny / Amy Sussman / Getty Images, Getty Images
While Dee Snider has been vocal of late about wanting to don his makeup again to oppose drag bans in the U.S., his recent tweet supporting Paul Stanley's recent commentary on gender-affirming care for young children has SF Pride ready to distance themselves from the musician.
According to a press release, San Francisco Pride was on the cusp of announcing Twisted Sister's "We're Not Gonna Take It" as the unofficial rally cry of this year's SF Pride Parade and Celebration, and they were going to have Snider perform the song on center stage at the annual event. As noted, the singer has always been a vocal supporter of LGBTQ+ rights.
But, over this past week, KISS vocalist Paul Stanley shared his thoughts on gender-affirming care for minors in a commentary titled "My Thoughts on What I'm Seeing." In it, the 71-year-old singer shared his beliefs on what he felt was "a sad and dangerous fad" when parents support their young kids transitions.
What Did Paul Stanley Say?
The KISS co-founder wrote, "There is a BIG difference between teaching acceptance and normalizing and even encouraging participation in a lifestyle that confuses young children into questioning their sexual identification as though some sort of game and then parents in some cases allow it."
He added, "There ARE individuals who as adults may decide reassignment is their needed choice but turning this into a game or parents normalizing it as some sort of natural alternative or believing that because a little boy likes to play dress up in his sister's clothes or a girl in her brother's, we should lead them … down a path that's far from the innocence of what they are doing."
Stanley said, "Children who have no real sense of sexuality or sexual experiences [get] caught up in the 'fun' of using pronouns and saying what they identify, as some adults mistakenly confuse teaching acceptance with normalizing and encouraging a situation that has been a struggle for those truly affected and [has] turned it into a sad and dangerous fad."
How Did Dee Snider Respond?
Snider was among those who weighed in on the topic that Stanley had shared via social media. His response was, "You know what? There was a time where I 'felt pretty' too. Glad my parents didn't jump to any rash conclusions! Well said, @PaulStanleyLive."
Snider then responded to several Twitter followers further expressing his views. "Parents need to be less reactionary; Right and Left. No need to steer the child in either direction. Let the kid figure it out for themselves knowing their family is supportive. I had a vet/cop hardass dad who, while he shook his head A LOT...let me do my thing," said the singer to one of his social media followers.
READ MORE: Dee Snider Explains Why Twisted Sister Will Reunite Again in 2024
How Did San Francisco Pride Respond to Dee Snider's Support of Paul Stanley's Comments?
"When we were notified about the tweet in which Dee expressed support for Kiss's Paul Stanley's transphobic statement, we were heartbroken and angry," said SF Pride in their press release distancing themselves from Snider. "The message perpetuated by that tweet casts doubt on young trans people's ability to self-identify their gender.".
"Transgender people, particularly transgender women and children of color, are disproportionately affected by hate and violence. And with transphobia proliferating and becoming more and more enshrined in law throughout the country — we have to stand up for the most impacted among us," they added.
So while Snider was in line to be part of the 2023 SF Pride celebration, the organization revealed, "We have mutually agreed to part ways, but appreciate Dee seeing this as a teachable moment and a reminder that even allies need to be educated to ensure that they are not casually promoting transphobia. To all our allies — we want to call you in — not call you out."
San Francisco's annual Pride Parade is scheduled for June 23.
22 Makeup Trends That Define the History of Rock + Metal