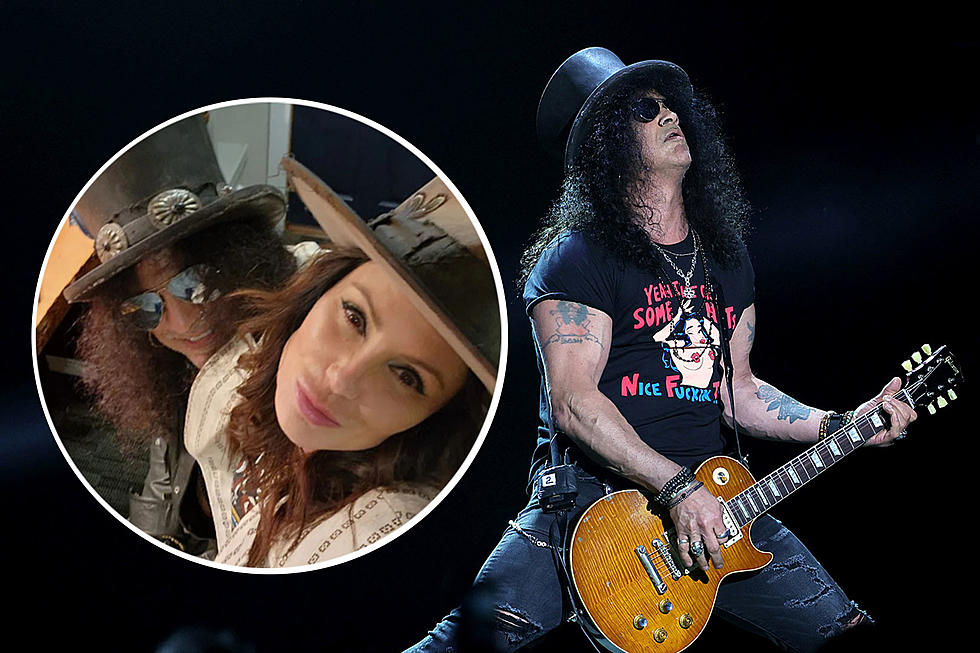 Slash's Girlfriend Shuts Down 'Conspiracy' Theories About Guns N' Roses' Canceled St. Louis Show
Ethan Miller, Getty Images
Last week, Guns N' Roses postponed their show that was scheduled to take place in St. Louis, Mo. on Sept. 9, citing "illness" as the reason. Though the band assured the show would be rescheduled, people have been speculating that a different reason caused the cancelation — but Slash's girlfriend has shut those theories down.
"Gunners, the concert scheduled for St. Louis on September 9 has been postponed due to illness," the statement the band posted on social media read. "Hang on to your tickets – fans who are unable to make the rescheduled date will be eligible for a refund. Thank you for the support."
While the statement didn't specify which member of the band was sick, frontman Axl Rose had tweeted that he'd been struggling with his voice a few days prior. However, following the cancelation, some fans have shared different theories online as to why they think the show was really canceled.
"Why Axl canceled the St. Louis show," someone wrote as the title of a since-deleted post on Reddit. "An insider with the band told me that Axl was pissed that the show only sold 25,000 tickets out of 40,000 available," the text of the post read.
According to a few other Reddit posts, rumors that the show was being postponed began circulating before ticket holders were made aware of the news, and before the band made any official announcements.
"St. Louis is really bad about keeping secrets. We knew for 4 hours the concert was cancelled and nobody has made an official announcement from Guns N' Roses," another individual wrote on X. "People were getting on planes, trains and automobiles in that time to head to the show for the weekend."
After they made the announcement, a fan on another Reddit thread noted that Rose told the crowd during the band's Sept. 6 performance in Lexington, Ky. that he wasn't feeling well.
Slash's girlfriend Meegan Hodges took to her Instagram story earlier this week to address some of the theories, writing, "The truth is someone is sick and unable to perform. There's no conspiracy... The show will be rescheduled in November. It's a total bummer for everyone. These guys put on a 3 plus hour show. They are like superheroes. Give 'em a break they can't help when someone is too sick to perform. Wish them well."
READ MORE: True or False - Which Legendary Rock + Metal Tales Really Happened
See a screenshot of her post below.
Guns played their Sept. 12 show in Knoxville, Tenn. as planned. Their next performance is scheduled for tomorrow night (Sept. 15) in Hollywood, Florida.
Every Guns N' Roses Song Ranked
All of Guns N' Roses' songs ranked.