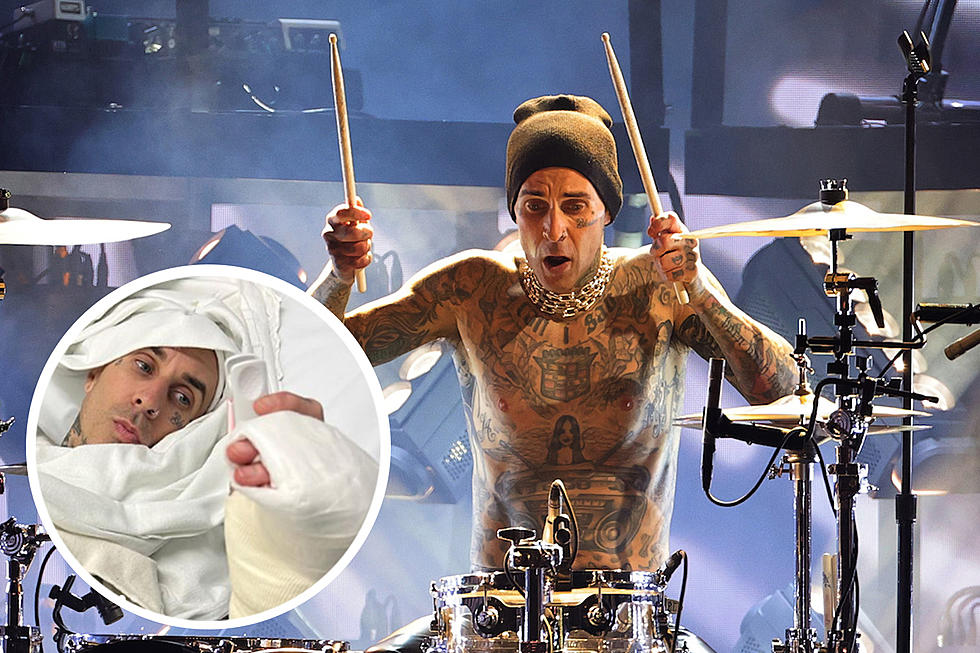 Travis Barker Shares Graphic Update Following Surgery for Injured Finger
Rich Fury, Getty Images / Instagram - travisbarker
Last week, Blink-182 announced the postponement of the first leg of their reunion tour with Tom DeLonge due to multiple injuries that Travis Barker sustained to his finger. The drummer underwent surgery to repair the finger a few days later, and has since shared an update on social media regarding how it went.
In early February, the rocker revealed that he dislocated one of his fingers and tore the ligaments after accidentally smashing it during a band rehearsal. A few weeks later, it happened again, and he posted the X-rays on his Instagram. As a result, he announced he was going to need surgery to repair the damage, and thus, Blink's shows that were set to take place in Mexico and South America between March 11 and April 2 were canceled.
Barker underwent surgery last week, and fortunately provided a positive update on social media on March 3.
"Thank you for all the love and prayers and understanding this week as I went into surgery. It was a hard decision to make but ultimately I couldn't continue to play the drums without it," Barker wrote on Instagram.
"It was inevitable that my finger would have dislocated again without fixing the torn ligament surgically. So grateful for Dr. Shin and that my surgery was a success so that I can keep doing what I love and see you guys on tour soon," he continued, adding a trigger warning for the last photo in the slide.
READ MORE: New Blink-182 Album 'Coming in a Few Months,' Tom DeLonge Says
See a screenshot below, and check the post out here for yourself to see both images.
Blink-182's tour is now set to kick off May 4 in St. Paul, Minn. They'll play throughout North America until mid-July, then will head to Europe in early September. See all of the upcoming dates and get tickets here.
Top 66 Hard Rock + Metal Drummers of All Time