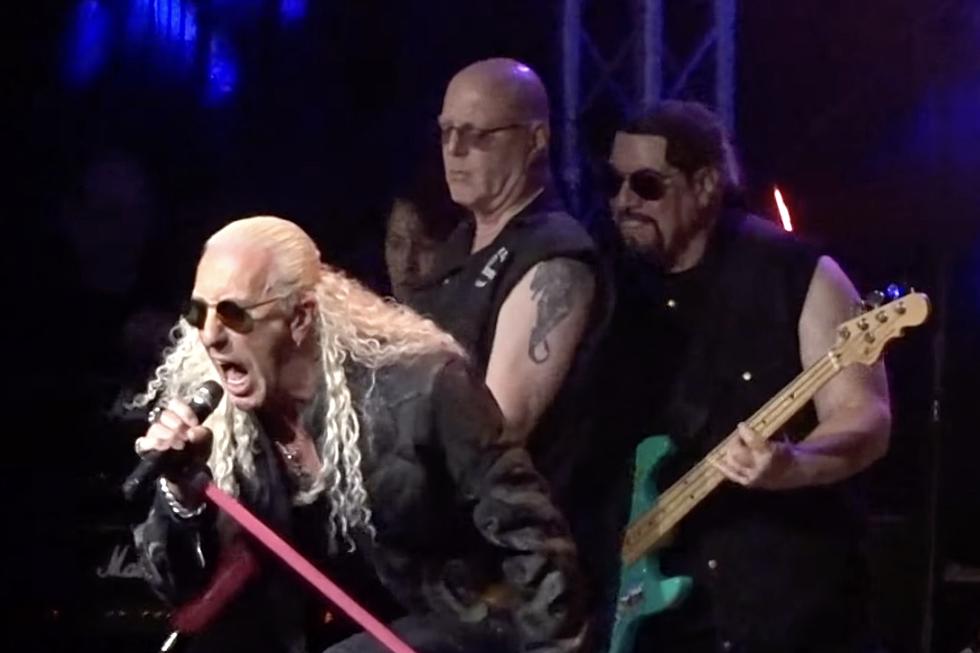 Twisted Sister to Reunite Again in 2024, But Only for One Reason
YouTube: Fortheloveofrock
Twisted Sister singer Dee Snider has revealed that the glam metal group will reunite again in 2024. But only to play political rallies and reclaim their signature 1984 hit, "We're Not Gonna Take It," he indicated.
Twisted Sister's Jan. 26 reunion at the Metal Hall of Fame was their first concert since the band called it quits in 2016. But in a new interview, Snider, an outspoken advocate for free speech, suggested the only reason Twisted Sister would return in 2024 is to underline exactly what causes he supports. After all, the 68-year-old rocker already lets politicians on both sides of the aisle use "We're Not Gonna Take It."
Watch the video toward the bottom of this post.
"Next year, you're gonna see some Twisted Sister reunions at different political rallies that need our support," Snider tells Yahoo Entertainment. "The band has a concern that the song is being co-opted by the extreme right … and we want to make sure that people still know it's a song for everybody and it does not represent that selfish micro group."
READ MORE: The MTV Series That Dee Snider Blames for Helping Metal's Demise in the '90s
He continues, "It is really for the mass people, the moderate people, the people that just want to live their lives, be themselves and not have people tell 'em they can't be themselves. So, I think you'll see us at political rallies and stuff like that. We'll be out there next year."
Dee Snider's Views on Free Speech
Since Snider is so supportive of free speech, he lets both conservative and liberal candidates use "We're Not Gonna Take It." But the Twisted Sister icon clearly lands on one side of the political spectrum himself.
"I will never censor somebody and say, 'You can't use the song,'" Snider says. "I will say that I do not support your use of the song, but censorship I will not support. I just want people to know I'm not aligned with them."
He elucidates, "Like, QAnon uses 'We're Not Gonna Take It' for all their little videos … and I have to speak out and say, 'No, I do not stand with QAnon.'"
Snider underscores, "I do not stand with the January 6-ers who use the song. I do not stand with the anti-maskers who use the song. I do not stand with the anti-vaxxers who use the song. I do stand with the teachers who use the song. I do stand with the people looking for intelligent gun control who use the song."
He adds, "I do stand with [the LGBTQ+] community and will applaud. They're using the song in the right spirit. It was not for selfish purposes. It was for everybody. Everybody should be allowed to express themselves freely without being shot with assault weapons, without being banned for wearing makeup."
Dee Snider Talks About Drag Bans
"Let's talk about the drag bans," Snider says of proposed bills currently working their way through GOP-led state legislatures that ban drag show performances.
READ MORE: Why Twisted Sister Guitarist Eddie 'Fingers' Ojeda Wasn't at the Band's Reunion
Last month, Tennessee became the first U.S. state to enact such a law. Senate Bill 3, also called the Tennessee drag ban, prohibits public "adult cabaret performance" in the state.
"My band would not be allowed to perform," the Twisted Sister singer remarks. "We would fall under that heading, the new rule, if they pass these rules — men wearing lipstick, nail polish and makeup. So, do I stand with the [LGBTQ+/drag] community? 100 percent."
Snider illustrates, "I was heterosexual, and I still had a lot of issues with a lot of people because I wore the things I wore in the '70s and even into the '80s. So, I've been on the receiving end. I get what they go through. … I'm very in favor of free expression on every level. And I will stand with the community if they ask me to."
Under the video, see a list of rock and metal bands touring in 2023. Get Loudwire's newsletter and the Loudwire app for the latest rock and metal news.
Twisted Sister's Dee Snider Talks to Yahoo Entertainment - April 6, 2023
Twisted Sister, "We're Not Gonna Take It" (Music Video)
Your Guide to Rock + Metal Bands Touring in 2023
Check out over 200 rock and metal bands' touring schedules for 2023.