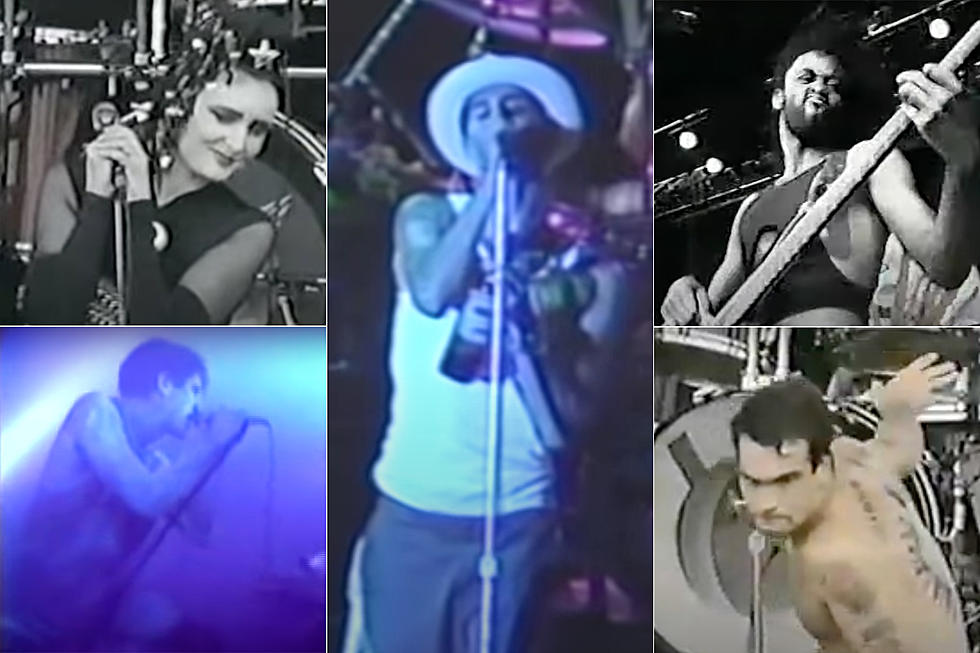 Whatever Happened to the Acts from Lollapalooza's First Lineup?
YouTube: Harry Palma (2) / YouTube: aomic / YouTube: Alex Castino / YouTube: Glauco Emmanuel
While many may point to Nirvana's arrival in September of 1991 as the sea change in rock music, there were signs of a shift already taking place earlier in the year, with the most significant one being the popularity of a new festival called Lollapalooza.
The tour was actually designed to be the farewell run for Jane's Addiction, as tensions had taken their toll on the band and they had decided to hang it up after one final round of dates. That might not have even happened had it not been for Perry Farrell getting sick as the band was set to make their Reading Festival appearance their final show.
While Jane's Addiction missed their scheduled farewell, booking agent Marc Geiger still attended Reading and returned to the band with a great idea. "I went on to the festival the next day and had an amazing time," Geiger told Chicago Sun-Times, "and we go back to the hotel, where the band is sitting around pretty depressed, and said, 'Man, you should have seen this. This is what we should try to do with the breakup tour.' Perry said, 'Absolutely,' and we sat in the lobby sketching out the format and making lists of bands… This being Jane's Addiction, there was a lot of interesting stuff going on. One day a while later, Perry called me at 1 a.m. and said, 'I've got the name!' He'd heard it on a Three Stooges episode."
So rather than just your ordinary farewell run, Jane's Addiction made it something much bigger. "I wanted a longer lineup, just because I wanted to have a wilder, bigger party," Farrell said. "If it's a farewell, then let's invite some of our musical friends and peers." That led to an eclectic mix of acts playing the inaugural Lollapalooza touring festival, which in turn seemed to capture the public's imagination becoming one of the summer's top bills despite featuring a lineup that had most found their success outside of mainstream rock radio.
The tour started July 18, 1991, during a blistering hot day in Chandler, Arizona, making its way around the U.S. before an Aug. 28 end date in St. Paul, Minnesota. And by the time it was done, though Jane's Addiction were still intent on splitting, the success seemed to demand a desire for more.
"I had no intention of doing it again," said Farrell. "I mean, the thing was over and William Morris and Marc and these guys are all really enthusiastic and saying, 'We think we can get the Red Hot Chili Peppers for next year!'—and I went, 'Wait, what? Next year?'"
Who knew some 30+ years later Lollapalooza would still be a thing? But it all started with that initial lineup of acts, so we're revisiting who was on that bill, where they were at during that point in their career, and what became of them after.
Jane's Addiction
Where Were Jane's Addiction Before?
Jane's Addiction had emerged as one of college rock radio's bright young stars as the late '80s transitioned to the early '90s. They followed their impressive Nothing's Shocking debut album with the equally stellar follow-up Ritual de lo Habitual in 1990. But the grind of touring began to take its toll on the group who reached a breaking point over the course of supporting the album.
In Brendan Mullen's biography "Whores" about Perry Farrell and Jane's Addiction, the singer commented, "That thirteen-month tour behind Ritual was half the reason we wound up unable to stand one another. The other half is that I am an intolerable narcissist who can't get along with anyone."
So, feeling that an end was near, Farrell conceived of Lollapalooza with his festival partners as the band's farewell run. And if they were going out, it would be with something memorable. Lollapalooza would be a diverse traveling festival that included other non-musical forms of education and entertainment involved as well.
And it just so happened that as Jane's Addiction had scheduled the festival, they began to see their first mainstream attention with "Been Caught Stealing" breaking out with significant airplay on MTV.
What Happened to Jane's Addiction After?
The tensions in the band didn't resolve with Lollapalooza meant to signal the light at the end of the tunnel. Perry Farrell and Dave Navarro got into a fight onstage during the festival's opening day that saw the group exit the stage, come back for an encore, and then end with Navarro throwing his guitar into the crowd. Despite the opening day dust-up, the band did manage to make their way through the tour.
By late 1991, Eric Avery and Dave Navarro planned to exit the band, but remained long enough to finish out with shows in Australia and Hawaii before they disbanded.
The group enjoyed a mini-reunion of sorts in 1997 when Navarro and Red Hot Chili Peppers' Flea played with Farrell and Stephen Perkins on the Porno for Pyros song "Hard Charger," which then led to a brief tour with Flea taking over for Avery. The group again reunited in 2001 with an offer from Coachella turning into a bigger tour with Porno for Pyros' Martyn LeNoble handling bass duties. With the tour being a success, the band decided to try to write new music, with Chris Chaney coming on board to play bass. The result was the 2003 album, Strays, featuring the hit single "Just Because."
The band would split again after the end of promotion for Strays, but reunited the original lineup with Avery for a performance at the 2008 NME Awards. A few more shows followed, and the group once again started to work on new music. While a full album didn't come, the band did include some of the music with their A Cabinet of Curiosities box set. Touring followed, with Avery once again exiting the band in 2010. Duff McKagan and TV on the Radio's Dave Sitek both handled bass for brief periods before Chaney returned to the band for his second stint.
The group released the 2011 album, The Great Escape Artist and over the next decade turned up on multiple occasions playing shows and touring. At present, Jane's Addiction are said to be working on new music, while once again reuniting with Avery on bass in 2022. But the band's plans have been tenuous while guitarist Dave Navarro recovers from long Covid.
Siouxsie and the Banshees
Where Were Siouxsie and the Banshees Before?
Siouxsie and the Banshees were well established by the time Lollapalooza came around in 1991. The group formed in 1976 and had just released their 10th studio album, Superstition, about a month before the tour started. While the band had become one of the more popular college rock radio outfits of the '80s, they were on the verge of enjoying their biggest commercial success of their career with "Kiss Them for Me" crossing over to hit No. 23 on the Billboard Hot 100.
What Happened to Siouxsie and the Banshees After?
A hit single and the surprise success of Lollapalooza provided more opportunities for Siouxsie and the Banshees. In 1992, they were asked by director Tim Burton to contribute what would become the song "Face to Face" for the Batman Forever soundtrack. Expanding their horizons a bit, they began to record new material with string arrangements for what would become 1995's The Rapture album.
Sadly, things took a downward turn shortly after with the group being dropped from their record label, guitarist Jon Klein exiting the band after a seven-year stint and an eventual split by the spring of 1996.
Siouxsie Sioux and Budgie continued working together afterward, releasing an album together in 1999 while going under the moniker The Creatures.
In 2002, the band briefly reunited for a tour, with the years since mostly seeing archival releases issued by the group. However, earlier in 2023, Siouxsie Sioux made her return to the concert stage at the Cruel World Festival.
Living Colour
Where Were Living Colour Before?
Living Colour had an outstanding start to their career, generating all kinds of great word of mouth off their 1988 debut Vivid and the hard-rocking breakout single "Cult of Personality." They carried over their success to their sophomore set, 1990's Time's Up, which debuted at No. 13 on the Billboard 200 album chart and earned the band a Grammy Award for Best Hard Rock Performance for the full record.
They seemingly were the perfect fit for Lollapalooza's eclectic bill, themselves providing a cornucopia of musical styles ranging from metal and hard rock to funk, punk, jazz and blues. They were an extremely skilled band that could fit comfortably into the multi-faceted lineup.
The songs "Type," "Love Rears Its Ugly Head," "Elvis Is Dead" and "Pride" kept the band on the airwaves leading up to the festival. Coinciding with the festival's start, Living Colour released their Biscuits EP of live and previously unreleased cuts.
What Happened to Living Colour After?
The first signs of fracture came after Lollapalooza, with bassist Muzz Skillings exiting the band in 1992. The group moved quickly to add Doug Wimbish on bass, and in 1993, they issued their third studio album, Stain. The album debuted at No. 26, and was a bit of a commercial disappointment given their previous efforts. The group continued to work on new music, but came to an impasse in 1995, deciding to split after failing to reach common ground on their fourth studio album.
It would be five years before the band would reunite. Will Calhoun and Doug Wimbish had a New York show scheduled at CBGB using the moniker Head>Fake in 2000. Corey Glover eventually joined them to sing a few songs and then guitarist Vernon Reid completed the reunion a little later in the set. That onstage reunion then paved the way for a full-fledged reunion and new music, 2003's Collideoscope album. Though failing to reach the commercial heights of their first era, the band has continued to record and tour, releasing The Chair in the Doorway album in 2009 and Shade in 2017.
Nine Inch Nails
Where Were Nine Inch Nails Before?
By the time Lollapalooza arrived in 1991, Nine Inch Nails had become one of the buzziest new bands in music. The group's 1989 debut album Pretty Hate Machine enjoyed a slow burn rise with "Head Like a Hole" garnering significant MTV airplay in 1990 and new fans discovering songs such as "Down In It" and "Sin."
Where Were Nine Inch Nails After?
It was an inauspicious start for Nine Inch Nails on Lollapalooza with the band's gear overheating and crashing during their opening day set in Arizona. But Nine Inch Nails became one of the biggest beneficiaries of the tour, growing their audience and using it as a springboard into their 1992 EP Wish. By the time they got around to recording their next album, The Downward Spiral, a major explosion was about to occur.
A well-timed mud-filled Woodstock '94 appearance coinciding with the album release and the surprising hit single and video for "Closer" made Nine Inch Nails one of the biggest things happening in music in the summer of '94.
It would be five long years before the band returned with the double-album The Fragile in 1999 and another six years before they'd drop the commercially successful follow-up With Teeth. But the Trent Reznor-led act settled into a groove, issuing Year Zero in 2007, the instrumental Ghosts I-IV in 2008 and the surprise offering The Slip later that same year.
Trent Reznor found a new challenge in the next decade, becoming one of the most in-demand film scorers. But he somehow found the time to still crank out some Nine Inch Nails music, first with 2013's Hesitation Marks, then a series of shorter offerings that included the EPs Not the Actual Events and Add Violence as well as the full-length Bad Witch.
Nine Inch Nails became the lone act from the original Lollapalooza lineup to make the Rock and Roll Hall of Fame in 2020, and in 2023 Trent Reznor hinted at a scaled back future for the group, noting that he felt music had become too disposable in today's climate and lacked an air of importance. He also hinted that his desire to be with family was limiting his touring, and expressed how film composition was what was primarily exciting him these days.
MTV Report on Lollapalooza's Opening Day
READ MORE: Lollapalooza 2023 Lineup Revealed
Ice-T and Body Count
Where Were Ice-T and Body Count Before?
Body Count were a big unknown when the first Lollapalooza took place. In fact, it was Ice-T whose name appeared on the bill at most Lollapalooza stops. The pioneering rapper had established himself as one of the top emcees of the '80s, but what he had planned for Lollapalooza was something else. He had a full-fledged heavy rock band.
The origins of Body Count dated back to 1989 when Ernie C., Beastmaster V and Mooseman added live instrumentation to Ice T's The Iceberg / Freedom of Speech … Just Watch What You Say! album. Their debut album as Body Count wouldn't even arrive until 1992, meaning that Lollapalooza essentially was their introduction to many. So given Ice-T's background up to that point, he made sure to split sets between his rap classics and the new hard-hitting Body Count material.
What Happened to Body Count After?
It didn't take long for Body Count to make a name for themselves. With Lollapalooza as a springboard, the band issued their self-titled debut album in the spring of 1992. With gangster rap starting to emerge, Body Count took their message to the metal world by dropping the controversial song "Cop Killer," which took aim at violent police officers.
It wasn't long until boycotts of the band were staged, not only over "Cop Killer" but some of their other material as well. The band's music even became a political talking point with Vice President Dan Quayle weighing in on their music and President George H.W. Bush denouncing Time Warner for releasing the album.
Eventually, "Cop Killer" was pulled from the album with Ice-T even agreeing that it had become so divisive it was taking away from the band's ability to make a name for themselves outside of the controversy. Body Count survived the initial backlash, later releasing "There Goes the Neighborhood" off the album that enjoyed some success as well.
They returned with 1994's Born Dead and 1997's Violent Demise: The Last Days, and scored minor hits with the "Born Dead" title track and an outstanding cover of Jimi Hendrix's "Hey Joe" in the years succeeding their initial breakout.
The band's lineup went through some changes in the late '90s, with bassist Mooseman leaving in favor of new bassist Griz. Drummer Beastmaster V died of leukemia not long after the third album's release and rhythm guitarist D-Roc died from complications from lymphoma in 2004. The losses took their toll, with Ice-T and the band stepping away until 2006's fourth studio album, Murder 4 Hire.
After the record, the band took a hiatus before returning in 2009 for a Warped Tour appearance and recording a song for the Gears of War 3 video game. That started an uptick in activity for the group, who saw renewed enthusiasm for their 2013 album Manslaughter, as well as the follow-ups Bloodlust and Carnivore. Their most recent material has garnered praise as well, with Body Count winning Best Metal Performance for 2020's "Bum Rush" after missing out of the 2017 Best Metal Performance Grammy for "Black Hoodie." At present, the band is working up to a new album tentatively titled Merciless.
Butthole Surfers
Where Were Butthole Surfers Before?
Here's another well-established act by the time Lollapalooza came about in 1991. Butthole Surfers had been kicking around for a decade at that point, with four albums under their belt and a fifth, piouhgd, released in February of that year. That album became victim to some label instability, eventually being reissued a year later under a new deal with Capitol, but is mostly known for its cover of Donovan's "The Hurdy Gurdy Man."
What Happened to Butthole Surfers After?
Butthole Surfers appeared on Lollapalooza as one of the early day bands, and were occasionally billed as the BH Surfers at some stops with some fearing the name might offend. It was the early '90s, after all.
The Lollapalooza platform may have exposed the band to a larger audience, but it didn't immediately pay dividends. That was partly due to their label issues, with pioughd, falling victim to limited label support until the band jumped to Capitol a year later.
Though that record failed to catch fire, by the time they issued their 1993 follow-up Independent Worm Saloon, alt-rock music finally had a much larger platform. That led to airplay for the raucous single "Who Was in My Room Last Night."
Their 1996 album, Electriclarryland, yielded the biggest song of their career, "Pepper," and they also branched out with a cover of the Underdog theme song for a Saturday Morning: Cartoons' Greatest Hits compilation. However, legal disputes with their former label Touch and Go and current label Capitol Records slowed the band's progress in the late '90s. Having their legal issues finally resolved at the turn of the century, they revisited some music from their scrapped album After the Astronaut and added some new compositions for their 2001 set, Weird Revolution. That album yielded the single "The Shame of Life" and they placed the song "They Came In" on the Mission: Impossible 2 soundtrack.
Sadly, the time since has largely been devoid of new music. The group toured on and off through the 2000s, but have mostly been inactive since 2011, playing only a handful of shows since.
Rollins Band
Where Were Rollins Band Before?
Henry Rollins had already amassed plenty of cred in the rock world thanks to his stint fronting punk legends Black Flag, and he formed the initial lineup of Rollins Band in 1987. The group played a more varied style than Black Flag, incorporating funk, experimental jazz and noise rock into their aesthetic. They issued a pair of albums — 1987's Life Time and 1989's Hard Volume — prior to appearing at Lollapalooza. Like several of the acts on the bill, the group's eclectic sound made them a perfect fit. And Rollins himself had a charisma that captured the early day crowds.
What Happened to Rollins Band After?
Though Lollapalooza gave the band a solid platform, Rollins Band weren't meant for commercial stardom. That said, the lineup continued to evolve over the next decade around Rollins and they scored MTV fame with Beavis and Butt-Head favorite video for "Liar." That song as well as The End of Silence album single "Low Self Opinion" earned Rollins Band some radio airplay.
Rollins Band would issue five studio albums after Lollapalooza, but 2001's Nice album was their last full-length release. The group continued to tour for a few more years before going on indefinite hiatus after their 2006 touring.
Rollins, the band's namesake, still remained an entertainer, continuing to book spoken word shows, taking the occasional acting role and becoming a popular radio host in Los Angeles.
Violent Femmes
Where Were Violent Femmes Before Lollapalooza?
The Violent Femmes burst onto the scene in 1983 with their self-titled debut, which featured the modern rock classics "Blister in the Sun," "Kiss Off," "Add It Up" and "Gone Daddy Gone." They continued to thrive with three more albums in the '80s, and had released their fifth album, Why Do Birds Sing? In April of 1991, keeping the momentum going with the single "American Music." They were not on board for the full run, playing select stops along the Lollapalooza itinerary.
Where Were Violent Femmes After Lollapalooza?
The Violent Femmes saw modest success throughout the '90s thanks to songs such as "Breakin' Up" and "Tonight." A disagreement over the licensing of "Blister in the Sun" to the Wendy's food chain led to a legal dispute between band members Gordon Gano and Brian Ritchie, leading to a band split in 2009. But by 2013, the group had resolved their issues and reunited.
They've issued five studio albums since their 1991 Lollapalooza appearance, the most recent being 2019's Hotel Last Resort.
Fishbone
Where Were Fishbone Before Lollapalooza?
Fishbone had emerged as one of the great party bands of the '80s, bringing elements of funk, ska, punk, reggae and metal into a vibrant stage show that yielded two studio albums and such standouts as "Party at Ground Zero," "Freddie's Dead," "Ma and Pa" and "Bonin' in the Boneyard."
By the time their third album, The Reality of My Surroundings, hit, they were primed for a breakout and Lollapalooza helped further that mission. The songs "Sunless Saturday" and "Everyday Sunshine" garnered some of their biggest success to date in 1991, right as they were hitting the Lollapalooza stage for select shows.
Where Were Fishbone After Lollapalooza?
The band would issue four more studio albums in the years after Lollapalooza, with 1993's Give a Monkey a Brain and He'll Swear He's the Center of the Universe being the most successful. They would lose their major label deal with Sony in 1995 and the early 2000s saw the exits of Walter Kibby and Tracy Singleton. The band has seen several lineup changes over time, but with Kibby's return in 2010, four of the current six members were around at the beginning.
Though the recording has slowed down, they've remained a popular touring act over the years. Most recently, they issued a 2023 self-titled EP featuring the songs "All We Have Is Now" and a collaboration with NOFX on "Estranged Fruit."
More MTV News Reflections on the First Lollapalooza
What Happened to Lollapalooza After 1991?
As stated at the top of this piece, after the 1991 edition, there was an eagerness to continue the festival and Perry Farrell retained his interest in it by helping to organize the event over the years. The 1992 festival did feature Red Hot Chili Peppers in the headline spot, with Ministry, Ice Cube, Soundgarden, The Jesus Lizard, Pearl Jam and Lush playing the mainstage. A second stage was added that featured Rage Against the Machine, Tool, and Farrell's new band Porno for Pyros among others.
Future '90s editions of Lollapalooza featured Alice in Chains, Primus, Arrested Development, The Smashing Pumpkins, Beastie Boys, George Clinton, A Tribe Called Quest, Green Day, Sonic Youth, Hole, Cypress Hill, Beck, Metallica, Ramones, the Shaolin Monks, Orbital, Devo, The Prodigy, Snoop Dogg and more.
By 1997, the alternative music scene had started to fade, and the final year struggled at the box office, with organizers eventually putting the festival on hiatus. But by 2003, a decision was made to bring it back with the reunited Jane's Addiction atop the bill. Audioslave, Incubus, Jurassic 5, Queens of the Stone Age, A Perfect Circle, The Donnas, Rooney and The Distillers all performed on the mainstage.
Seeking to continue Lollapalooza in 2004, a lineup featuring the reunited Pixies and Morrissey was set to cross the country, but ticket sales were slow and eventually the tour was canceled.
That led to some hard decisions being made, with Lollapalooza returning in 2005 as a single destination music weekend event taking place at Chicago's Grant Park. It's continued to exist in this format in the years since with acts such as Weezer, Pixies, Death Cab for Cutie, Red Hot Chili Peppers, Kanye West, Daft Punk, Muse, Pearl Jam, Radiohead, Rage Against the Machine, Depeche Mode, Tool, The Killers, Lady Gaga and more headlining.
The new format proved enough of a success that spinoff events around the world have been launched, starting with Lollapalooza Chile in 2011. Brazil, Argentina, Berlin, Paris and Stockholm have all hosted Lollapalooza festivals in the years since.
2023 Rock + Metal Music Festival Guide
See what big rock and metal festivals are coming up in 2023!