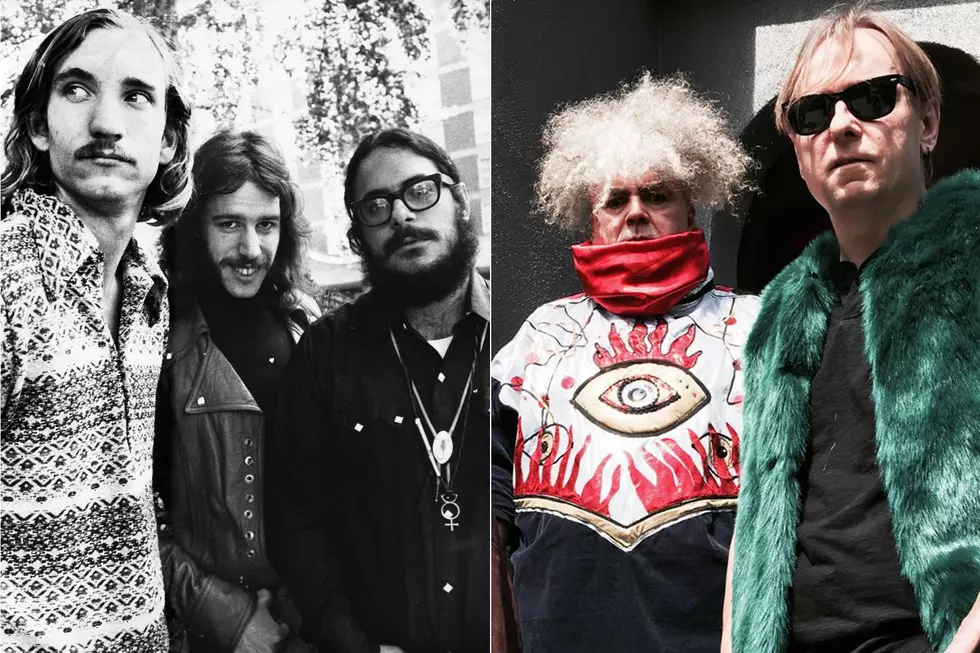 James Gang Drummer Jim Fox Talks Melvins' 'Stop' Cover
Chris Walter, Getty Images / Ipecac
The new Melvins album mashes up inspiration from a pair of seemingly disparate sources, bringing the James Gang's arrangement of "Stop" together with the Butthole Surfers' "Move to Florida" to create the suitably titled cover medley "Stop Moving to Florida" — and James Gang drummer Jim Fox offered his thoughts on the new recording in an exclusive interview with UCR.
Due April 20, the new Melvins LP Pinkus Abortion Technician collects eight new tracks, including a cover of the Beatles' "I Want to Hold Your Hand" as well as the James Gang/Butthole Surfers mashup. Of the latter, Melvins frontman Buzz Osborne explains, "I wanted to do the song 'Stop,' but I didn't want to do all of it, and I love 'Moving to Florida,' so 'Stop Moving To Florida' seemed perfect."
Listen to the Melvins' 'Stop Moving to Florida'
Reached for comment by UCR's Matt Wardlaw, James Gang drummer Jim Fox enthusiastically reports that he "loved" the Melvins' take on their version of the song, which he deemed "really creative and off the wall" — but as he hastened to point out, it wasn't a James Gang original. "The song is actually written by Jerry Ragovoy and Mort Shuman, and they deserve credit for it," says Fox. "I can certainly see how they used our arrangement, however, which I think is really cool."
Originally an R&B hit for singer Howard Tate in 1968, "Stop" also surfaced the same year as a cut on the Super Session LP cut by Al Kooper, Mike Bloomfield and Stephen Stills — and it'd reach an even wider rock audience in 1970, when it was covered by Jimi Hendrix on his Band of Gypsys LP. None of those acts, however, had the good fortune of recording their version with one of the men who'd actually written it.
Listen to Howard Tate's 'Stop'
As Fox tells UCR, the James Gang were tracking at the Hit Factory in New York City when, upon arriving at "Stop," they decided the song would "be better served with a piano player." A search followed, with immediately amusing results.
"No one leaps to mind, so we call Joe Walsh's mom in New Jersey," he says. "She says she'll give it a shot and drives into town. We do a few takes and it is painfully obvious that Mrs. Walsh isn't our man. She goes home and we are left sitting around, wondering what to do. At this moment, the studio owner, Jerry Ragovoy, walks through the studio with a broom ... cleaning up."
Listen to Jimi Hendrix and Band of Gypsys' 'Stop'
Producer Bill Szymczyk, aware that Ragovoy played piano, invited him to sit in with the band. "Bill says, 'Would you like to play on a song we want to record?' and Jerry says, 'Sure, what's it called?' Bill says, 'It's an R&B song called 'Stop.' Do you know it?' And Jerry," recalls Fox, "replies with what has to be the greatest line of all time: 'Know it? I wrote it.' Honest to God!"
Eager to take advantage of their new addition, the Gang tossed out their original plan for the recording. "It quickly went from the song to an extended jam, completely spontaneous, for about 12 minutes or whatever it was," says Fox. "We used just about the entire thing on the record. What a great time we had making that song!"
Listen to the 'Super Session' Version of 'Stop'
As it happens, the Melvins' new take on "Stop" isn't Fox's introduction to the band — although it's inspired him to investigate their catalog further. "I had indeed heard of the Melvins, in fact for many years," he tells UCR. "But I confess that I knew little of their music, though I am quickly remedying that now."
Pinkus Abortion Technician represents something of a new twist on the evolving Melvins sound — specifically through the introduction of a two-bass lineup, which reminds Fox of a deep Daniel Lanois cut. "Two bass players, eh? We never tried it," he says. "But the best example I can think of is a song by Daniel Lanois called 'The Maker' which was on his first solo album called Acadie, and also featured on the soundtrack to the movie Sling Blade. Absolutely awesome arrangement."
Listen to the James Gang's 'Stop'