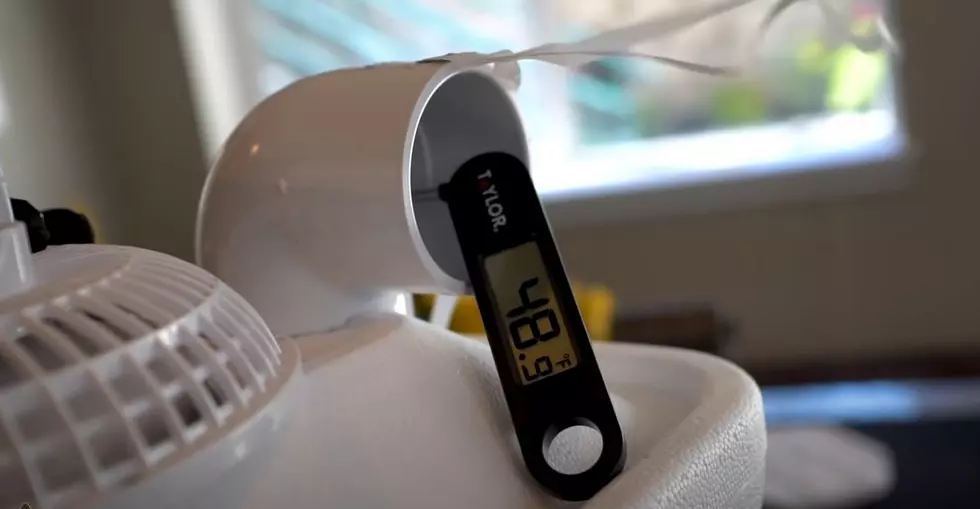 Keep Cool This Missoula Summer With This DIY Air Conditioner
Credit: TKOR via YouTube
Missoula Summer is getting hot, and it's only going to get hotter. Check out this cheap, easy DIY air conditioner you can build yourself.
I've lived in some of the hottest places in the U.S (Phoenix, Palm Springs, Southern California, etc) and I have become a huge fan of air conditioning. When it's 120 degrees health risks become real. Once I was hospitalized after a CrossFit session in a building without A.C when it was 105 degrees. Since that day, I've been all about air conditioning, but it's not cheap. Until now. I ran across this homemade A.C unit a few years ago and figured I'd share it with you sweaty sweethearts that are ballin on a budget.
Here is what you'll need
A styrofoam cooler that you can find at almost any grocery store or gas station, a knife or scissors, some PVC pipe, duct tape or rubber cement, a small fan, a sharpie, and ice.
Directions
First, trace around the fan and PVC pipe on the styrofoam cooler. You'll need it to be pretty close to the size because next, you'll be cutting out the holes. (See Pic). Next, you'll need to use your knife or scissors to cut out the traced lines. Go slow and easy. You can always go bigger if the hole doesn't fit right, but you can't go back if you cut it too big.
The next step is super simple. We're going to attach the fan to the cooler right at the hole you cut in for its size. You can use duct tape to seal off any open spaces and to make sure it's good and attached. Make sure not to block off the back of the fan, as that is where it will be pulling the air from.
Now do the same with the PVC pipe. This is where you can get creative and add different pieces to point in different directions or just keep it simple with a straight shot. Use duct tape or rubber cement to make sure it's good and tight.
Here comes the most important addition. Fill that bad boy up with ice (about two-thirds full), but keep it bagged if at all possible. This way when the ice melts, you can just swap out the bags instead of a cooler of water. Plus it's not a good idea to have water around an appliance so please pay close attention to its melt rate. You might even consider using frozen bottles of water.
That's it. Just turn the fan on and point the PVC pipe to you, or whatever room you want to keep cold. The total cost is really only a few bucks, and it really works! For the full "how-to" check out the video below.
The Five Worst Places To Live In Montana
It's not our fault - these towns certainly have merit, but with so many other options, you could do better! For many reasons, these are the five worst places to live in Montana.
5 Things That Show How Truly Great Montana Really Is
Montana is known as "The Last Best Place." Here are a few reasons why.