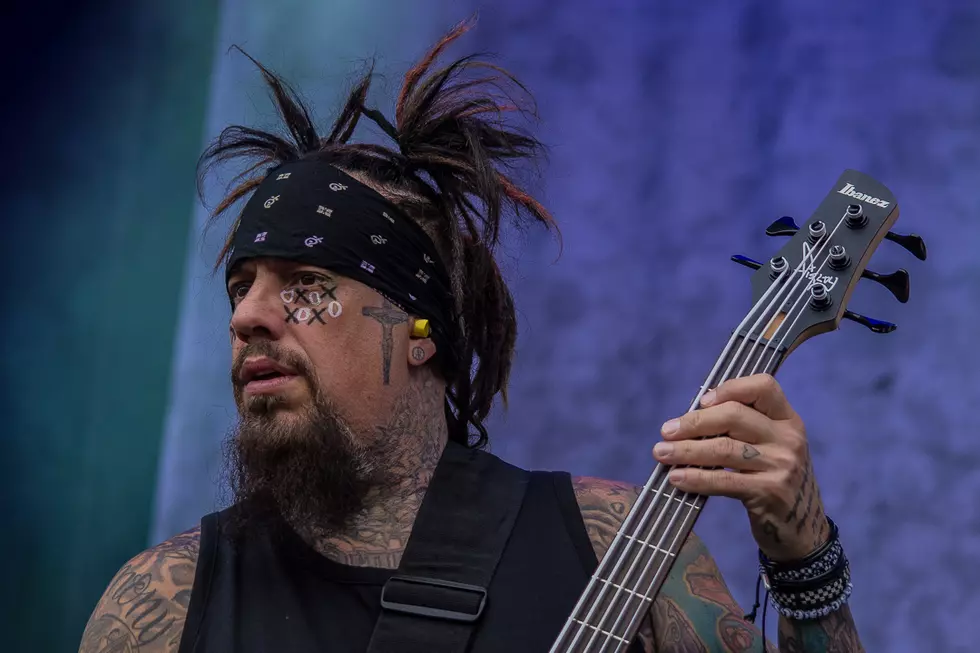 Korn Bassist Fieldy Wrapping Up Jazz Fusion Solo Album
Photo by Nick Durcholz
Korn will be dropping The Serenity of Suffering, their 12th studio album, on Oct. 21, but one of their members has additional music on the way as well. Bassist Fieldy has revealed some details about his forthcoming solo record, Bassically, which will run the gamut across a myriad of different styles.
In an interview with Weld for Birmingham, Fieldy said he was "almost finished" with the album, which will be mixed by Korn's sound man Marco in November. "It's musically a ride. It's all instrumental," he added, elaborating, "I play 15-string bass, fretless basses — every kind of bass you can think of, Fender jazz, whatever. I don't even know if we could name all the basses I played on there. It takes you on a ride." The bassist went on to note all the different stylistic elements in play, continuing, "Jazz fusion, punk, Latin, blues, reggae… I don't even know if I even left any style of music out. As much as I could put on there. That's how it is. It's just an instrumental album."
When asked about what inspired Fieldy on this solo venture, he cited his wife Dena, who put the idea of releasing a bass album into his mind. Reflecting on his different influences, Fieldy said, "And then I really thought about it. And if you go back in time to my inspiration in my early days, I listened to a lot of Stanley Clarke. And then from there on, I got into a lot of Flea [Red Hot Chili Peppers]."
Fieldy then discussed how it can be easy to overlook bass contributions if one is not actively listening for the parts, stating, "For example, a lot of classic rock bands I listened to as a kid — now, I was like, 'Wait, I just found the Eagles on the bass, rippin'!' Or Led Zeppelin! Led Zeppelin gets to rippin' on bass! You hear these great tones that as a kid, I'd never really listened to. And now, I'm like starting to listen and trip out on it."
For now, Fieldy will be focusing his attention on Korn with the new record arriving soon and the current co-headlining tour with Breaking Benjamin running through Oct. 19. For a list of remaining dates on the trek, head to our 2016 Guide to Rock + Metal Tours.
See Where Fieldy Ranks Among the Top 66 Hard Rock + Metal Bassists of All Time
10 Greatest "I'm Going Solo" Metal Acts