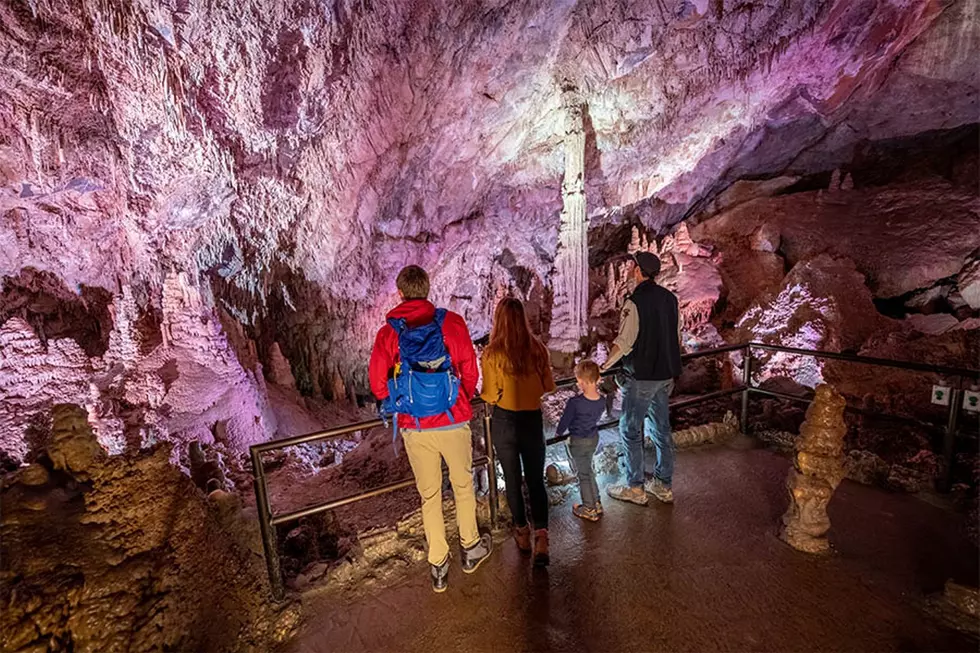 Lewis & Clark Caverns 2022 Tour Schedules and Pricing Announced
Image courtesy of Montana Fish, Wildlife and Parks
With the price of gas and so many other things escalating, perhaps closer-to-home activities are on your agenda this summer.
Affordable, educational, and pretty darned awesome still apply to a day trip to Montana's Lewis and Clark Caverns State Park. The Caverns boast some of the most decorative limestone caves in the northwest.
And, if you're looking to extend your stay, the park also offers camping, trails to hike, biking, a state-of-the-art visitor center, interpretive displays, a gift shop, food and beverage concessions, an amphitheater, and interpretive events during the summer months.
Montana Fish, Wildlife and Parks has announced 2022 tour schedules and pricing information. As with so many popular outdoor tourist attractions in Montana these days, the earlier you can commit to dates and times, the more likely your chances of getting to see the park when you want and do things you want to do.
THE CLASSIC TOUR
The classic tour features a 2-mile journey through the majority of the developed cave tour route, including the second-largest and longest rooms in the cave. This tour lasts for two hours and includes more than 600 stairs, stooping and tight squeezes. It is not recommended for small children, or visitors with mobility limitations or claustrophobia. Also, bats occupy some rooms that are part of the Classic Tour.
The Classic Tour will be offered starting in June on the hour from 10 a.m. through 4 p.m. for those with reserved tickets and as staffing allows. Tickets for the classic tour are $15 for visitors ages 15 and older, $10 for kids ages 5 to 14, and $5 for anyone 4 or younger.
THE PARADISE TOUR
The Paradise Tour includes a view of the largest and most decorative room in the cave — the Paradise Room. This 1-mile tour lasts 90 minutes. It includes 15 stairs between two rooms, but the path is mostly level and partly wheelchair accessible. Because the paradise tour provides better accessibility and easier passage, this tour is highly recommended for anyone with small children, claustrophobia concerns or mobility challenges.
The Paradise Tour will be offered on the half hour from 8:30 a.m. to 3:30 p.m. Wednesdays through Sundays until Memorial Day weekend. Beginning the week after Memorial Day, reservations can be made, and tour times will change to 10:30 a.m., 12:30 p.m., 2:30 p.m., and 4:30 p.m. Tickets for the Paradise Tour are $10 for seniors ages 62 and older, $15 for visitors ages 15 to 61, $10 for kids ages 5 to 14, and free for anyone 4 or younger.
Times are subject to change. If you'd like more information about campsite reservations and ticketing, visit the Montana FWP Lewis and Clark State Park website.
The 14 Best Places in Missoula to Take Visitors From Out of Town
We asked locals where they like to bring visitors when they take a trip out to Missoula - and here's what they came up with.
LOOK: Stunning vintage photos capture the beauty of America's national parks
Today these parks are located throughout the country in 25 states and the U.S. Virgin Islands. The land encompassing them was either purchased or donated, though much of it had been inhabited by native people for thousands of years before the founding of the United States. These areas are protected and revered as educational resources about the natural world, and as spaces for exploration.
Keep scrolling for 50 vintage photos that show the beauty of America's national parks.