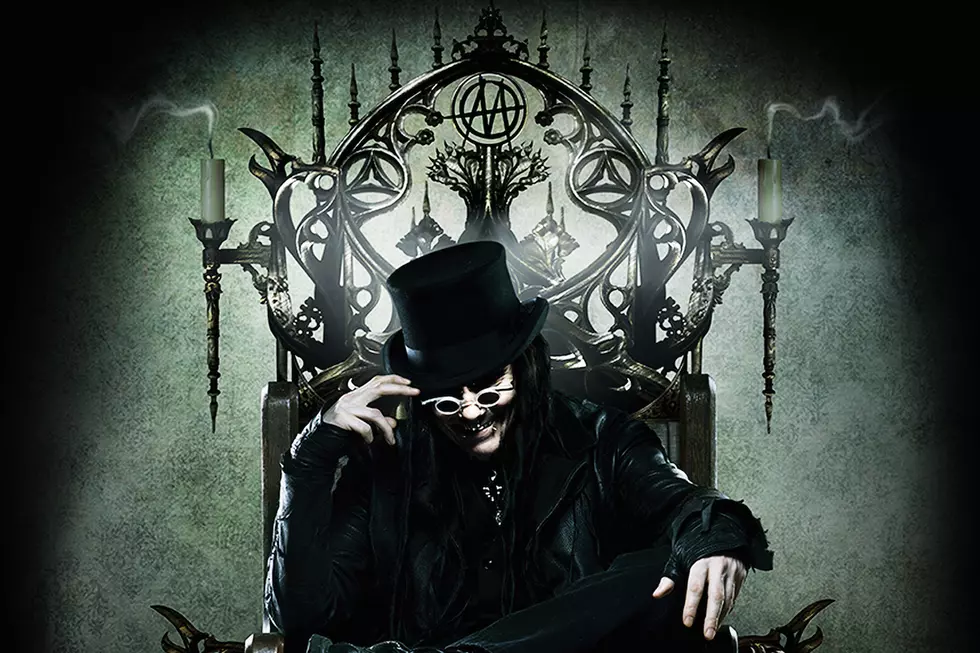 Ministry Book Late 2018 North American Tour With Carpenter Brut + Igorrr
Allan Amato
Ministry have been incredibly active on the road over the last year and with their 2018 album, AmeriKKKant, to support, the dates keep coming. The industrial legends will embark on a late North American tour, bringing French synthwave act Carpenter Brut and the chaotic avant-garde industrial unit Igorrr with them.
"I think the sets are going to work really well together," said leader Al Jourgensen. "Looking forward to seeing the masses collapsing into a puddle of sweat by the end of the festivities."
The tour begins in San Francisco on Nov. 21 and will stretch out across the U.S. and Canada, finishing up back in California with a pair of Los Angeles dates on Dec. 20 and 21. See the full list of stops below and get your tickets (available June 8 at 10AM local time) at the Ministry website.
After the passing of guitarist Mike Scaccia in 2012, Jourgensen had every intention on laying Ministry to rest, but had to fulfill a contractual touring obligation. "I wasn't really into it at first but when we started doing it we actually sounded pretty good," he told Full Metal Jackie in a recent interview, describing getting back on the road without his longtime friend and guitarist. "So, I said, 'Well, when we get back from Europe let's see what we sound like jamming in a studio.' Which, I haven't done since about 1995 or 1994 or something like that. I think the last time I was in a studio with a band actually recording was probably on the album Filth Pig."
Ministry's mastermind further explained, "So, it had been a long time. It's usually just me and an engineer and four walls and loud speakers but this was an actual band so it was really organic in the way that it happened and we actually sounded pretty good. So, within that one week of just jamming in the studio the basic skeletal structure, the template of this album was written in one week with just a few people jamming."
2018 North American Ministry Tour Dates
Nov. 21 - San Francisco, Calif. @ The Warfield
Nov. 23 - Salt Lake City, Utah @ The Depot
Nov. 24 - Denver, Colo. @ Fillmore
Nov. 27 - Minneapolis, Minn. @ Skyway Theatre
Nov. 29 - Joliet, Ill. @ The Forge
Nov. 30 - Cleveland, Ohio @ Agora Theatre
Dec. 01 - Detroit, Mich. @ Majestic Theater
Dec. 02 - Toronto, Ontario @ Rebel
Dec. 04 - Rochester, N.Y. @ Anthology
Dec. 05 - Washington, D.C. @ Fillmore
Dec. 06 - New York, N.Y. @ Irving Plaza
Dec. 07 - New York, N.Y. @ Irving Plaza
Dec. 08 - Philadelphia, Penn. @ Electric Factory
Dec. 10 - Asheville, N.C. @ Orange Peel
Dec. 11 - Memphis, Tenn. @ New Daisy Theater
Dec. 12 - Dallas, Texas @ Gas Monkey
Dec. 13 - Houston, Texas @ House of Blues Houston
Dec. 14 - San Antonio, Texas @ Aztec Theater
Dec. 16 - Phoenix, Ariz. @ Marquee
Dec. 18 - San Diego, Calif. @ House of Blues San Diego
Dec. 20 - Los Angeles, Calif. @ The Fonda
Dec. 21 - Los Angeles, Calif. @ The Fonda
2018's Best Metal Albums... So Far
10 Greatest Industrial Rock + Metal Bands
2018's Best Metal Songs... So Far