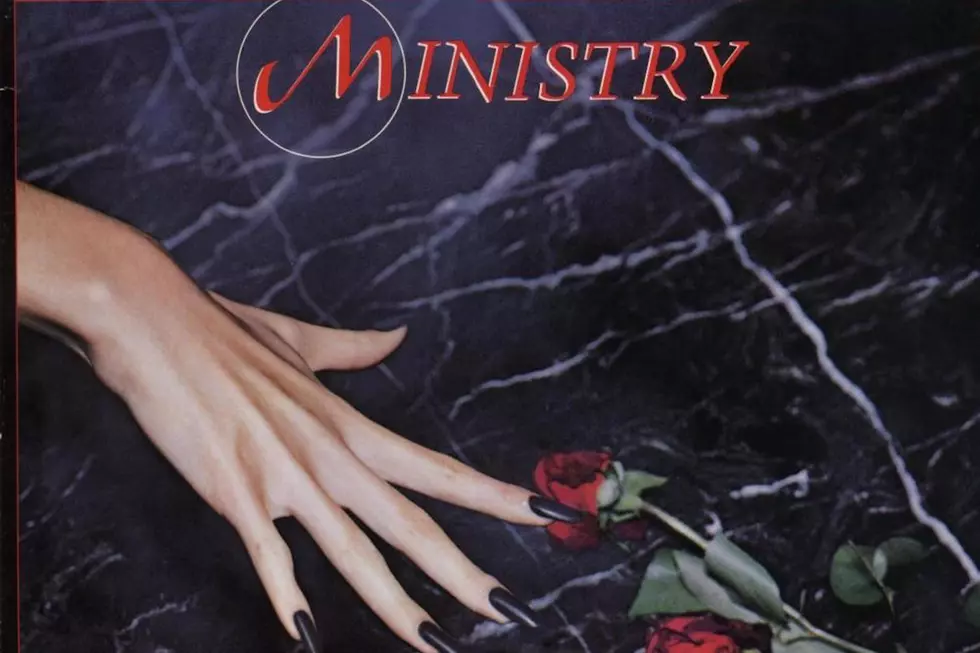 35 Years Ago: Ministry Release Disavowed Debut, 'With Sympathy'
Arista Records
On May 10, 1983, Ministry released their debut LP, With Sympathy, a dark New Wave album that band leader Al Jourgensen later completely disowned.
In hindsight, it's understandable why he dislikes the record: With Sympathy is light years removed from the harsh electro-industrial-metal for which Jourgensen would later become known. Recorded in Boston at the Cars' studio, Syncro Sound, with producers Vince Ely (the ex-drummer of Psychedelic Furs) and Ian Taylor, With Sympathy was full of British-inflected, slick synth-pop.
Dance grooves rule, as heard in the snappy, funk-flecked rocker "I Wanted to Tell Her" and the dark-disco anthem "Work for Love," while both "Effigy (I'm Not An)" and "Revenge" boast gothic-tinted electro affectations. Yet With Sympathy's contemporary flourishes felt cutting edge, or at least prescient in the way they incorporated interesting textures and genres. The airy "She's Got a Cause" presages OMD's move into lighter synth work; tinny horns drive "Here We Go"; and "What He Say" takes inspiration from hip-hop. Jourgensen also sings with a British accent, which adds to the music's cosmopolitan feel.
In short, the record is far from a disaster, at least from a listener standpoint. The problem seemed to be the execution of it, and specifically how Ministry's label, Arista Records, ticked off Jourgensen with their demands. In his memoir, Ministry: The Lost Gospels According to Al Jourgensen, he wrote that label head Clive Davis signed the band with a promise of transforming Ministry into "the next Joy Division."
Watch Ministry's 'Revenge' Video
Soon after, however, the label head instead started steering the band in a more commercial, pop-geared direction; Jourgensen recalled that the producers were "appointed" by Davis and "didn't give a fuck what I said and molded all the songs. There were backup singers I didn't hire and musicians they brought in who I didn't want." For good measure, Jourgensen told Rolling Stone in late 2017 that he already had songs written that later ended up on the landmarks Twitch and Land of Rape and Honey, but Arista refused to let them be included on With Sympathy.
Over the years, the musician's ire hasn't faded. In a 2016 interview with The Quietus, Jourgensen even refused to say the name of With Sympathy. "Because I did not write that fucking record," he asserts. "I had nothing to do with that record except my face is on it and my voice is on it. They wrote the lyrics, made me cut my fucking hair, bought me a wardrobe, assigned me management. I was literally a product of the old-school star-making machine. It was revolting, disgusting and it traumatized me for years."
Still, Jourgensen might've been exaggerating some of these points slightly. As post-punk.com points out, a May 1982 concert broadcast on the Chicago radio station WXRT featured the song "Primental," an obvious antecedent to "I Wanted to Tell Her," in the set list, alongside With Sympathy tracks "Effigy (I'm Not An)" and "Revenge." Ministry were also certainly playing the kind of New Wave-indebted synth-pop heard on With Sympathy even earlier than 1982: The group's 1981 debut single was an icy synth-pop cut called "I'm Falling," backed by the funky, horn-smeared "Cold Life." Another early song, the Gary Numan-esque "Overkill," eventually also saw the light of day, while the early, squirrelly synth-pop rarity "Same Old Madness" surfaced in recent years.
Watch Ministry Perform Live in 1983
Robert Roberts, one of Ministry's early members, also addressed the discontent around With Sympathy as part of a wide-ranging interview. "I understand that Al, in retrospect, has said that he was very unhappy with With Sympathy and that Arista made him do it," he told the fan website prongs.org. "I don't think that this was entirely true. Now what is true, is that I don't think that With Sympathy really captured the band correctly, at least it really didn't sound like we did live. That I'll admit. But to say that someone twisted his arm, I don't know. He certainly seemed to be into it at the time, more so than anyone else in fact."
Regardless, With Sympathy was released — and although Jourgensen said he didn't want to promote the album, Ministry did go on tour, and opened for the Police, Culture Club and Depeche Mode. The band also received some light radio airplay and had Billboard dance chart success: "I Wanted to Tell Her" reached No. 13, while "Work for Love" peaked at No. 20. However, Jourgensen ended up suing Arista and, by mid-1984, was off the label and recording for Wax Trax Records.
There are signs that Jourgensen has softened his stance toward With Sympathy ever-so-slightly. In late 2014, he shared an unreleased track from that era, "Anything for You." However, it seems as though he's now ambivalent more than anything. "It took me years to, like, stop loathing that album or distancing myself from it," he told Rolling Stone. "It is what it is. I'm glad I did that record because then I realized [music] is not all it's cracked up to be."
Top 100 '80s Rock Albums