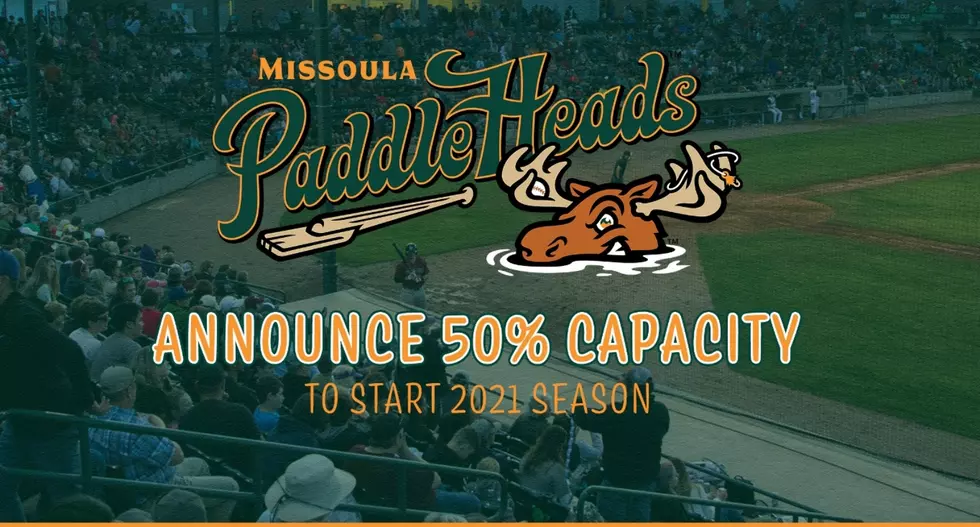 Missoula PaddleHeads to Meet Fans Halfway on Attendance to Start
Image courtesy of Missoula PaddleHeads Baseball
So, where do we stand on tickets to cheer on our local minor league baseball team? Well, it won't be standing room only, at least to start.
Our thanks to Taylor Rush with Missoula PaddleHeads Baseball for sending us the updated ticketing policy, at least to start the season. The PaddleHeads, in conjunction with the Missoula City County Health Department, have announced the implementation of a 50% capacity for all Ogren Park Allegiance Field events to start the 2021 season.
The good news is  that for now, these capacity rules only apply to the PaddleHeads' first 12 home games and all non-baseball events.The PaddleHeads and the Missoula City County Health Department intend to revisit and evaluate Ogren Park Allegiance Field's capacity limitations on June 22.
The PaddleHeads will continue to implement, improve and enhance all COVID-19 policies suggested by the Missoula City County Health Department. Driven by the PaddleHeads' certified COVID Compliance Officer, fans can expect to see a plan that includes social distancing and crowd control measures, a mask mandate for fans while moving about the facility, enhanced cleaning, disinfecting and sanitizing practices and staff training. A full food and beverage plan will also be in place.
Tomorrow (Tuesday, April 6), the PaddleHeads are set to launch the sale of single game tickets, along with their mascot unveiling and 2021 promotions calendar. Opening day of the PaddleHeads' 48-game home schedule is slated for May 22. You read that right. The season is going to be longer with all the changes in minor league baseball since last year. If you want to stay up to date on the availability of tickets, you should check the PaddleHeads website.
It's a positive start filled with plenty of optimism for eventually larger crowds by late June.
CHECK IT OUT: 100 sports records and the stories behind them