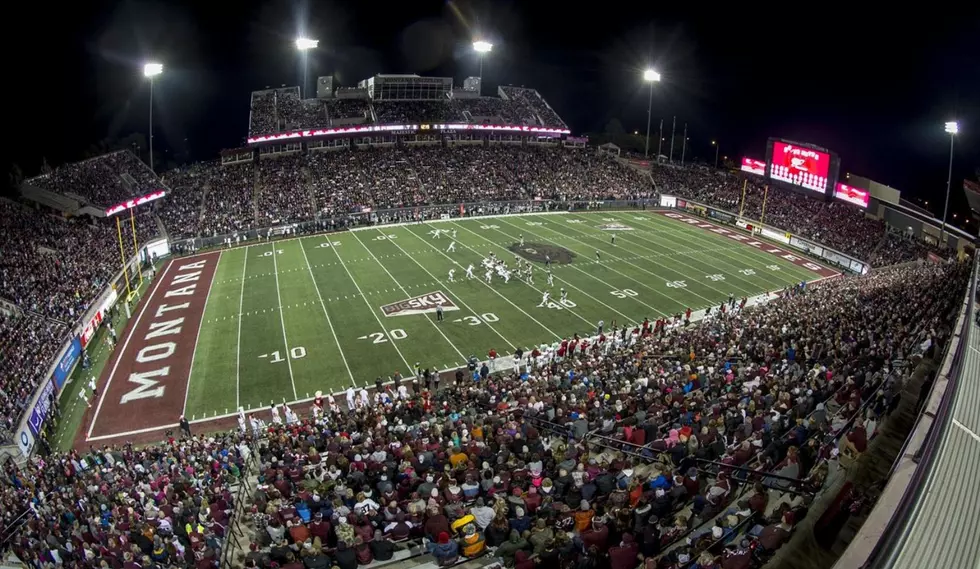 Montana Griz Football Ranked in Top 10 in National "Envision" Poll
Image courtesy of U of Montana Athletics
The Big Sky Conference placed five teams in the Stats Perform FCS Top 25 that was released today (Tuesday).
One has to wonder if it doesn't make football fans feel better or worse when their team gets lofty recognition and no season to prove themselves worthy of those preseason accolades. Among those fans? The Montana Grizzly football faithful.
With the fall football schedule postponed to the spring for many FCS conferences, voters were asked to envision what the preseason media poll would've looked like in 2020. As the votes were tallied and released today, the Big Sky continued to show why it is one of the most talented conferences in the FCS. A national panel of sports information and media relations directors, broadcasters, writers and other dignitaries select the Stats Perform FCS Top 25. A first-place vote is worth 25 points, a second-place vote 24 points, all the way down to one point for a 25th-place vote.
Weber State led the way for the Big Sky Conference, as it was voted No. 4 in the Top 25 coming off an 11-4 season in 2019 and an FCS semifinal playoff appearance. Montana State was selected No. 6. Montana earned the No. 7 spot after a 10-win season in 2019, as they advanced to the quarterfinals of the playoffs. Sacramento State was voted No. 12. The Hornets had a record-breaking season, as it rolled to nine wins and its first-ever playoff appearance and share of the Big Sky title. Eastern Washington was voted No. 18.
Both Portland State and UC Davis earned votes in the Top 25 poll to give the Big Sky a total of seven teams to receive votes. Defending champion North Dakota State was selected as a unanimous No. 1. The Big Sky and Missouri Valley Football Conference tied for the most teams in the rankings with five each.
Stats Perform 2020 Preseason FCS Top 25 (Aug. 25)
1. North Dakota State (16-0, 8-0 Missouri Valley), 3,675 points (147 first-place votes)
2. James Madison (14-2, 8-0 CAA), 3,411
3. Northern Iowa (10-5, 6-2 Missouri Valley), 3,269
4. Weber State (11-4, 7-1 Big Sky), 3,198
5. South Dakota State (8-5, 5-3 Missouri Valley), 2,911
6. Montana State (11-4, 6-2 Big Sky), 2,884
7. Montana (10-4, 6-2 Big Sky), 2,753
8. Villanova (9-4, 5-3 CAA), 2,499
9. Illinois State (10-5, 5-3 Missouri Valley), 2,471
10. Kennesaw State (11-3, 5-1 Big South), 2,178
11 Central Arkansas (9-4, 7-2 Southland), 2,093
12. Sacramento State (9-4, 7-1 Big Sky), 2,085
13. Austin Peay (11-4, 7-1 Ohio Valley), 2,030
14. Nicholls (9-5, 7-2 Southland), 1,392
15. Furman (8-5, 6-2 Southern), 1,239
16. Wofford (8-4, 7-1 Southern), 1,089
17. Albany (9-5, 6-2 CAA), 825
18. Eastern Washington (7-5, 6-2 Big Sky), 817
19. North Carolina A&T (9-3, 6-2 MEAC), 809
20. New Hampshire (6-5, 5-3 CAA), 759
21. Southeastern Louisiana (8-5, 6-3 Southland), 652
22. Sam Houston State (7-5, 6-3 Southland), 597
23. Monmouth (11-3, 6-0 Big South), 577
24. Southern Illinois (7-5, 5-3 Missouri Valley), 568
25. Southeast Missouri (9-4, 7-1 Ohio Valley), 499
ALSO: Former Minnesota Twins All-Star's Home for Sale - Complete With Brewery