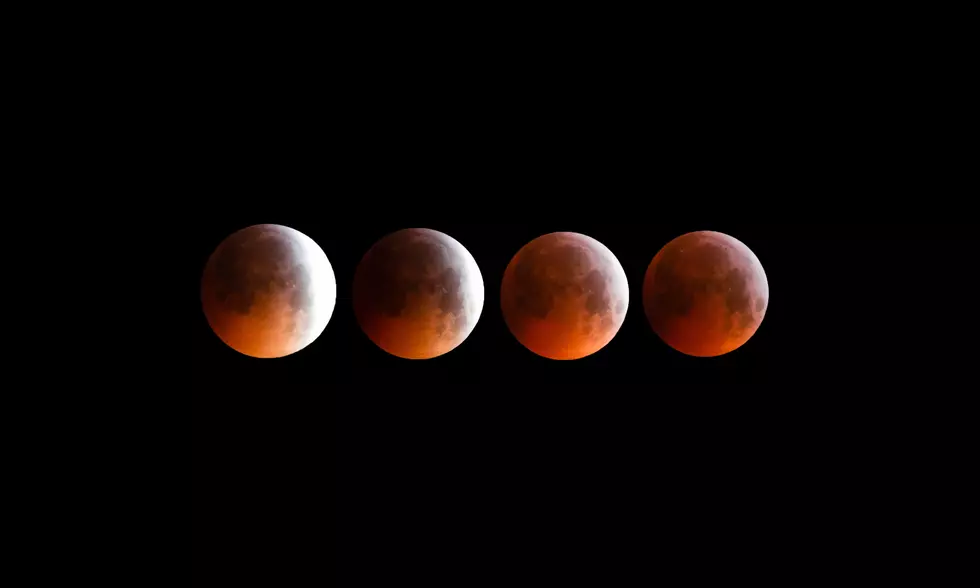 Montana Will Have Front Row Views of 'Blood Moon' Eclipse Sunday
samuel elias nadler via unsplash.com
You're going to have to plan on going to bed a little later this Sunday night because you are not going to want to miss this. Sunday will bring what is known as a "Flower Moon." So you are going to want to slip on your slippers and step out onto the back porch for a minute before heading to bed. If you look up you will witness lunar events happening at the same time.
Lookup this Sunday night and you will see what is known as the Super Flower Blood Moon.
According to NPR.ORG
Full moons that occur in May are sometimes known as flower moons. According to The Old Farmer's Almanac, the name is a reference to the flowers that are blooming in May and has been attributed to Native American, Colonial American and European sources.
But, not only is it going to be a full moon. It will be a super moon because of its location in the earth's orbit. Appearing larger than usual. On top of that, it is also a blood moon. meaning it is aligned with the sun and earth's shadow. Making it appear red.
Thankfully, we here in Montana will get a front-row seat for this.
The eclipse will begin far before the moon rises here in Montana. It is expected to start around 7:32 pm on Sunday the 15. Thankfully, the full eclipse won't happen until the moon has risen to a perfect height in the sky for all to see. Expect the moon to rise on Sunday night at 8:40 pm and the eclipse to peak at 9:29 pm. Also, we know it's a "school night," and you only have to stay up until shortly after midnight to view the entire eclipse.
READ ON: Weird, wild UFO sightings from throughout history
NOSTALGIA: See Photos of 1930s Missoula, Montana
See if you can recognize these iconic locations in downtown Missoula, Montana.