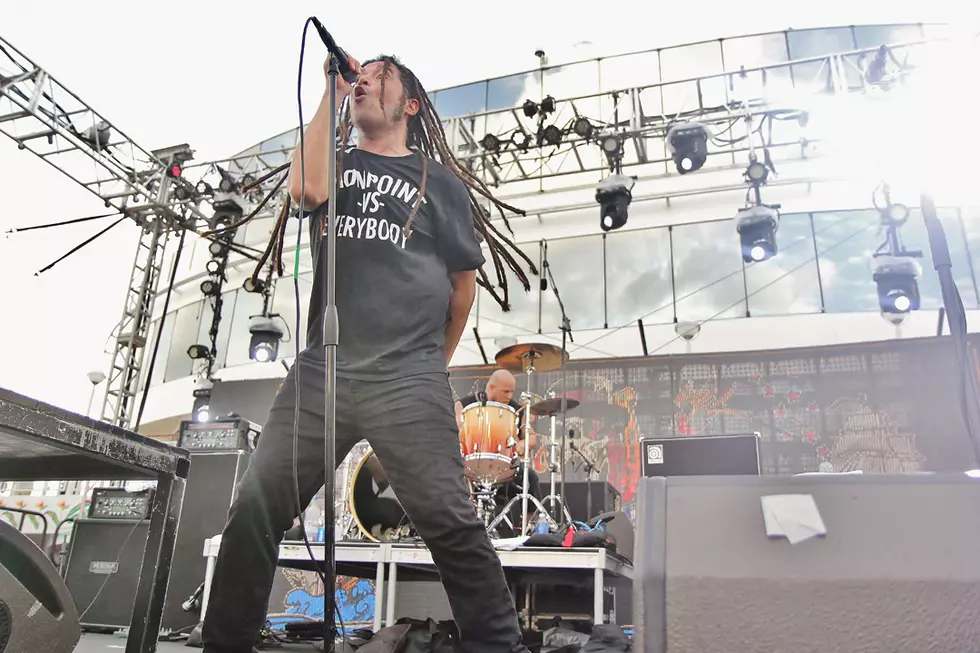 Nonpoint Frontman on Hologram Concerts: 'I Doubt Very Seriously That's Going to Take Over'
Liz Ramanand, Loudwire
Last week, the Ronnie James Dio hologram made its U.S. debut at the Pollstar Awards and a full-fledged tour is expected to be underway by September as Wendy Dio told us in our exclusive interview. With the technology popularizing the ability to bring some of our favorite artists back from the permanent grip of death or perhaps even living ones for the sheer spectacle, Nonpoint frontman Elias Soriano is not buying it — literally.
"It's kind of like what casinos are doing with live bands," Soriano began telling Sofa King Cool (video below). "Now they're just putting up six and eight-foot-tall screens and putting digital… an actual video of a band that they just videotaped of 50 cover songs and then just have them playing on a screen so they don't have to pay the band. Eventually, that's what you're moving towards."
The singer said if his fans would rather see him as a hologram, "that means I can stay home with my family, so no cost for bus, no cost for any of that stuff; I'll just send a truck and a bunch of s--t. But, you know, I doubt very seriously that's going to take over."
When asked if he would ever pay for a hologram concert performance, Soriano offered, "No. Of course not." He went on to cite his issues with bands who rely heavily on the utilization of backing tracks live, saying these artists need to "have a little f--king pride and a little self-worth in what you do for a living, and get up there and do it for real. And if you can't, pack the f--k up and go the f--k home."
Soriano elaborated on this stance, adding that he's seen record labels threaten to drop a band if they don't ditch the backing tracks and also came down hard on those who opt for a faster lifestyle on the road, abusing drugs and alcohol to the point where it affects their performance, spurring the need for the aforementioned backing tracks.
While the frontman didn't mince words, it isn't all all or nothing situation when it comes to backing tracks, which he recognized. Soriano mentioned Disturbed among bands who are known to multi-track a single person's voice on studio albums, but that he can tell that David Draiman is indeed performing live.
His bigger issue comes "when you're a brand new f--king band playing in front of 200 goddamn people and you, your guitar players, bass player and drummer and singer can't get up there and just do it on your own, that's not a good thing. You should be able to perform and do it.
It should be noted that Soriano did not mention the Dio hologram and that Dio Disciples play live to a click track to ensure there are no timing snafus with the hologram's performance.
Nonpoint recently wrapped up a tour supporting Alter Bridge as they continue to back 2015's The Poison Red. Watch the music video for the song "Divided.. Conquer Them" here.
Nonpoint's Elias Soriano Interviewed by Sofa King Cool
Top 50 Hard Rock + Metal Live Acts of All Time
11 Frustrating Onstage Difficulties