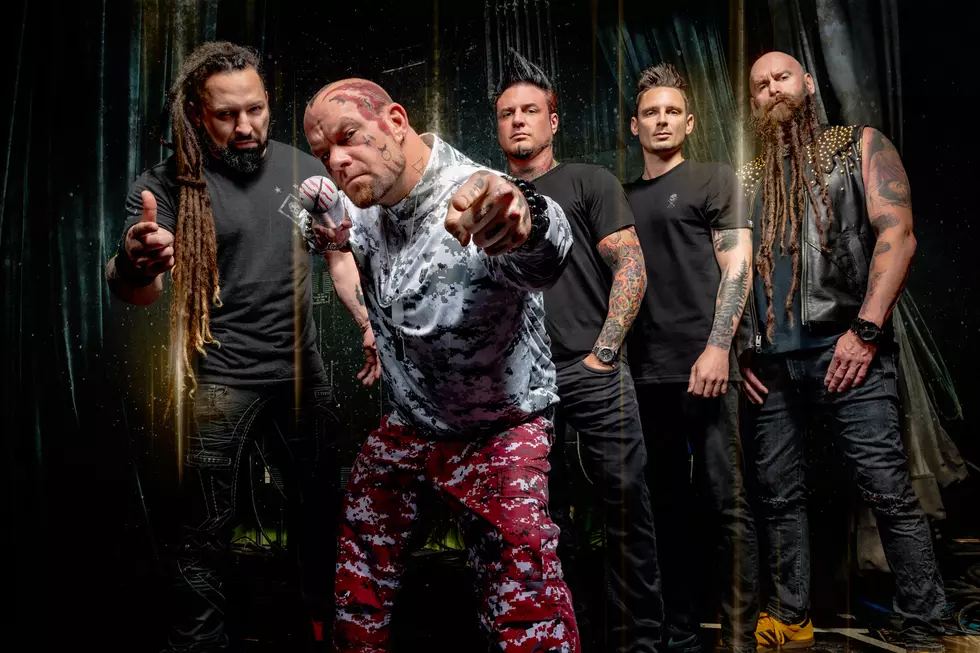 Nov. 1 Is Officially 'Five Finger Death Punch Day' in Las Vegas
Prime PR Group
The city of Las Vegas has officially named Nov. 1 "Five Finger Death Punch Day," honoring the band's worldwide success on the weekend they've sold out back-to-back shows in their home city.
"Not only are we kicking off our U.S. fall tour today with Three Days Grace, Bad Wolves & Fire From the Gods," wrote the band on Facebook (post below), "the City Of Las Vegas also just officially declared November 1 to be 'Five Finger Death Punch Day'!" The post also included photos of the band receiving the proclamation, which outlined the reasons why the city designated the first day of the month after the hard rock icons.
Whereas, it is the privilege of the Board of County Commissioners to honor and recognize multi-platinum-selling artist and award-winning band Five Finger Death Punch, and their commitment to entertainment, the performing arts and the community; and

Whereas, with an unparalleled music career, Five Finger Death Punch has accumulated 21 consecutive US top-10 hits, eight #1 hits, three gold albums, three platinum albums, and a platinum single, making them the most successful band in the rock genre in terms of album sales; and

Whereas, with more than 3 billion streams, 4.5 million albums, and 10 million digital songs sold worldwide, Five Finger Death Punch is the recipient of countless awards, including the Soldier Appreciation Award from the Association of the United States Army – European Region (only other artist awarded was Elvis Presley); and

Whereas, with their song 'Wrong Side Of Heaven', they raised awareness for veterans suffering from PTSD and more than $225,000 for organizations that support veterans.

Now, therefore, we, the Board of Commissioners of Clark County, Nevada, do hereby recognize Five Finger Death Punch and congratulate them on the success of their career and their two sold-out hometown shows at The Joint at The Hard Rock Hotel and Casino, Las Vegas.
Congrats to Five Finger Death Punch for the honor. Catch them on tour with Three Days Grace, Bad Wolves and Fire From the Gods on a headlining arena tour at the dates listed below.
Between tours, the group has been in the studio, working on the successor to last year's And Justice for None. Five Finger have kept fans updated on their progress the whole way, sharing videos from the sessions and even teased one of the new singles, "Inside Out." Bassist Chris Kael also said that they've finished three new songs as of mid-August.
Five Finger Death Punch / Three Days Grace / Bad Wolves / Fire From the Gods Fall 2019 Tour
Nov. 1 - Las Vegas, Nev. @ The Joint @ Hard Rock
Nov. 2 - Las Vegas, Nev. @ The Joint @ Hard Rock
Nov. 5 - Tucson, Ariz. @ Tucson Arena
Nov. 7 - El Paso, Texas @ Don Haskins Arena
Nov. 9 - Corpus Christi, Texas @ American Bank Center
Nov. 10 - Beaumont, Texas @ Ford Park Center
Nov. 12 - Baton Rouge, La. @ Raising Cane's River Center Arena
Nov. 13 - Huntsville, Ala. @ Von Braun Center Arena
Nov. 15 - Pensacola, Fla. @ Pensacola Bay Center
Nov. 16 - Ft. Meyers, Fla. @ Hertz Arena
Nov. 18 - Jacksonville, Fla. @ Vystar Veterans Arena
Nov. 20 - Columbia, S.C.@ Colonial Life Arena
Nov. 22 - Greensboro, N.C.@ Greensboro Coliseum Arena
Nov. 23 - Chattanooga, Tenn. @ McKenzie Arena
Nov. 26 - Columbus, Ohio @ Nationwide Arena
Nov. 27 - Youngstown, Ohio @ Covelli Centre
Nov. 29 - Knoxville, Tenn. @ Thompson-Boling Arena
Nov. 30 - Charleston, S.C. North Charleston Coliseum
Dec. 2 - Norfolk, Va. @ Norfolk Scope Arena
Dec. 3 - Allentown, Pa. @ PPL Center
Dec. 5 - Toledo, Ohio @ The Huntington Arena
Dec. 6 - Lexington, Ky. @ Rupp Arena
Dec. 8 - Peoria, Ill. @ Peoria Civic Center
Dec. 9 - Fort Wayne, Ind. @ Allen County War Memorial Coliseum
Dec. 11 - Madison, Wis. @ Alliant Energy Center
Dec. 12 - Duluth, Minn. @ Amsoil Arena
Dec. 14 - Omaha, Neb. @ CHI Health Center
Dec. 15 - Des Moines, Iowa @ Wells Fargo Arena
See Five Finger Death Punch in the Top 40 Hard Rock Songs of 2018