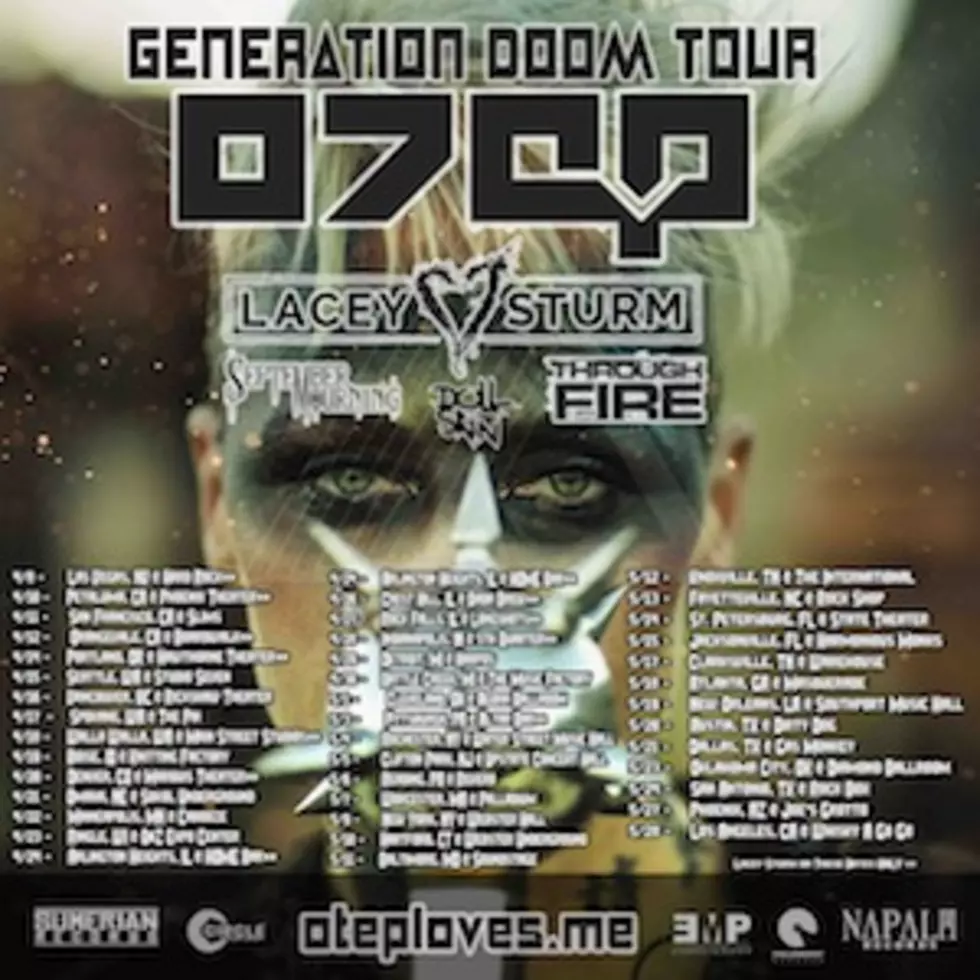 Otep to Embark on 'Generation Doom' 2016 North American Tour
Napalm
Otep are set to release their seventh studio album, Generation Doom, and will be hitting the road in full support, embarking on a lengthy North American run stretching from April 8 through May 28. The extreme metal outfit blurs the lines of categorization, employing rap and alternative elements in their hard-hitting sound.
"This will be a spiritually lawless celebration of art & freedom," promises the band, who seem mentally ready for battle given the attitude conveyed on the first single, "Lords of War." Band leader and frontwoman Otep Shamaya talked to us about touring and said, "The best part of being on the road is playing, seeing our fans and having that spiritual intercourse between my band and the audience and it's really something amazing. That feeling is indescribable and that's why we're so addicted to it. That's why I've been fighting in an industry that's been cannibalizing itself."
September Mourning will be supporting their 2015 EP, Volume 1 and will be a perfect sonic fit for the tour, bringing their taste of dark music to the fold. Former Flyleaf singer Lacey Sturm just released her debut record Life Screams and will be joining the tour for a select series of dates seen below. Through Fire represent the only male-fronted group on the trek and will be releasing their debut album later this year on Sumerian Records. Opening each night will be the all-female outfit Doll Skin, a punk tinged group who released their debut EP In Your Face last year.
Otep's Generation Doom will be out April 15 on Napalm Record and pre-orders can be placed here.
Otep 2016 North American Tour Dates
4/08 — Las Vegas, Nev. @ Hard Rock*
4/10 — Petaluma, Calif. @ Phoenix Theater*
4/11 — San Francisco, Calif. @ Slim's
4/12 — Orangevale, Calif. @ Boardwalk*
4/14 — Portland, Ore. @ Hawthorne Theater*
4/15 — Seattle, Wash. @ Studio Seven
4/16 — Vancouver, British Columbia @ Rickshaw Theater
4/17 — Spokane, Wash. @ The Pin
4/18 — Walla Walla, Wash. @ Main Street Studios*
4/19 — Boise, Idaho @ Knitting Factory
4/20 — Denver, Colo. @ Marquis Theater*
4/21 — Omaha, Neb. @ Sokol Underground
4/22 — Minneapolis, Minn. @ Cabooze
4/23 — Ringle, Wis. @ Q&Z Expo Center
4/24 — Arlington Heights, Ill. @ HOME Bar*
4/26 — Crest Hill, Ill. @ Bada Brew*
4/27 — Rock Falls, Ill. @ Longshots*
4/28 — Indianapolis, Ind. @ 5th Quarter*
4/29 — Detroit, Mich. @ Harpos
4/30 — Battle Creek, Mich. @ The Music Factory
5/01 — Cleveland, Ohio @ Agora Ballroom
5/03 — Pittsburgh, Pa. @ Altar Bar*
5/04 — Rochester, N.Y. @ Water Street Music Hall
5/05 — Clifton Park, N.Y. @ Upstate Concert Hall
5/06 — Reading, Pa. @ Reverb
5/07 — Worcester, Mass. @ Palladium
5/09 — New York, N.Y. @ Webster Hall
5/10 — Hartford, Ct. @ Webster Underground
5/11 — Baltimore, Md. @ Soundstage
5/12 — Knoxville, Tenn. @ The International
5/13 — Fayetteville, N.C. @ Rock Shop
5/14 — St. Petersburg, Fla. @ State Theater
5/15 — Jacksonville, Fla. @ Harmonious Monks
5/17 — Clarksville, Tenn @ Warehouse
5/18 — Atlanta, Ga. @ Masquerade
5/19 — New Orleans, La. @ Southport Music Hall
5/20 — Austin, Texas @ Dirty Dog
5/21 — Dallas, Texas @ Gas Monkey
5/23 — Oklahoma City, Okla. @ Diamond Ballroom
5/24 — Antonio, Texas @ Rock Box
5/27 — Phoenix, Ariz. @ Joe's Grotto
5/28 — Los Angeles, Calif. @ Whisky A Go Go
* with Lacey Sturm
Most Anticipated Hard Rock + Metal Albums of 2016
Lacey Sturm Plays 'Wikipedia: Fact or Fiction?'