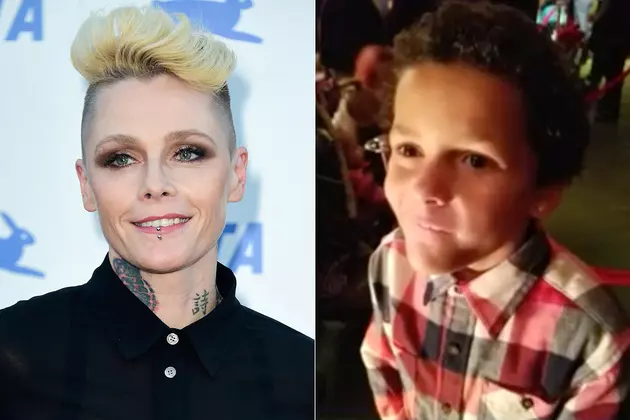 Otep Pays Tribute to Nine-Year-Old Suicide Victim Who Was Bullied After Coming Out as Gay
Frazer Harrison, Getty Images / CNN
This week, the world mourned a nine-year-old boy, Jamel Myles, who committed suicide after coming out as gay and being bullied by his classmates. In response to the heartbreaking story, Otep Shamaya -- an outspoken advocate for the LGBT community --penned a heartfelt letter memorializing Jamel and encouraging others to stand up to bullies.
I'm heartbroken 💔 9-year-old #JamelMyles did just as we said he could, live his authentic self, be loud, be proud, love yourself. But after only FOUR days coming out to his school (in #DENVER of all places) his own classmates bullied him to #suicide. He was NINE 😣
As an activist & proud member of the #lgbt community, I feel like I've let this wonderful child down. I've fought hard for LGBTQ #equality for years but maybe I'm not fighting enough, maybe I've become too complacent, maybe we all have. 🖤 I'm so, so, sorry Jamel. You are a constellation 💜
To anyone else being bullied, remember YOU ARE NOT ALONE ❤️ We are your tribe. Find us & we will fight with you, fight for you & give you a safe space to be YOU 🏳️‍🌈 I promise to keep fighting for equality, to keep fighting bullies, to keep reminding all of you just how special and needed you are ❤️
I'm so sorry Jamel. I'm just so sorry ❤️
My deepest condolences to his family and friends. His loss must be indescribable. 😔
Everyone else, the fight for equality continues. If you're a parent, teach your kids compassion, empathy, love & kindness ❤️ It costs nothing to be kind or compassionate ❤️ And if they see someone being bullied, make sure they know they have a duty to report it ✊🏽
For the rest of us, we mustn't remain silent or become complacent or allow this ugliness to be normalized. We must fight and fight until the fighting is done ✊🏽
Please share this on all your platforms. Let everyone know they have a home here, with us. Let everyone know his name #JamelMyles
Fight on 💙 #OTEP
"My son is magic," Jamel Myles' mother told CNN. "Everywhere he goes, he touches hearts, he makes people happy. He said all he wanted to do is grow up in life and be a YouTube star so he can make people happy, so he could touch hearts, so he can help change the world. He's not going to be able to grow up to do that and it breaks my heart. I don't want anyone else to feel like this and I know my son doesn't want anyone else to feel like this."
If you or a loved one is suffering from mental illness or showing signs of suicidality, we encourage you to seek help or call the 24/7 National Suicide Prevention Lifeline at 1-800-273-8255.
Otep Discuss Their LGBTQ and Military Fans