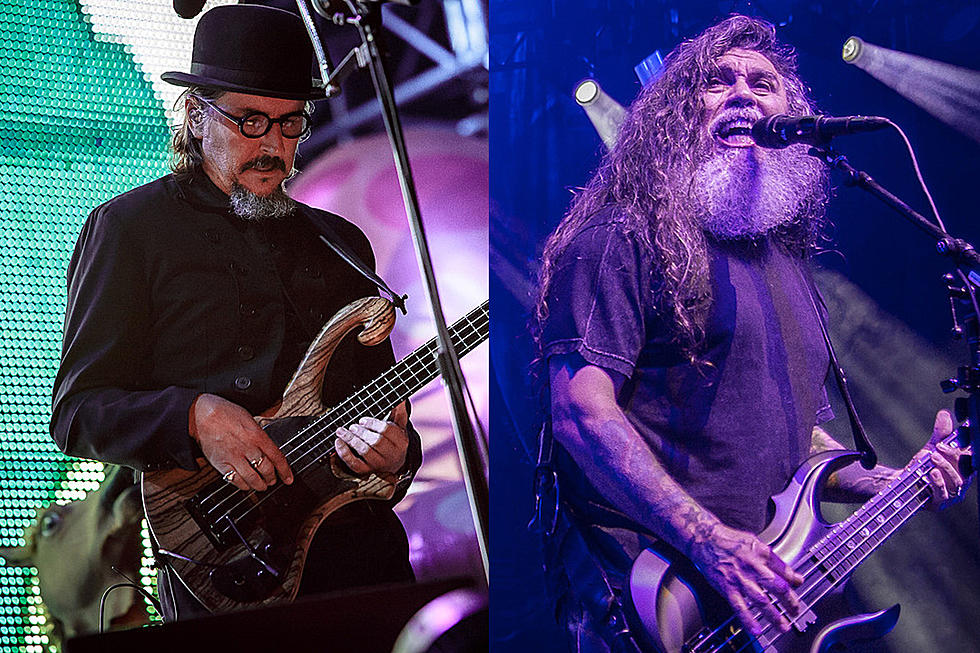 Les Claypool: Primus Will Open on Slayer's Final Shows
Melina Dellamarggio / Johnny Perilla, Loudwire
According to frontman Les Claypool, Primus will open for Slayer on the final leg of their farewell tour. Claypool revealed the secret while guesting on Bill Burr's Thursday Afternoon Monday Morning Podcast.
Claypool came to the right place to reveal the news, as Burr is a fan of Meshuggah, Pantera and other metal bands. The comic, who also dabbles in drums, started talking with Claypool about Primus' upcoming tours (50-minute mark), which led to the bass legend spilling the beans.
"There's another thing too that's kind of a secret, but maybe I can tell you now… So it looks like we're confirmed — we're gonna play the last, the very last run supporting Slayer's very last tour; Primus is… It's starting at Madison Square Garden [in New York City] and ending at The Forum [in Los Angeles]. That's the rumor."
Slayer will begin the next North American leg of their farewell run on May 2 in Phoenix, Ariz. The massive bill will feature Lamb of God, Amon Amarth and Cannibal Corpse. Slayer will then spend June in Europe working the festival circuit, also playing some side dates with Anthrax.
Check out Slayer's full tour schedule here.