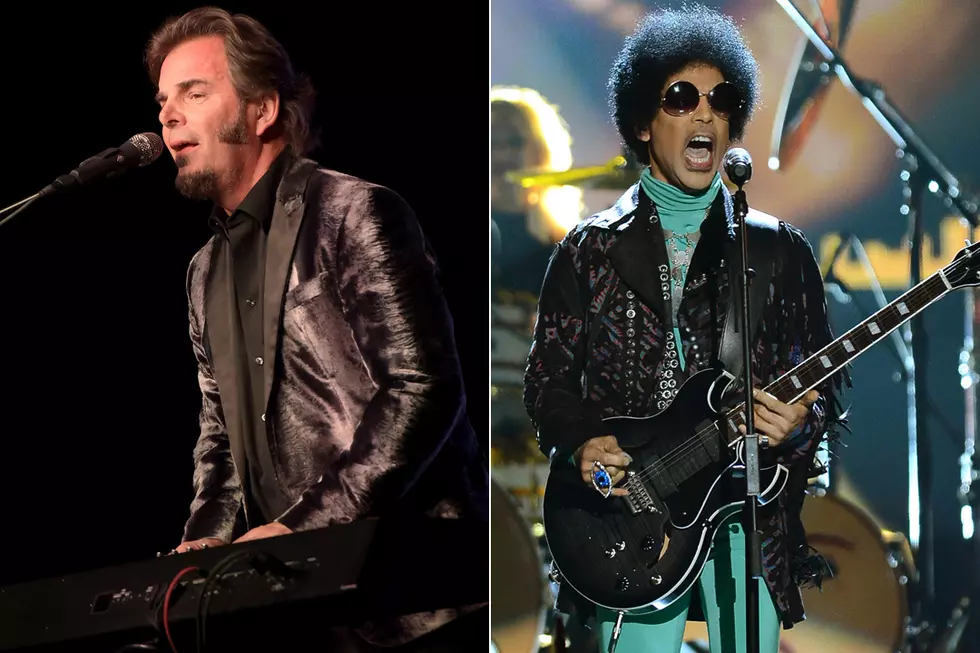 Prince Called Up Journey's Jonathan Cain to See if 'Purple Rain' Sounded Like 'Faithfully'
Rick Diamond / Ethan Miller, Getty Images
In the wake of Prince's death last week, we're learning all sorts of cool stories about him and his interactions with other rock greats. The latest comes from Jonathan Cain of Journey, who recalled when Prince rang them up in 1984 to see if the new song he was working on was too similar to their hit ballad, "Faithfully."
Cain, the sole composer of "Faithfully," told Billboard that he remembered going to Columbia Records' office in Los Angeles to take a call from Prince. "I want to play something for you, and I want you to check it out," Cain recalls Prince as telling him. "The chord changes are close to 'Faithfully,' and I don't want you to sue me."
The song was "Purple Rain," and upon hearing it, Cain not only had no problem with the changes, but was blown away by what he heard. "I thought it was an amazing tune," Cain said, "and I told him, 'Man, I'm just super-flattered that you even called. It shows you're that classy of a guy. Good luck with the song. I know it's gonna be a hit.'"
Billboard brings up the possibility of Cain asking for a co-writing credit, which the keyboardist immediately nixed. "No, no, that'll just bring bad juju on you, and you don't want to do that," he said. "I just thought it seriously showed the kind of caring, classy guy Prince was. He wanted to check in with [me] and make sure I wasn't going to say, 'That sounds like "Faithfully."'
To thank him, Prince comped Cain seats for when the Purple Rain tour hit San Francisco's Cow Palace.
Journey Albums, Ranked Worst to Best