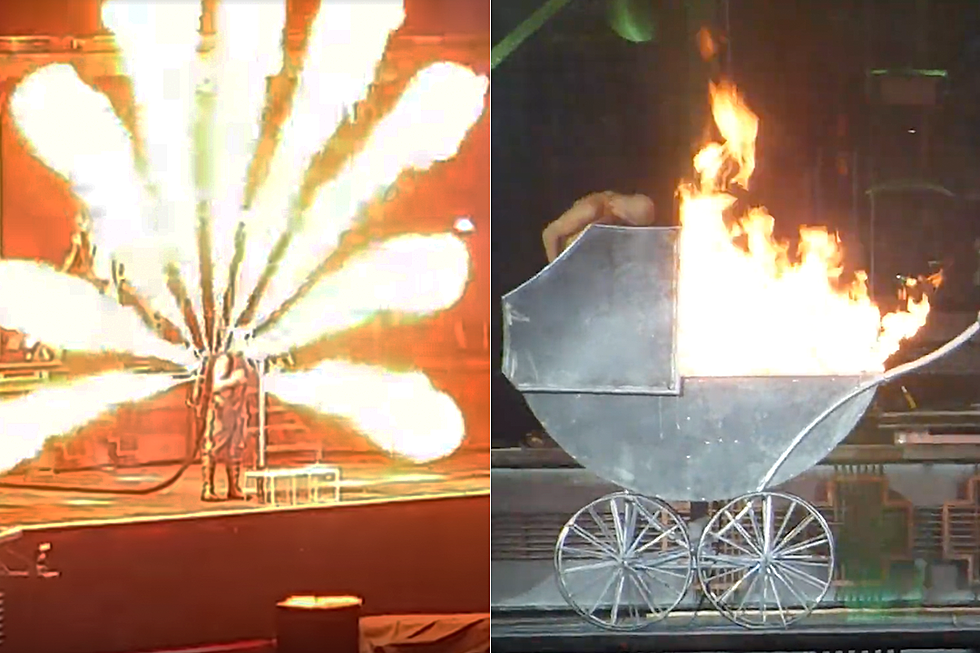 Rammstein Kick Off 2019 World Tour With Crazy New Pyro Stunts
YouTube: Björn Verhoeff / YouTube: MrBlonde
Rammstein's long-awaited new album is out now and the German industrial legends are back out on the road, having just kicked off their world tour last night (May 27) at the Veltins-Arena in Gelsenkirchen, Germany, bringing loads of new pyro stunts to the stage.
The 23-track set leaned heavily on the self-titled new album with "Weit weg" and "Hallomann" being the only two tracks to not be played. Rammstein performed two encores and during the second one, the group played the song "Rammstein" for the first time since 2005. Fueling the moment was Till Lindemann's flamethrowing backpack, which shot jets of fire in nine-direction arc.
One of the more curious props was the massive old school baby carriage which dwarfed the usually imposing Lindemann when wheeled out during "Puppe." Of course, the carriage was set ablaze.
See the full setlist alongside images and videos of Rammstein's new stage show below.
Prior to the new album's release, guitarist Richard Kruspe told Full Metal Jackie, "What we were trying to do with Rammstein was try to get a little bit away of that Rammstein fire, pyrotechnics. I always felt like we needed to have a balance between that kind of thing and the music. All of a sudden the fire was overshadowing the whole musical work of Rammstein."
Rammstein Setlist - May 27, 2019
01. "Was ich liebe"
02. "Links 2-3-4"
03. "Sex"
04. "Tattoo"
05. "Sehnsucht"
06. "Zeig dich"
07. "Mein Herz brennt"
08. "Puppe"
09. "Heirate mich"
10. "Diamant"
11. "Deutschland" (Rmx by Richard Z. Kruspe)
12. "Deutschland"
13. "Radio"
14. "Mein Teil"
15. "Du hast"
16. "Sonne"
17. "Ohne dich"
Encore:
18. "Engel" (Scala & Kolacny version accompanied by support act Duo Jatekok on piano)
19. "Ausländer"
20. "Du riechst so gut"
21. "Pussy"
Encore 2:
22. "Rammstein"
23. "Ich will"
See Rammstein in The Best Metal Song of Each Year Since 1970